Nursing student puts teaching method learned at MRU into practice in Africa
Victoria Kuefler introduced concept mapping at the Kenyan school she helped found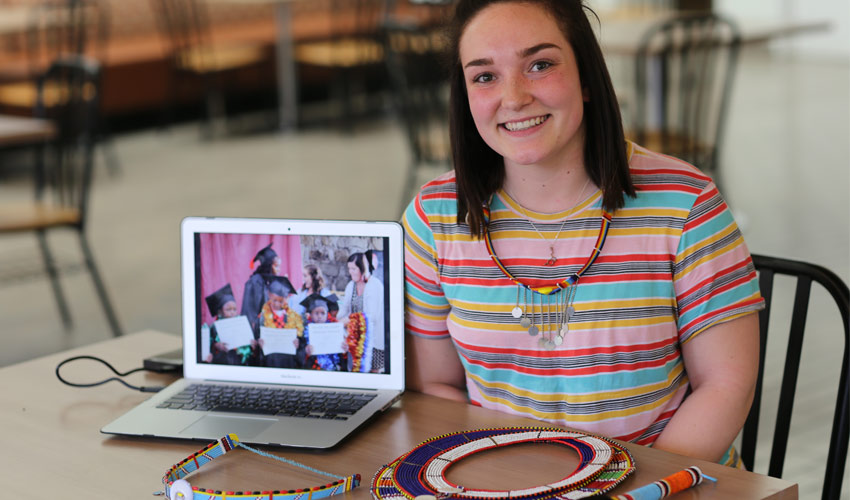 A teaching method Victoria Kuefler was exposed to at Mount Royal University proved the perfect way to help students in Africa.
Kuefler, a third-year nursing student at Mount Royal, was part of a small group of Grade 8 students at Red Deer Lake School that in 2010 began pursuing a dream to build a school in Kenya.
"We were a group of fewer than 10, and led by an amazing staff member (teacher Liz Critchley) we attempted to raise $20,000 to build a school in Africa. Less than one year later we had and we did," Kuefler recalls, adding that documentary filmmaker Rick Castiglione, formerly a Calgary broadcaster and Mount Royal communications instructor, was pivotal in connecting the school with the community in Kenya.
The group has since established a successful foundation, Building Hope Society, in Canada, and a partnership with another foundation in rural Kenya. Both work together to provide support in a Maasai community two and a half hours west of Nairobi, between the town of Narok and the Maasai Mara National Reserve.
Enkare Ngiro School teaches students in Grades K to 4 in a compound that includes eight classrooms, as well as living quarters for the teachers, Kuefler explains. The compound has clean water that is accessed by the surrounding communities as well. Over the past seven years, exam scores at the school have improved by two-fold. The school, which is overseen by husband and wife team Kamishina (David) Ole Nkuito and Merry Purcell-Nkuito, belongs to the community. All of the teachers are local and many come from the community.
While the school has been a success, and the plan is for it to eventually expand to a K to 8, it was during a recent opportunity she had to visit Kenya herself that Kuefler was able to put "concept mapping" into practice with another group of students.
"My experience in Kenya came with years of hard work and anticipation," said Kuefler. "I had been pen-pals with multiple students since my initial involvement in 2010, despite moving on to high school and university. Despite interrupting the course of my degree, when the opportunity to go to Kenya for three full months came across my desk I had to grab it. I was lucky enough to go from August to October of 2017 and live in the community at the school grounds."
During her time in the community, Kuefler ran study groups for high school students sponsored by the foundation, as well as for the Grade 8 students at the local government school who were preparing for their high school entrance exams. It was with those two groups of students that she, fellow MRU nursing student Kaitlyn O'Hara and friend Rhys Evans taught concept mapping.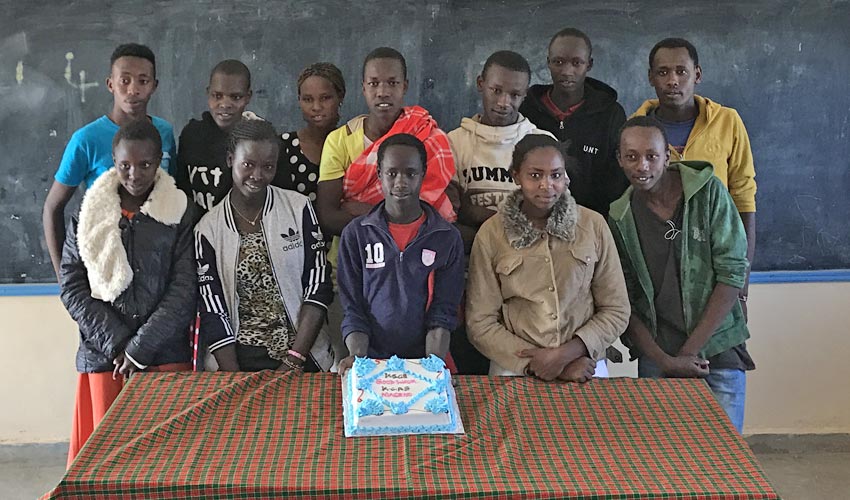 Concept maps were originally introduced to Kuefler in Professor Sarah Hewitt's, PhD, first year physiology classroom to help students structure their learning. The idea is that students will engage with and study material outside of class, with class time used to focus on the maps so they can see content from a conceptual point of view.
Joanne Bouma, RN, MN, subsequently introduced them to second and third year nursing courses and now the method is being studied by Professors Michelle Yeo, PhD, Hewitt, and Bouma through the Institute for Scholarship of Teaching and Learning, and is funded by the TransCanada SoTL Inquiry Grant.
"While the Kenyan education system is one of the best in all of Africa," Kuefler says, "they lack creativity in terms of ways of learning."
Kuefler says classes are usually conducted by having students copy notes from a board and re-reading them until they are memorized.
"We worked with them while we were there to teach them new ways to study and learn. This included flash cards, group studying and concept maps.
"It was wildly successful and many students created them using their own notes and have told me they continued to use them back at school.
"My experience was nothing short of incredible and it was such a full circle moment to be in the community that I had known from afar for so long. That was extremely rewarding, especially because those kids were more our age. We got to have a nice connection with them."
Kuefler said she plans to stay involved with the school and hopes to return to Africa after graduating. Building Hope Society, meanwhile, plans to sponsor two university students the group originally helped put through high school to come to Canada as soon as it can be arranged.
"They will be working and volunteering at the junior high school where the idea first began and visiting our beautiful country and community. It's an exceptional opportunity that we never imagined possible."
Find out how the Institute for the Scholarship of Teaching and Learning helps support Mount Royal's exceptional teachers.
June 7, 2018 ― Peter Glenn
Media request contact information.
Have a story idea? Please fill out this form.