Criminal justice program provides depth and breadth of experience
New career opportunities being created all the time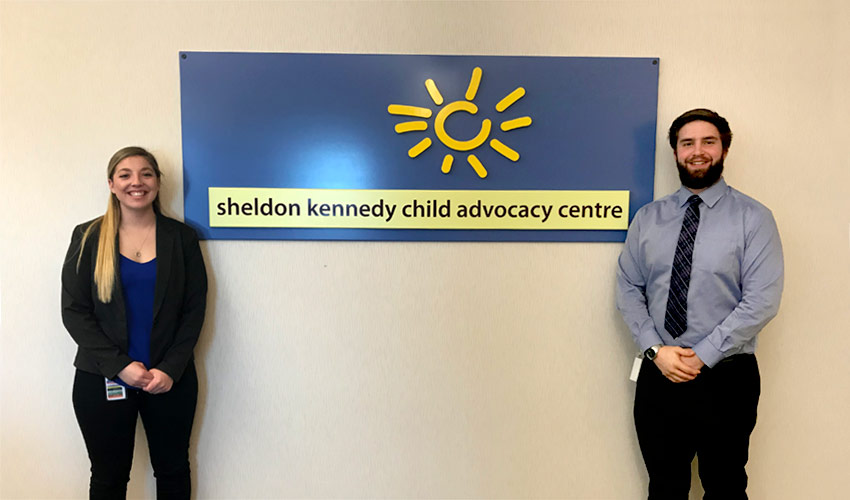 Students in the fourth year of the Bachelor of Arts ― Criminal Justice program are getting hands-on experience at numerous justice-related agencies and applying the concepts they've learned in the classroom to the real world. Placements are now available at over 50 agencies locally and internationally.
"The world is our oyster," says Leann Acheson, practicum coordinator and academic advisor, adding that the program's practicum opportunities are part of what makes it popular. "Once students begin their practicum, they don't want it to end. It's the culmination of everything they've learned and it really helps them network, see how interconnected the justice system is and grow as individuals."
A newer placement is at the Calgary and Area Child Advocacy Centre (formerly the Sheldon Kennedy Child Advocacy Centre), which Associate Professor Scharie Tavcer helped initiate. "We have many placements, but the Calgary and Area Child Advocacy Centre (CAC) is really stellar," says Tavcer. "It's a unique model in Canada, with all-inclusive wraparound services for children who are being abused and for their families. For students to receive all of the learning and training they get there and be able to put that on their resumes is outstanding."
Since the opportunity was formalized in 2016, two MRU students have completed placements, including Nicole Erhardt and Benjamin Reid, who were at the centre from January through April of last year.
Erhardt had the chance to work with the Prenatal Outreach Support Team (POST) during her placement. She worked closely with Cassandra Rose, the POST outreach coordinator who is also an alumna of the MRU criminal justice program. Rose graduated in 2009 and has been working at the Calgary CAC since 2015, where she supports vulnerable pregnant women in the community. She says her time with the criminal justice program has come full circle, as she is now supervising MRU students during placements. "I have a passion for teaching and supporting students while they reach their goals," says Rose, and that it's a symbiotic relationship in that students are provided with learning opportunities while the CAC gets to partake in opinions coming from fresh perspectives.
Erhardt says that she learned things she will never forget by being able to watch Rose interact with clients. "The experience of working with POST was very hands-on. We would meet with clients in their home, or somewhere they felt comfortable, and would just chat with them to see what we could help with and how." She believes she will be better off in her career because of this "once-in-a-lifetime opportunity."
Among the real-life situations Erhardt encountered and helped address were trauma-informed care, adverse childhood experiences, brain architecture and the importance of a harm-reduction approach when dealing with clients. Erhardt will officially graduate in June 2019, but is already working at Calgary Alpha House.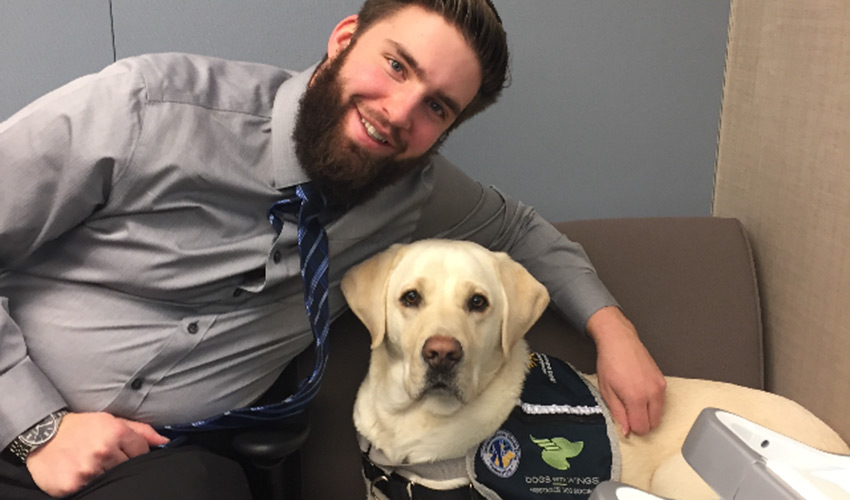 Reid also found his placement at the Calgary CAC to be a unique learning experience. His role was to assist with victim support, which involved providing information to families regarding the justice system. Reid connected with families while they were being interviewed, and remained a resource and advocate for them throughout court trials ― and sometimes afterwards ― for continued support. "Many people, not just the children, are confused when they go through the justice system," says Reid. "The scope of who is affected is so wide when a youth is victimized."
Reid said his days at the centre were dynamic and would range from providing families with referrals to food banks or therapy or explaining the Bill of Rights, while other days he could be assisting on interviews and working with one of the in-house service dogs. Reid said he was taken aback by the composure his supervisor had when assisting the families. "It is really an emotional thing to talk to a parent whose child has been victimized," explains Reid. "It takes a lot of grace to understand and also to admit you don't understand, but are here to help. You'd be amazed at the relief from a parent or child who is able to just talk to an advocate."
Not enough credit is given to all those who work in the justice system, Reid feels. "I was able to see how many cogs in the system there are. If it weren't for my practicum supervisor, families wouldn't be nearly as prepared as they are. I understand more of the social work dynamic and all it encompasses." Reid says that after his placement he felt confident walking into any interview related to the justice system. After graduating from MRU in May 2018 Reid was hired at Wood's Homes the following month. He now works directly with at-risk youth, which he says he utilizes knowledge from his degree and placement daily.
"Working with at-risk youth takes on so many different pieces of social work, trauma-focused care and the justice system. Roles outside of traditional policing and corrections are exponentially connected to the justice system more than you think."
These are the kind of student success stories that make Tavcer proud. "Providing students with real-life experience is what really sets us apart," says Tavcer. "It helps our students mature, find their place in the system and really figure out what they want to do."
Learn to appreciate the criminal justice system with Mount Royal's one-of-a-kind program.
April 1, 2019 ― Felicia Zuniga
Media request contact information.
Have a story idea? Please fill out this form.