MRU alumnus and CBC TV and radio host covering fifth Olympics
Doug Dirks also has a Cougars connection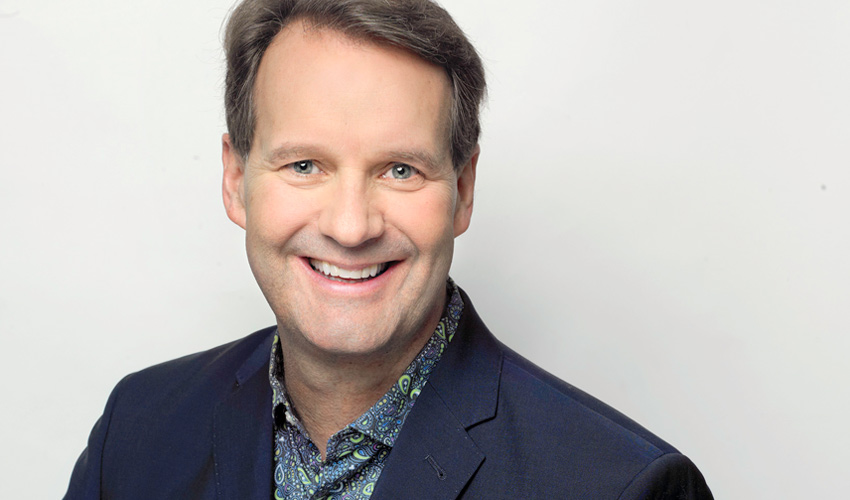 Mount Royal University: How many Olympics have you covered?
Doug Dirks: I started my career at a private radio station in Toronto back in 1988. I did a few phone reports for CKFM that year at the Games in Calgary: the Opening Ceremonies (I'm still thawing out from that experience), ski jumping and bobsleigh and a Canada-Switzerland hockey game before heading back to Toronto.
I started my CBC TV and radio career here in Calgary in 1993. I did a special series on the Canadian men's national hockey team before the 1994 Winter Olympics. I also covered all of the athletes and sports based here extensively for the next decade or so. In 2002, the network sent me to Salt Lake City a few weeks before those Games to do a series of stories on security concerns in the wake of 9/11, and an exclusive interview with Mitt Romney, who took over as head of the Salt Lake City organizing committee after the International Olympic Committee (IOC) bribery scandal.
My first play-by-play assignment was at the 2008 Summer Games in Beijing. I was the lead commentator for beach volleyball and indoor volleyball. My next play-by-play assignment was at the 2016 Olympic Summer Games in Rio. I was the lead commentator for the rowing and canoe-kayak events. For Pyeongchang 2018, I'm the lead commentator for all of the Alpine skiing events. I'm working alongside analysts Kerrin Lee-Gartner (1992 Olympic women's downhill champion), and Todd Brooker (former World Cup men's downhill winner).
How did your Mount Royal education prepare you for your career?
I'm pretty sure I wouldn't be doing what I've been doing for the past 30 years if it wasn't for my time at MRU. I got a diploma in Sports Administration at (formerly) MRC, and then went on to McGill University to complete my undergraduate degree in education. I returned to MRC after finishing at McGill, and worked in the athletic department for two years doing marketing for the Cougars teams. I was also the public address announcer for the Cougars' basketball teams during that time, and did play-by-play of Cougars games on the local Shaw affiliate. That's where I got the broadcasting bug, and went on to get a post-graduate certificate in radio journalism at Humber College in Toronto.
I had my first job in private radio before the end of my second semester at Humber. I've spent the past 25 years here at CBC Calgary hosting TV and radio programs, and doing assignments for CBC Sports. I've been a lead commentator for World Cup alpine skiing, Stampede rodeo and chuckwagon racing events, triathlons, World Cup snowboarding and three Olympic games.
Watch the We Are The Cougars video

What's the best thing about covering the Olympics?
Once you get past the inevitable goose bumps, I really enjoy the excitement and intensity of covering one of the most-watched sports events on the planets, bringing athletes together from around the world in a spirit of competition. I've been fortunate to cover some of the most compelling, closely contested events in recent memory. I also love telling the viewers the stories behind the stories, and getting to know more about some of the fascinating people who find a way to excel under excruciating pressure with the eyes of the world on them.
What's your favourite sport to watch?
Right now it has to be alpine skiing because that's the one I'm going to be calling in February. But, the most fun I've ever had was doing play-by-play of beach volleyball in Beijing. It's like attending a high-energy party that just happens to feature an exciting sport. I had a chance to attend a beach volleyball match in Rio at the temporary stadium that was built right on Copacabana Beach.
Any words of advice for future broadcasters?
Don't let anyone tell you that there are no jobs in sports broadcasting, or any other broadcast discipline. I remember distinctly Stan Larke telling us on the first day we started our broadcast program at Humber College in 1987 (that) the industry was dying, and that very few of us would wind up working in broadcasting. What he didn't say was people with a passion for broadcasting, talent and commitment would find a way to make it. If you don't have that, you may want to think about investing your time, and money, in another career. I would also suggest you make sure your technical skills are impeccable, and that you understand every aspect of the digital world, because those skills are essential these days. I was on the advisory committee for MRU's four-year degree program, and we were constantly updating the curriculum because of the pace of change in the industry. Who knows what the next five years are going to look like? What I do know for sure is that the industry will look, and sound, a lot different than it does now.
Feb. 8, 2018 ― Compiled by Melissa Rolfe