Siksika elder honours president and University with gifts
Docherty receives name and headdress: MRU receives Honour Song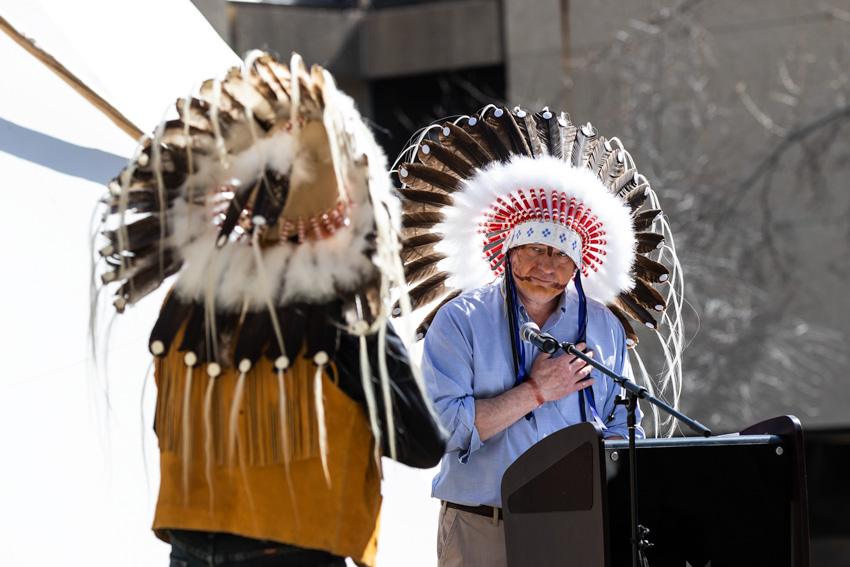 At an outdoor ceremony on campus Thursday afternoon, Siksika elder Clarence Wolfleg Senior (Elder Miiksika'am) recognized Mount Royal University with a rare distinction: an Honour Song for the University and a Blackfoot name and headdress for University President David Docherty. The song, composed by Elder Miiksika'am for Mount Royal, will be used during future events and ceremonies on campus.
Docherty was given the name Mokakii'na, which means 'wise leader.' In gifting the president with a name and headdress, Elder Miiksika'am explained that a headdress honours and acknowledges a leader's accomplishments, protects the wearer during challenges and commits him to continuing to be a leader in the community. "Wearing a headdress shows leadership and caring for your people," he said.
The headdress is made of eagle feathers, and the blue ribbons in front were chosen because of Mount Royal's colours.
Elder Miiksika'am explained that to receive a sacred ceremonial headdress, the person accepting it has to be 'captured.' He asked George Pambrun, a military veteran to bring Docherty to a grassy area in front of the University's tipi, where he kneeled on the ground for a smudging ceremony. Docherty's face was painted in red and yellow ochres, the colours of a warrior, while Sorrel Rider from Siksika sang and drummed.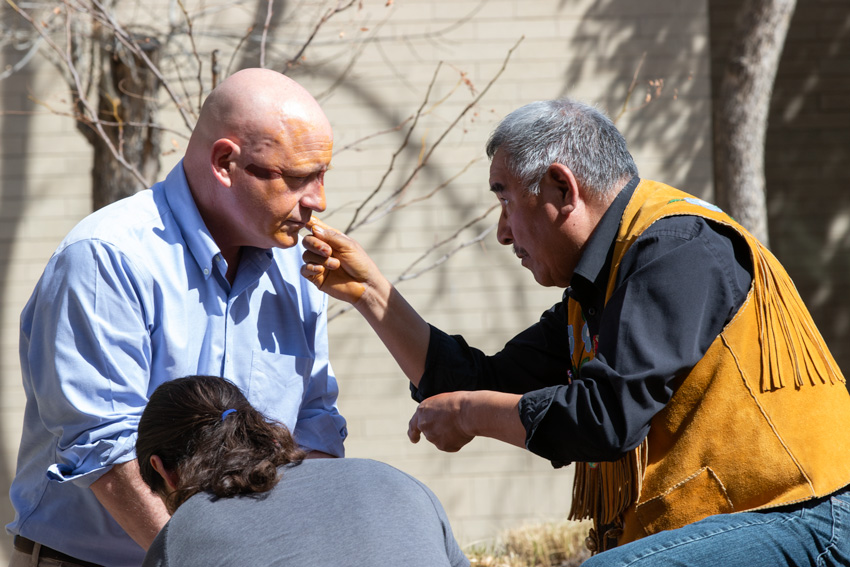 Elder Miiksika'am put the headdress on his own head, then embraced Docherty several times, touched his shoulders, and placed the headdress on Docherty.
"That is how you get a headdress," Elder Miiksika'am said. The two danced to a drummed song and then Elder Miiksika'am invited everyone to join a dance around the tipi.
In accepting the honour on behalf of the University, Docherty said he was humbled, particularly because of his respect for Elder Miiksika'am.
"I've been very fortunate to hear about and watch Elder Miksika'am's actions - always in service to others. At any one time, Elder Miksika'am has any number of projects going on with community partners.
"I am humbled that it was he who bestowed these honours on the University and myself. The Honour Song gifted to Mount Royal is nothing less than that - an honour. And it will serve as a reminder that we have made promises, and that tremendous people like Elder Miiksika'am have faith in us."
He presented Elder Miiksika'am with a buffalo hide and thanked him for his guidance to Mount Royal. "I have great respect for Elder Miiksika'am and have been a beneficiary of his wisdom."
Docherty spoke about the role higher education can play in being part of solutions to address the wrongs of the colonial past. "For a president of a university not to be involved would be an abdication of responsibility."
John Fischer, director of the Iniskim Centre, said that the ceremony "showed what kind of relationship we've been building, and showed what's possible when people listen to one another." He pointed out that Mount Royal is the first university to be honoured with a song and a headdress and name for the president.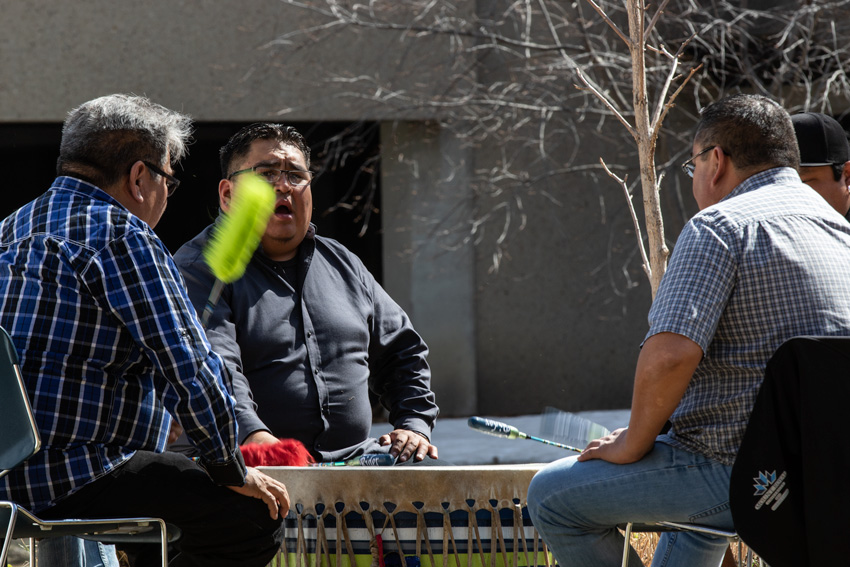 The relationships between Mount Royal and Indigenous communities are a key part of the success the University is having in implementing its Indigenous Strategic Plan. A focus of the ceremony was the release of a report on the University's progress to date.
The plan, targeting 2016 to 2021, commits the University to a course of action to indigenize the campus, to respect and embrace Indigenous knowledge and ways of knowing, to build and strengthen partnerships, to support student success and to honour Indigenous experiences and identities.
The progress report highlights key achievements from 2017, including the ceremonial blessing of a new tipi; the appointment of a Canada Research Chair in Indigenous Studies; a field school developed in full partnership with the the Îyârhe Nakoda; opening of the Office of Academic Indigenization and appointment of its first co-directors; and support for Indigenous students through the Iniskim Centre and the Aboriginal Education Program.
Performance indicators provided in the report relate to specific goals in the strategic plan. These include increasing the enrolment and retention of Indigenous students and their feeling of belonging at Mount Royal; participation in Indigenous sessions and workshops on campus; and, the number of field schools offered to all credit students. Each of the goals of the Indigenous Strategic Plan is discussed and various performance measures are included.
Thursday's ceremony took place in the T-wing courtyard, which is also the site of a set of tree carvings called 'Fallen Feathers.' The carvings were made by an Indigenous artist in trees that had been damaged during a heavy snow event in September 2014, Fischer explained. The project was led by Carmela Amoroso, who is Sioux and Assiniboine and works in the University's Grounds department. The carvings honour residential school victims, survivors and their families, and the installation will be finished with a plaque in the future.
Read Mount Royal's Indigenous Strategic Plan and the 2017 Community Report, and learn more about the Iniskim Centre for students.
April 30, 2018 ― Melissa Rolfe
Media request contact information.
Have a story idea? Please fill out this form.