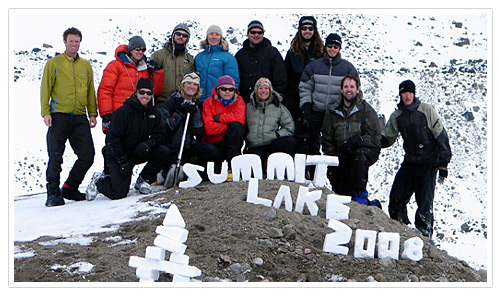 Not many people use the word euphoric when describing their job - but Mount Royal instructor Ian Sherrington does.
"I can only describe it as sustained euphoria," says Sherrington about the field trip to Baffin Island he led this past spring as part of the Ecotourism and Outdoor Leadership (ETOL) program at Mount Royal.
For Sherrington, the biennial trip brings together two of his greatest passions: the north and teaching.
"It's intoxicating and addictive," he says. "I get a kick out of going back to places I've visited and seeing the reaction of the students, who have never seen anything like it before. It keeps it very fresh for me."
Real-life learning
The month-long field school, which included a 12-day, student-led backcountry ski touring expedition through Auyuittuq National Park, helps ETOL students learn firsthand what it takes to run tourism operations in the north.
"The Arctic is an incredibly rich place, and is such a fantastic platform for students to learn in because it has that uncompromising feel, where decisions make a real difference," Sherrington says, adding the 11 students involved also conducted research projects during the field school.
"It's also a wonderful cultural experience. We stayed both in Iqaluit and in the small town of Pangnirtung, which opened the students' minds to the economic and social issues facing the north. We didn't go as tourists - to just take pictures and leave. We tried to uncover layers and learn what makes the communities tick."
Sherrington's highlight was skiing among granite spires and over glaciers in Auyuittuq. "It was great to see the students lead the whole thing and gain confidence in their decisions."
He gave details of the expedition in the Summer 2008 issue of Outdoor Approach magazine, describing how the group camped at Summit Lake, built an igloo, experienced 24-hour daylight and skied in the shadow of majestic Mount Asgard.

"There are so few places in the world where you can go for 10-15 days and not see anyone else other than your group," he says.
World of possibilities
ETOL field schools generally alternate each year between Central or South America and somewhere in the north. Sherrington is considering a new trip to the Yukon in the future, but no plans are in place yet.
"It usually takes a year to plan these things, and the students are an important part of the process. They don't just arrive at the airport with their bags. They're involved in every decision because, if they're going to run trips in the future for clients, they need to know what to do."
- Teresa Wong
Jan. 14, 2009
Links
ETOL
Faculty of Health and Community