Historian and exercise scientist honoured among Calgary's Top 40 Under 40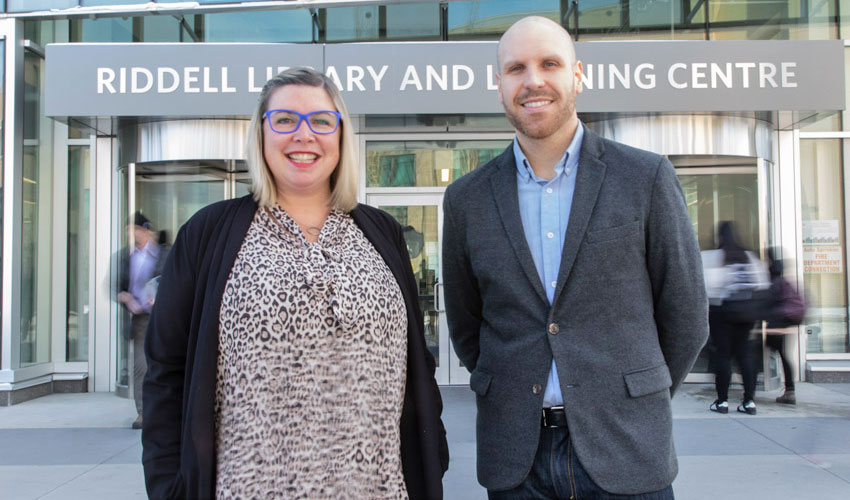 Two Mount Royal University faculty members are among Calgary's Top 40 Under 40 Class of 2018. Sean Carlton, PhD, and Christy Tomkins-Lane, PhD, were both honoured in a ceremony last month. Carleton is an assistant professor in the Department of General Education, teaching courses in Indigenous-settler relations. Tomkins-Lane is an associate professor in the Faculty of Health, Community and Education, teaching anatomy and exercise physiology in the physical literacy program.
Professor Sean Carleton, PhD
As a historian of Indigenous-settler relations and professor at Mount Royal since 2016, Carleton shows students how an understanding of the past can help people build reciprocal relations between Indigenous Peoples and Canadians. He inspires students to be critical thinkers and engaged citizens, and to see how they can contribute to society by applying their knowledge and skills to solve problems.
Carleton's research examines the history of education - with a focus on the Indian Residential School system - and settler colonialism in Canada. He was awarded the 2018 MRU Research Award - Emerging Scholar for numerous academic accomplishments, including securing over $400,000 in awards and grants, publishing more than 20 articles, essays, and reviews about Canadian history and Indigenous-settler relations, and contributing to public debates about commemoration and reconciliation.
Carleton is also a co-founder of the Graphic History Collective (GHC), a network of artists who combine art and history, specifically to make historical comic books and posters to reach younger audiences. He has helped create multiple award-winning graphic novels as well as an alternative history poster series called Remember/Resist/Redraw, which has been featured on multiple CBC platforms and in Canadian magazines. He is also a contributing editor to the history blog ActiveHistory.ca and a coordinating editor of the politics magazine Canadian Dimension.
Carleton's scholarly contributions to Canadian history and Indigenous-settler relations as well as his commitment to public and community engagement have made him a leading historian in Canada and an impactful educator at Mount Royal. But he says his personal accomplishments are really collective achievements, made possible by the generosity and support of his family as well as academic and community networks at MRU and in Calgary, Treaty 7 and across Canada.
Professor Christy Tomkins-Lane, PhD
Since 2009, Tomkins-Lane has been an associate professor in Mount Royal's Faculty of Health, Community and Education. In 2014 she was invited to Stanford University where she co-founded the Stanford Wearable Health Lab, focusing her research on the use of advanced analytics and wearable technology to diagnose and treat disorders that limit mobility. Currently she is a visiting associate professor at Stanford, working on innovative research that uses technology and data science to improve musculoskeletal health. Her work is recognized worldwide as changing the way care providers use technology to understand health and prescribe exercise as medicine.

Tomkins-Lane is the chair of the International Taskforce on the Diagnosis and Management of Lumbar Spinal Stenosis, a team that is driving better care for this condition worldwide. She is also the Canadian Representative for the prestigious International Society for the Study of the Lumbar Spine (ISSLS), and in May 2018 hosted the ISSLS annual meeting for more than 500 spine experts.

The exercise scientist has been published in more than 50 peer-reviewed publications. She has won numerous awards for her research, including the 2018 Best Paper Award from the North American Spine Society for her groundbreaking work defining phenotypes of physical activity for back pain and arthritis. In 2015 she was awarded the ISSLS Prize for Clinical Spine Research, the most prestigious award worldwide for spine research. She also received the Best Paper in Medical and Surgical Science from the North American Spine Society in both 2013 and 2017.

So far, Tomkins-Lane has attracted more than $2 million in grants and has supervised more than 50 medical residents and students at the undergraduate and graduate levels. She is the primary investigator on the Spinal Stenosis Pedometer and Nutrition Lifestyle Intervention (SSPANLI) ongoing randomized clinical trial funded through the Canadian Institutes for Health Research (CIHR), the first ever CIHR grant for Mount Royal.
Nominations for the 2019 Top 40 Under 40 are now open.
Dec. 5, 2018
Media request contact information.
Have a story idea? Please fill out this form.