MRU men's soccer team working for confidence and consistency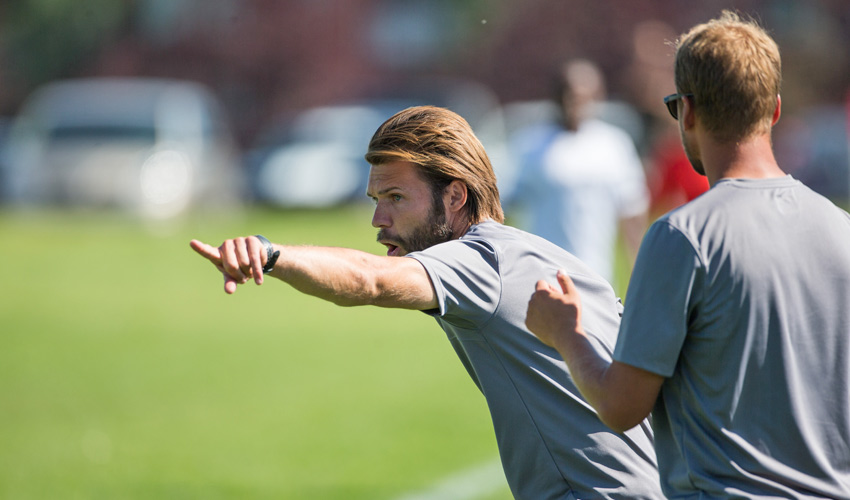 As the world gets set to witness another installment of the "beautiful game's" premier event, Mount Royal University men's soccer coach, Ryan Gyaki, will be in attendance, watching the FIFA World Cup from Russia.
Gyaki will be joined by his assistant coaches, Ramon Mifflin and Roberto Pena for a brief pilgrimage before the serious work gets started back home as his club looks to make their way to the elite ranks of Canada West men's soccer.
Equipped with new pitch tactics, a new slogan and an expanded support staff, the boys in blue are looking to avenge last year's playoff quarter-final defeat to the eventual conference champions, the University of British Columbia Thunderbirds.
This year the Cougars men's squad will take to the pitch with their new motto, "For the team," leading the way. Gyaki, a former Sheffield United signee and German Bundesliga midfielder who has a cap on his arm from playing with Canada's U-20 national team, says instilling a new club culture and identity isn't just about clichés and fancy sayings, however.
"'For the team' is simple," Gyaki says. "When you play for the Cougars, everything you do for those five years is 'for the team.' You book your holidays around the team, you study for the team and you don't stay up all night watching Netflix … for the team."
Some of the club's new tactics might seem more complex in comparison to the motto, but are done in an effort to simplify their strengths.
"We have a short season. We really need to make use of our advantages and shut down our weaknesses."
Rinse and repeat …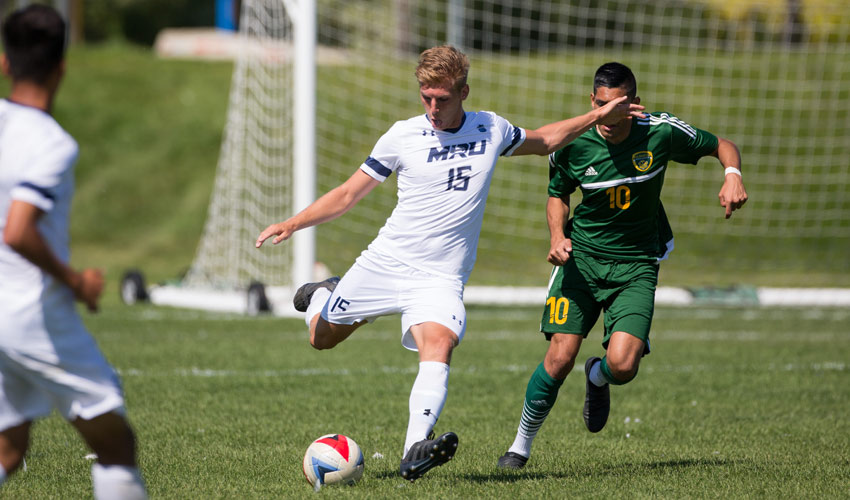 Gyaki says consistency is key.
As his program continues to evolve, Gyaki hopes to use his new strategies with regularity, implementing the same routine weekly so his players know exactly what's expected and can adapt when needed.
"We want to have a more set schedule, the players more of a routine. More time to rest and absorb what we are doing in training. So what we do, we do it well. If we have a weakness, we shut down that weakness."
This will be Gyaki's third year as a full-time coach at Mount Royal. He believes to now know what the team needs to do to win. Not many teams from Canada West have even medalled at the U Sports national championships. He's hoping each week his 11 players on the field will go step-by-step to get there.
Throughout this year's campaign Gyaki is aiming for less coach-led activities and more player-led activities, an example of which will be newly initiated player-led video reviews, essentially game reviews where members of the squad are tasked with identifying ten things that they need to do to be consistent.
"We need leaders to grow and make sure the first and second years will carry that on, that's the biggest challenge. I think that's where all of our focus is going. If things are clear and simple, they will have an easier time passing on what we want to be a legacy at some point," Gyaki says, iterating that he will be asking his players to identify their own role and take it seriously. Meaning, if a player is red-shirting, it is very clear their role is to work hard and develop for the next year.
The ingredients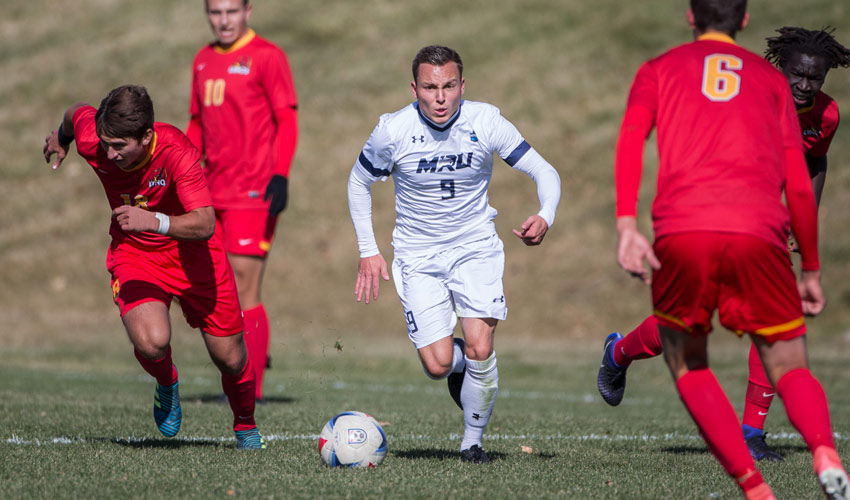 As a team, last year the Cougars side converted 25 per cent of their total strikes via penalty shots. In comparison, the University of Alberta's team regularly has someone hitting double digits in goals, never mind just points. In 2017 the Cougars' highest producer notched four points all season.
"We don't have a LeBron James-type player for us or what a Cody Cook was for us, but (the team is) getting there. Cody Cook wasn't the Cody Cook we remember in his first and second year, it took him three or four years to get there."
The bench boss believes success will come from a team mentality. Although Gyaki will be relying on some very special players.
"We have Jake Vickers, who is an incredible leader, a Academic All-Canadian (in U Sports). He's overcome adversity, is a great role model and is a hell of a player on the field. Rarely will you see someone so fast. He creates more chances than anyone on the team," says Gyaki.
"Brendan Canejo has beautiful feet. He keeps it simple, but is very talented. If he starts looking to score more he can be a real threat," says Gyaki. "René Douvon is crazy quick, very unsuspecting. Daniel Harrison, his work ethic is second to none."
A transfer from the University of Northern British Columbia, Jake Vickers debuted with the Cougars in 2015. The defender made an immediate impact with his lightning speed. In 12 games, Vickers had a goal and an assist, and three of eight shots on target. He drew into the starting lineup in nine of his 12 games played. This season he's looking to help the Cougars get over the hump.
"We can compete with anyone in Canada West. Our preparations are continuing to exceed that of the past, and really the only thing we can do is train enough for us to feel confident in providing the performances we know we're capable of," says Vickers.
As a transplant to MRU, he has seen changes in culture amongst his new club firsthand.
"In my first year, being a new group, nothing was really set in stone. Over the years our culture has become quite strong. Standards to be met have been created and continue to be pushed forwards, creating a positive atmosphere where everyone is working for each other."
After reaching the 2016 USL (United Soccer League) Premier Development team with Foothills FC locally, Daniel Harrison came to Mount Royal with a swagger. He had a great rookie season, starting every 2016/2017 game, and scored two goals late in the season, which helped propel the Cougars back into the playoffs. For him the time is now to start making some noise outside of league play.
"The team and program have improved every season. I've noticed a massive change in the culture," says Harrison.
"This past season we scored our first-ever playoff goal and took the Canada West champions to extra time, so this coming year it's important we take the next step and finally win a playoff game," says Harrison, who believes the team's new mentality will account for positive changes on and off the pitch.
"The 'For the team' mentality has been huge in changing the culture of our program. We've had a lot of players come through the program who weren't ready to put in the work but the guys who have stayed are really committed, determined and motivated to win and put in the work."
Check out the complete Cougars men's soccer squad.
June 15, 2018 ― Jonathan Anderson
Media request contact information.
Have a story idea? Please fill out this form.