Speaking helps start the healing
Science student recognized for work promoting Indigenous rights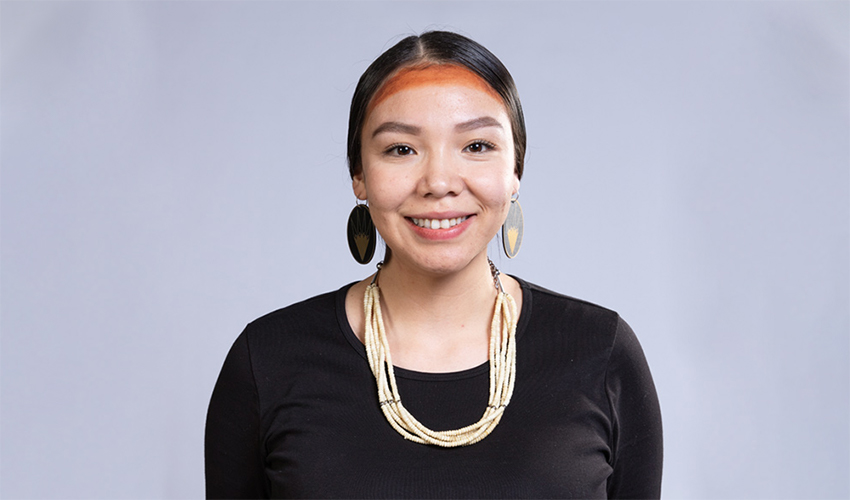 Her name is Glenielia Crawler, but she also goes by the name Ariel Waskewitch.

Of Nakoda Sioux and Plains Cree descent, Crawler comes to Mount Royal University from the small community of Big Horn First Nation (Kiska Waptan).
A student role model, Crawler is currently studying general science through Mount Royal's Aboriginal Education Program (AEP). She was recently selected as a 2019 Top 30 Under 30 from the Alberta Council for Global Cooperation for her work promoting Indigenous rights globally, as well as her service in the Morley community.

"I enjoy talking to youth and telling them about my story. I like talking about what I have learned in our culture because I am still learning as I go," Crawler says.

"At first it was hard to talk about my life because I felt ashamed, as if I had never accomplished anything," says the mother, dancer and artist. "But speaking regularly was the start of my healing journey. I love to talk to the youth so that they won't feel like I did in my teenage years."
Using a grassroots approach towards community support and initiatives, at only 27 years old Crawler has created contacts across Canada and the U.S. through a network built on the powwow trail and based upon activism.

Locally, throughout the Treaty 7 region Crawler employs the power of positive change. A member of the Stoney Nakoda Youth Council in Morley, Crawler is co-convener of the upcoming Mni Ki Wakan: World Indigenous Peoples Decade of Water Summit taking place in South Dakota this August.
January 23, 2019
Closer to the home, this past year Crawler worked at the Exshaw School as a youth cultural teacher, offering learnings through art, storytelling, song and leadership activities.

"I co-facilitate sharing circles with classes once a week, where I plan and deliver lessons and sharing opportunities for youth focusing on issues of gender equality, individual strengths and working together to make positive and impactful change - locally and globally."

As a busy post-secondary student Crawler balances her Indigenous beliefs and the study of science by focusing on providing value to the greater community.

"It's easy to stray away from our culture. I keep myself grounded by praying to the Creator and thanking him for keeping me on the path that I am on. And I tell myself not to forget where I came from."

After being accepted to Mount Royal in the fall of 2018, Crawler calls it the best decision she ever made. She aspires towards a career in environmental science or health science, aiming to glean knowledge from both programs to use in conjunction with traditional practices to help not just Indigenous people, but all people. "I believe if we work together with one heart, one mind, we can heal ourselves and Mother Earth for our future generations."

Crawler calls MRU's Iniskim Centre her "home away from home," saying the staff have been extremely supportive. Steve Kootenay-Jobin, housing and events coordinator for the Iniskim Centre, has helped guide Crawler through the AEP. An upgrading and transition program for Indigenous students to enter university credit programs, the AEP aims to reduce barriers to education and turn post-secondary dreams into goals, and then into realities. The AEP is the longest-standing Indigenous program at MRU, engaging a full generation of students as it celebrates its 28th year.

"Glenielia, or, as I know her, Ariel, was inspired to pursue education at MRU by joining the Indigenous Housing Program to offer her gift of music," Kootenay-Jobin says. Crawler spent four years prior on campus welcoming students through an honour song and drumming, also seeing students off at the end of the winter semester as they prepared to graduate or return home. She regularly volunteered her time at the Iniskim Centre for interviews on various projects to help students achieve a better understanding through the lens of an Indigenous woman's perspective, and continues to do so.

"She offers her time, knowledge and support to other students through conversation and companionship and adds to the Indigenous student community," says Kootenay-Jobin.

After a couple of years of observing campus life, Crawler made the decision to apply for the AEP. She was not initially accepted, but was encouraged by Kootenay-Jobin to keep trying. "I shared my own experience of not meeting admission requirements for degree and diploma programs several times, but that I tried again the following year," he says. "I told her to focus on upgrading her math and English and that she can always redo the entrance exam."

Crawler's hard work paid off. In the spring of 2018 she was accepted to the AEP, and then gained momentum from there.

"(Crawler) does not allow for anything to stand in her way," Kootenay-Jobin says. "I admire that she balances motherhood, family, culture, work and school all at once. She drives in to campus every day from the Stoney Nakoda First Nation. She drives back and forth, sometimes several times in a day due to family responsibilities and vehicle sharing, and still participates in the student community. I will always remember the humour she brings, but also the knowledge she carries with her."

Crawler's strong will has also been recognized outside of the classroom. She was gifted the Nakoda name of Hiha Thun Wiya (White Owl Woman), and was also given a Lakota name ― Ta Omani Luta Wi (Her Sacred Journey Woman) ― when she and her husband were adopted into a Lakota family through a Hunka ceremony. In Cree, her traditional name is Wacask (Muskrat).

A world-class traditional dancer travelling throughout Canada and the U.S attending powwows, Crawler's knowledge of the Stoney Nakoda culture and language has taken her across the country, around the world and finally, to Mount Royal.
Find out about the Aboriginal Education Program, which is designed to meet the needs of Indigenous students who are preparing to pursue a post-secondary education.

March 15, 2019 ― Jonathan Anderson
Media request contact information.
Have a story idea? Please fill out this form.