Seeing Hawai'i in a new light
International Indigenous Studies field school transforms students from tourists to activists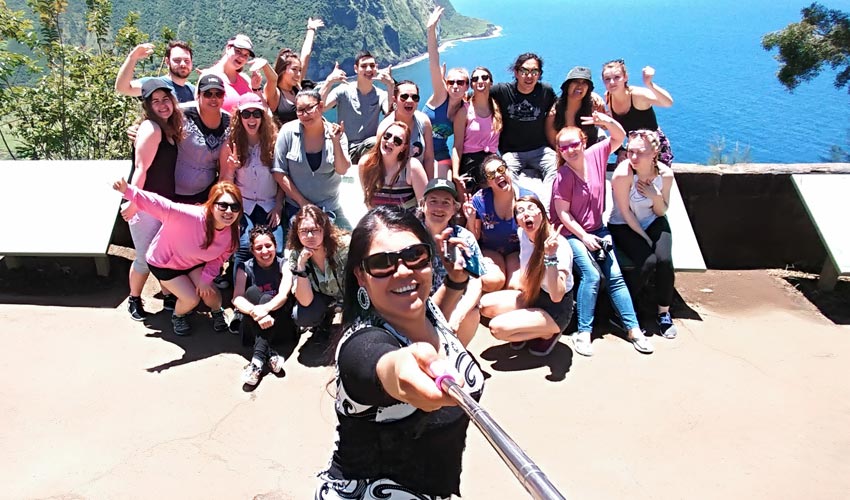 At Mount Royal's first international Indigenous Studies field school took place in Hawai'i this summer, with 22 students learning through Indigenous perspectives what it means to live with the land and be an activist.
The "Aloha 'Āina and Activism" field school, which ran in the spring semester, included two courses: one in Indigenous Studies and the other in Gen Ed, and involved a three-week stay on the Big Island of Hawai'i. Students participated in community service projects, studied the political and cultural history of the island and gained experience in securing independent food sources, asserting political sovereignty and maintaining language and culture.
The course was co-taught from Indigenous perspectives by Professor Renae Watchman, PhD, cross-appointed in Indigenous Studies and English at Mount Royal, and Robert Innes, PhD, head of Indigenous Studies at the University of Saskatchewan.
As part of their community service learning, students planted nearly 800 trees on the Mauna Kea dormant volcano and cleared invasive plants and jellyfish from a large fish pond under development. Fish ponds sustained Indigenous Hawai'ians before colonialism.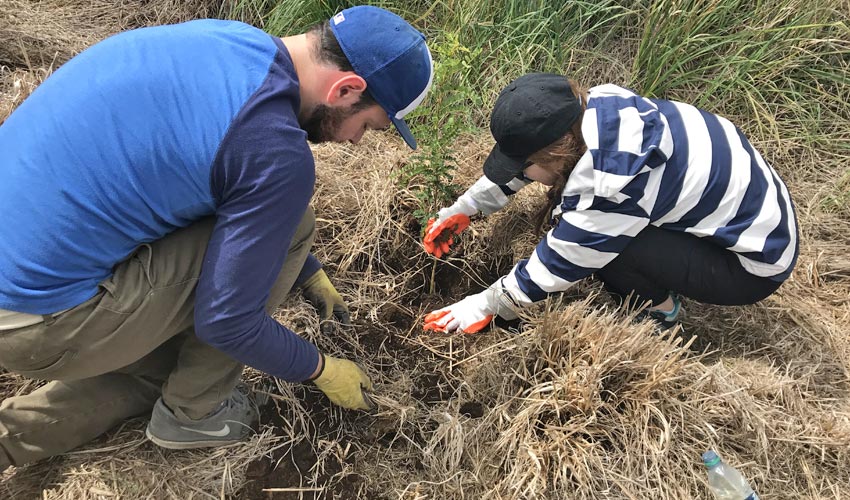 Watchman, who is also co-director of the Office of Academic Indigenization, says the course challenged students to change their perspective and to be aware of how it was changing. They were urged to rethink their image of Hawai'i as solely a vacation destination, and to see Hawai'ian cultural activities like luaus and hula dances not as entertainment for tourists but as important traditional practices.
Tawnya Plain Eagle, a fourth-year journalism student, says the field school "really opens up your eyes about the tourism industry and how unethical it can be sometimes. It makes you rethink how you would act when you visit an new place."
Students were asked to keep a daily journal and reflect on their learning. "The students' growth was fast," says Watchman, "and I think they're still processing the experiences they had."
This was Plain Eagle's first trip to Hawai'i and she says she gained a deep connection to it because of the course. "Being able to meet the Kanaka Maoli people and learn about their culture was one of my favourite parts of the trip. My own Blackfoot culture has traditions that are very similar," she says.
Another learning outcome was understanding activism in an Indigenous context. "A lot of students had this idea that activism is about being ultra-radical and confrontational," notes Innes. "But it can be as simple as choosing one action instead of another, and telling people why."
One particular experience enabled students to witness activism in real time. The management board of the Mauna Kea research observatories had scheduled a meeting to discuss restricting cultural practices at the site but did not invite Indigenous representatives. Mauna Kea is an important ceremonial site for Indigenous Hawai'ians.
A community leader and guest instructor at the field school, Aunty Pua Case, learned about the meeting and invited the students along.
"Here we were watching this," Innes describes, "as Aunty Pua presented to this management board, and then later as she received a call that the board passed the new policy anyway.
"That was such a powerful moment for the students. It was an important lesson about activism and how difficult it is." Although the outcome wasn't what everyone was hoping for, "We couldn't have asked for a better first day in the field," Innes says.
The students prepared gift bags for Aunty Pua and the other speakers they learned from, in keeping with Indigenous customs. Watchman says they were creative about what they included.
"Almost every student had a piece of themselves in the gift bags we gave to people," she says. "Students gave whatever they could." The bags contained candies, tea and small souvenirs from students' own cultural backgrounds. Three students served as ambassadors of Treaty 7 nations to ensure proper protocols were followed in gifting the Kanaka Maoli hosts.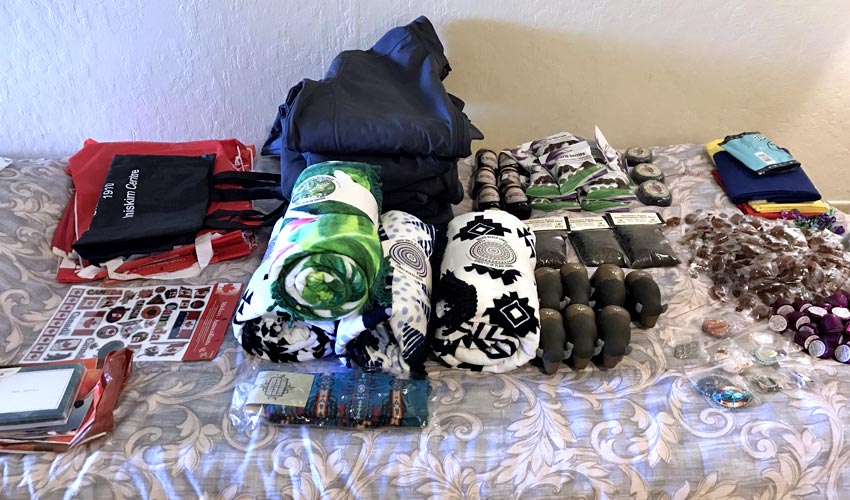 For their final project, students were asked to plan a hypothetical project based on community needs, Innes explains. "These projects were a way for students to explore how they had become activists in a way they're comfortable with, but also in a way that was not about them but about giving back to the community."
One group of students described a video that could be shown on every flight to Hawai'i to teach visitors about the land and ways to protect it. Other students conceptualized websites for local businesses or non-profit organizations.
Debbie Crazyboy, a fourth-year Education student, says if she could, she would go again. "A lot of things changed in me from that field school. It was worth every dollar I put into it. It didn't feel like work at all because we loved what we were learning ― from the time we got up until we were in our rooms doing readings at night."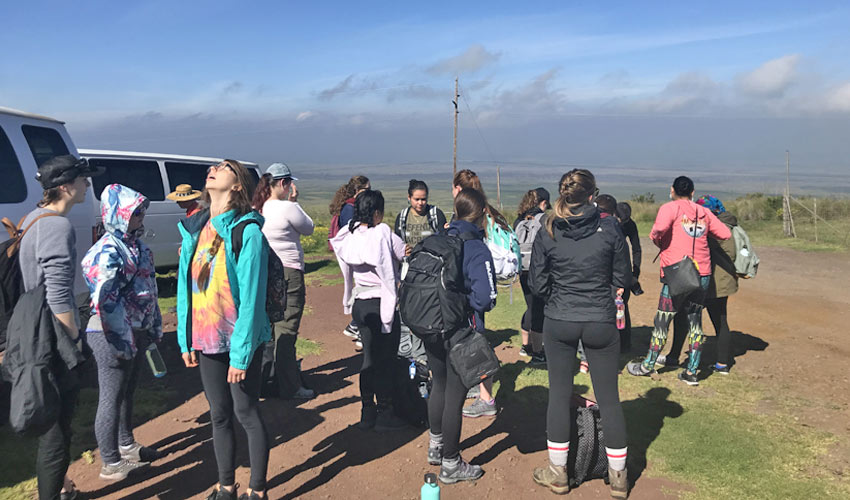 Immersed in Indigenous culture, the students felt a deep appreciation for the people, land and food, Crazyboy explains. "All of these things connected in some way. On a farm we learned how food was grown, how to pick it, how to identify it. That was learning of the people, from the people."
Crazyboy says she was surprised to experience cultural practices that are similar to her own. "Never did I feel uncomfortable. Even though Hawai'i is thousands of kilometres away, I still felt at home. We asked permission to enter spaces, which is not far from our Treaty 7 land acknowledgments. That kind of similarity and feeling at home was an experience in itself. How do you explain that? It's a feeling."
She says the connection she felt also had to do with the people they were learning from. "These were people of stature. I felt honoured to be in their presence. The community really supported what we were doing and embraced our being there."
Watchman wanted students to complete the field school with a changed outlook on Indigenous lands, no matter the location.
"My hope was for students to view any Indigenous space not with a romanticized gaze but to begin relationship-building, which we advocate for all the time here in southern Alberta. You do that by giving back through a reciprocal lens," she explains. "We can check that box, definitely. They got that."
The Hawai'i field school was Mount Royal's first international Indigenous Studies field school. It will be offered again in 2020 to students taking Indigenous Studies or related programs.
Learn more about Indigenous Studies, English and international field schools at Mount Royal.
Sept. 12, 2018 ― Melissa Rolfe
Media request contact information.
Have a story idea? Please fill out this form.