Spotlight on High-Impact Talent
MRU's Institute for Innovation and Entrepreneurship teams with city business leaders to foster employees for Calgary's new economy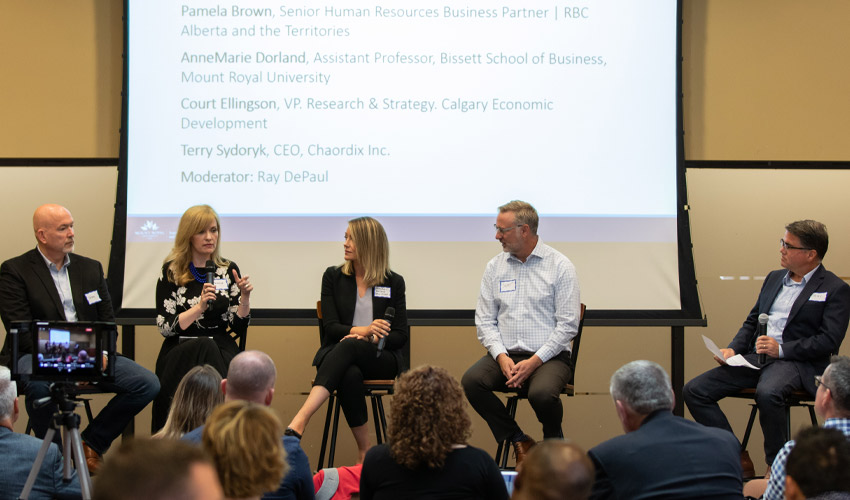 As Calgary works to emerge from the economic downturn and students head back to school, Mount Royal University's Institute for Innovation and Entrepreneurship and MRU's Career Services partnered with Calgary Economic Development to co-host the city's first High-Impact Talent Roundtable on Aug. 26, The focus is on how the right graduates can lead the charge to a brighter future.
"We all know those individuals that have an oversized impact on their organization and community," says Ray DePaul, director of the Institute for Innovation and Entrepreneurship at MRU. "They possess a rare combination of an entrepreneurial mindset and disciplined execution. We have an opportunity and an obligation to cultivate the high-impact talent that this province needs to continue to prosper."
The Roundtable feature a panel made up of business and academic leaders.
"The Calgary economy is in transition. This transition involves looking at things differently," says David Finch, PhD, associate professor at the Bissett School of Business and associate director of the Institute for Innovation and Entrepreneurship. "Part of this is mapping the ecosystem to ensure that we have the knowledge and skills being developed that will continue to support Calgary's prosperity in the near and long-term. The Roundtable is designed to connect educators, researchers and employers so we can work together to build our city, starting with the talent of our graduates."
High-impact talent is driven by the unique labour market dynamics of a region, sector or organization, and is anchored in an individual's capacity to effectively adapt and thrive in perpetually turbulent market conditions. These dynamic capabilities enable people to identify emerging opportunities and reconfigure their skills, or to acquire new skills to thrive.
Boundaries between traditional disciplines, sectors and skills are blurring, resulting in 66 per cent of Canadian employers reporting difficulty in filling entry-level positions and 40 per cent saying they cannot find candidates with the required set of soft skills. This skills gap has a significant impact on both an organization's competitiveness and an individual's ability to pursue their personal and professional goals.
"The concept of high-impact talent recognizes that the world is dynamic. The new norm is constant change," says Mary Moran, president and CEO at Calgary Economic Development. "This constant change demands people have the capacity to adapt and acquire new knowledge and skills to meet this change. Adaptation and agility are the core to high-impact talent and need to be the core attribute of all new graduates."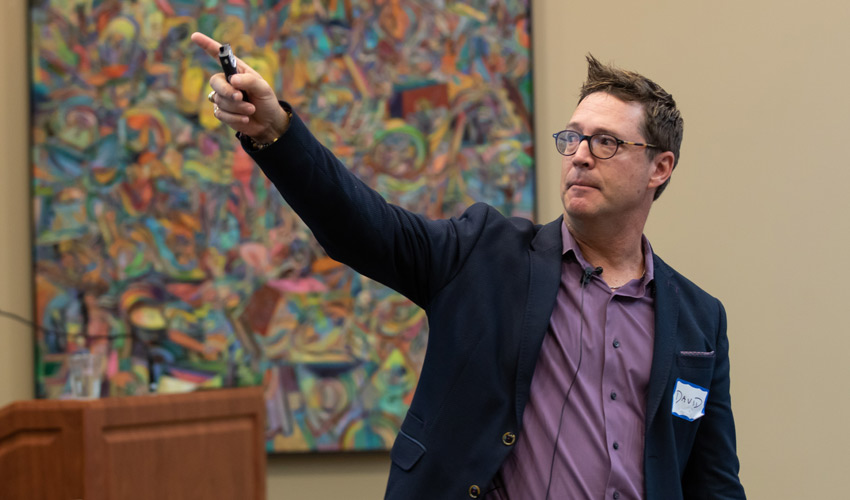 The half-day event explored how innovations in work-integrated learning can support developing the high-impact talent that will thrive today and in the future, including the skills that innovative employers require; the gap between employers' emerging needs and the skills graduates possess; what role work-integrated learning plays in ensuring graduates are future ready, and global best practices in work-integrated learning.
Attendees came from the Calgary business community and other post-secondaries as well as MRU.
To help meet Calgary's economic challenge, Mount Royal University's Institute for Innovation and Entrepreneurship is leading a research program exploring the city's dynamic labour market and how this impacts the development of adaptable high-impact talent who thrive in our new economy.
To support this, the Institute and MRU Career Services developed the free open-access Designing YOU series, including 12 books and 14 podcasts, to support young adults in planning their personal and professional development.
"Hitting the ground running is a term often used to describe MRU graduates," says MRU Vice-President Academic and Provost Lesley Brown. "MRU's commitment to diverse forms of community-based work-integrated learning, whether it be practicums, co-op, community service learning, research or entrepreneurship and social innovation is in our DNA. These experiences bridge the classroom and practice every day. With our partners, we are well-positioned to push the boundaries on innovative approaches to embed community-based work-integrated learning across the school."
Panelists at the Roundtable included:
Pamela Brown, senior human resources business partner with RBC

AnneMarie Dorland, assistant professor in the Bissett School of Business

Court Ellingson, research manager at Calgary Economic Development

David Lui, VP marketing, Mark's and FGL Sports; board director, Hypertension Canada and Calgary Marketing Association

Jennifer Pierce, senior VP, human resources at TC Energy

Patti Pon, CEO & president at Calgary Arts Development

Stephen Price, dean for the Faculty of Health, Community and Education

Terry Sydoryk, CEO of Chaordix Inc.
Aug. 20, 2019 — Peter Glenn
Media request contact information.
Have a story idea? Please fill out this form.