Champions for change - reducing the stigma around mental health
Honorary degree recipient and former NHL goaltender Kelly Hrudey faces up to the struggle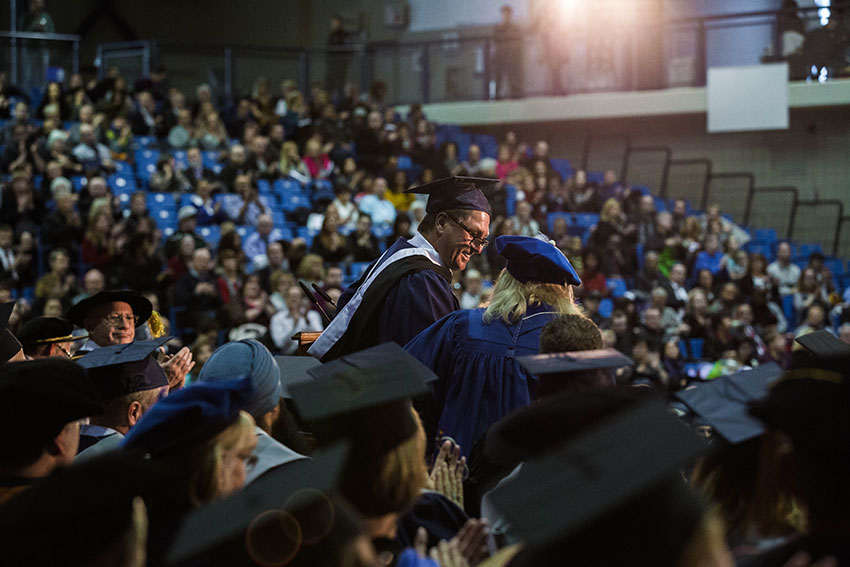 When Kelly Hrudey cracked his first National Hockey League roster in the fall of 1983, depression, anxiety and mental health weren't common words thrown around the New York Islanders' locker room.

"It would not have been a subject that we would have mentioned," says Hrudey, a veteran of 677 NHL contests. "If people would have exhibited mental health issues we might have teased them. It was totally inappropriate, but we had no idea ourselves how to deal with it, nor did we know the battle that they were going through."
In recognition of his subsequent championing for destigmatization of mental health issues, outstanding achievements and history of community service, Hrudey was presented an Honorary Bachelor of Arts ― Psychology at this year's Fall Convocation ceremony. "I am humbled and honoured to receive this distinction," says Hrudey. "The more we can talk about the importance of mental health the better. Thank you to Mount Royal University for placing importance on the subject."
Hrudey and his family know all too well what the struggle is like for someone confronted with mental health concerns. While heading to her first day of school in 2005, Hrudey's daughter Kaitlin became overwhelmed with anxiety and was unable to get out of her mother's car when the pair arrived at school.

With what they first believed were quirky habits, Hrudey and his wife Donna soon realized what their daughter was experiencing was serious and needed immediate attention. They have been open about Kaitlin's battle with anxiety and obsessive compulsive disorder, and their family's journey, working together to help their daughter cope.

"We were forced into the battle when Kaitlin showed signs that her life had become debilitating. We were forced to get her some help, and she has a life that's way more manageable now."

As soon as Kaitlin started to make improvements her father realized that addressing the issue publicly would benefit others. This led to Kaitlin and her dad to be ambassadors for the Know the Signs campaign in support of Children's Mental Health Awareness Week in 2013.

"Because of those experiences it changed our life. We're very proud to be advocates for the issue." Hrudey is excited to see the topic more regularly discussed throughout society and in the hockey industry. He believes things are changing, and is very motivated by what he's hearing.
Roles as NHL goaltender, broadcaster, community and mental health advocate @KellyHrudey strives to be best #HonoraryDegree #MRUgrad pic.twitter.com/238G1LUqBj

- Mount Royal U (@mountroyal4u) November 3, 2017

"Since we started talking about this I've had many people contact me (about their own experiences), some admitting that their spouse might not even know what they're going through," says the Calgary Flames game analyst for Rogers Sportsnet. For his work on CBC's Hockey Night in Canada, he received a Gemini Award. He was also on the Mount Royal campus to champion the launch of the University's Bachelor of Communication - Broadcast Media Studies major.

"I've had very emotional conversations with people. They are asking for advice or what signs they should be looking for. We gain satisfaction because we are gaining traction."
Hrudey's dedication to the mental health cause has led to other influential Canadians lending a hand. In 2015 Hrudey joined Clara Hughes, Michael Landsburg and Ryan Getzlaf, among others, in Saskatoon to support Toronto Maple Leafs head coach Mike Babcock and his One Voice fundraiser, which was aimed at bringing more awareness to mental health issues.In addition, his annual Scotiabank Kelly Hrudey and Friends Charity Golf Classic helps raise money for several organizations. Hrudey was also appointed the first Honorary Colonel of the Canadian Forces School of Search and Rescue at 19 Wing in Comox in April 2015.
According to Hrudey, when Babcock first heard the numbers that one in five Canadians is affected, the Maple Leafs coach quickly realized his 23-man roster must have four or five guys experiencing something.

"He's not naive to think just because you are professional athlete, you can't go through this. That's very heartwarming for me.

Hrudey and his family have used their platform to make mental health a part of everyday conversation, something that has impressed Jennifer Pettit, Mount Royal's interim dean of the Faculty of Arts who awarded Hrudey his parchment on Nov. 3.

"Mount Royal University is fortunate to be associated with someone like Mr. Hrudey, who has had such a significant impact on hockey, broadcasting and mental health," says Pettit, who believes Hrudey serves as a positive role model for students.

"As a public figure in a male-dominated sport and career, Mr. Hrudey has broken down barriers by coming forward to share his family's story despite the stereotypes that promote the idea that 'tough guys' should not discuss the challenges they face, or even more importantly, ask for much-needed help."

Moving forward, Hrudey and his daughter are doing what they can to ensure all those needing assistance can get it. The tandem has plans to continue working on projects with both the Calgary Mental Health Association and the Alberta Children's Hospital.

A great day! my first official @mountroyal4u convocation. Congratulations graduates! @KellyHrudey #honorarydegree #letstalk #Mentalhealth pic.twitter.com/mn484Z18wh

- Lesley Brown (@lesleyabrown) November 3, 2017
"The projects that we're hearing about will change the landscape for people seeking help, and it's so encouraging. I'm going to say it's going to be a game changer. If there's a roadblock at the moment, it's access to getting help. I hope that barrier will be broken," says Hrudey.
Hrudey's professional hockey career saw him play for three teams. As the New York Islanders' goaltender in 1987 his team defeated the Washington Capitals in the longest game in club history. Hrudey helped the Los Angeles Kings reach the 1993 Stanley Cup Final, and he was a member of the squad that captured the 1987 Canada Cup by beating the Soviet Union in the tournament's final game.His new book, written with Kirstie McLellan Day, is titled Calling the Shots, and is billed as a lively memoir filled with on and off-ice anecdotes, humour and insight.


Read about the 2017 Fall Convocation Ceremony.

Nov. 3, 2017 ― Jonathan Anderson
Media request contact information.
Have a story idea? Please fill out this form.