I Believe You campaign supports survivors
Reporting of sexual assault is increasing due to efforts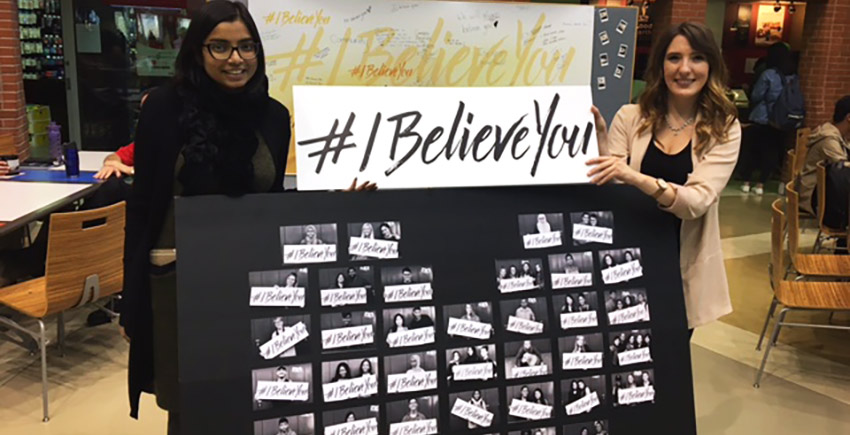 I believe you. These three simple words are improving the health and safety of Mount Royal University and larger community by communicating a simple idea: when a survivor of sexual assault discloses, we should start by believing.
An event at Mount Royal Oct. 3 focused on this message behind the #IBelieveYou campaign, a month-long awareness effort now in its third year promoting appropriate and supportive responses to sexual assault to help educate and empower front-line sexual assault responders as well as friends and family of survivors.
Hosted by the Student Association of Mount Royal University (SAMRU) in association with Calgary Communities Against Sexual Abuse and the Alberta Association of Sexual Assault Services (AASAS), the #IBelieveYou Wyckham Takeover featured a panel discussion on creating a culture of believing on campus. There was also information available about on-campus resources for survivors, and a growing board of Polaroids showing students and supporters holding an #IBelieveYou sign.
"It's been a really great event," said Madelaine McCracken, SAMRU's vice-president, student life. "We've been able to share a lot of information and the panel was fantastic."
That panel included Gaye Warthe, PhD, associate dean ― Teaching and Learning with the Faculty of Health, Community and Education; Bob Lambert, Manager, Residence Life and Steve Kootenay-Jobin, Housing and Events Coordinator at Iniskim Centre.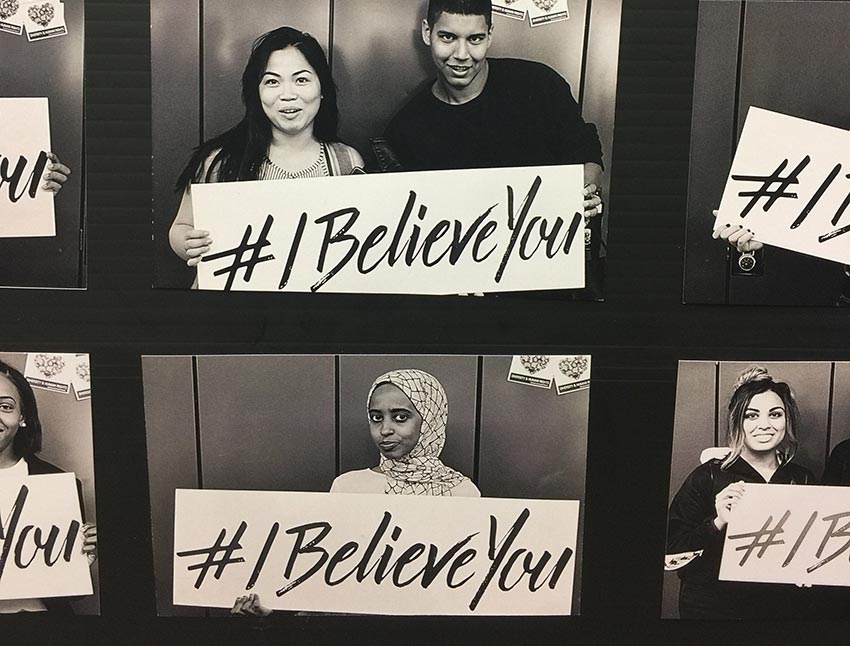 Warthe says students may feel confused or ashamed when an assault takes place and that a campus like Mount Royal's can develop concepts such as consent to create a safer environment.
"We have a unique opportunity to say what's OK on our campus, to say what's OK about safety and relationships. We have an opportunity to influence our (wider) community with what we think is acceptable," said Warthe in an interview leading up to the event.
Warthe points to responses from Mount Royal to the challenge of sexual violence, including Stepping Up, a peer-facilitated dating, domestic, and sexual violence prevention project; CCASA on campus providing support; a Sexual Violence Response and Awareness Coordinator (Cari Ionson); a stand-alone policy on sexual violence reporting; disclosure training for students and employees, and many events organized by SAMRU.
The #IBelieveYou campaign is part of that mosaic of supports.
"We really need to say, 'I believe you,' take a deep breath and stop, without getting into those little questions of 'what were you doing? and 'what happened then?' that lead to making judgments," Warthe says. "Then we need to get them to the people who know what to ask, to the supports on campus."
While there is still a long way to go, information provided by AASAS suggests the annual campaign is having some positive affect and is helping to increase sexual assault reporting.
For example, the percentage of Albertans who would respond to survivors of sexual assault by saying 'I believe you' has grown from less than one per cent before the campaign began in 2015 to five per cent after that first effort and 12 per cent in 2016.
The percentage who would give another supportive response such as 'I'm sorry that happened or 'It's not your fault' is up from 21 per cent pre-campaign to 66 per cent in 2016.
Reporting sexual assault to police is also up by 20 per cent in Calgary and the number of new clients seen by AASAS is up 53 per cent.
Oct. 4, 2017 ― Peter Glenn
Media request contact information.
Have a story idea? Please fill out this form.