Exposing "Identity" at Mount Royal Exposure Festival exhibit
Second annual installation opens on Main Street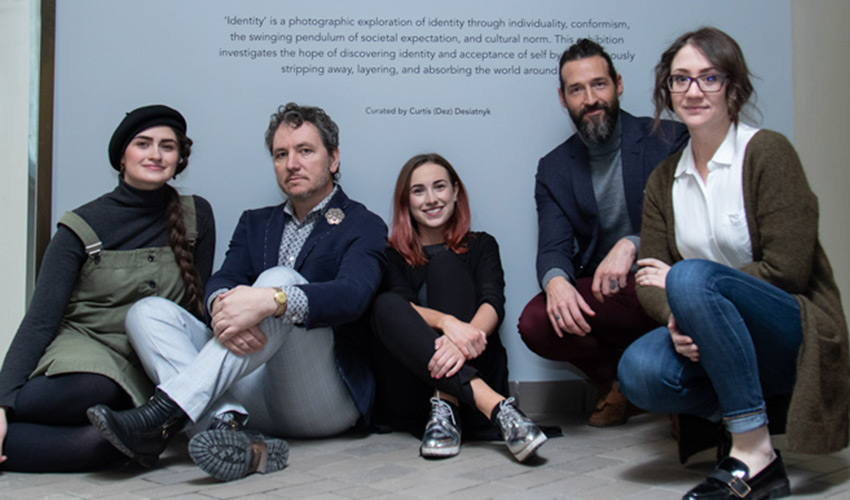 (L-R) Sanja Lukac, Francis Willey, Ellen FitzGerald Reichbart, Curtis Desiatnyk and Kaitlin Moerman pose in front of the opening panel of Mount Royal's 2019 contribution to Alberta's Exposure Festival. Desiatnyk, chair of MRU's Art Committee, curated the exhibit.
---
Grabbing a coffee at the Starbucks beside the East Gate just got a lot more interesting. On Feb. 7, a new photography exhibit exploring "Identity" opened, with photos ranging from a life-size self-portrait on acid-etched glass to experimental images aiming to deconstruct the beauty and burden of identity.
The group exhibition is Mount Royal's contribution to Exposure, Alberta's only photography festival, now in its 15th year. Exposure hosts over 30,000 attendees annually, with most events free and open to the public. This is the second year that MRU has taken part, after Curtis Desiatnyk, manager of Insurance and Risk at Mount Royal and long-time member (now chair) of the University Art Committee, took the initiative last year to organize and curate an exhibit around the theme of Reconciliation, which featured Indigenous photographers and poets.
From Reconciliation to Identity
"We chose the theme of Reconciliation (last year) because it's important," says Desiatnyk. "It's wasn't just a bunch of cool photos. The focus was on education around a story that the University and our Art Committee felt was important to address." Last year, Desiatnyk was asked to speak to several MRU classes, which ended up viewing and discussing the exhibit together.
With this year's installation, Desiatnyk wanted the same impact. "I didn't want to lose momentum and have an exhibit that doesn't really say anything. I wanted it to be very cohesive and for faculties to take something from it and even be able to incorporate it into the curriculum.
Desiatnyk originally chose "gender" as the theme and put out an open call. He noticed that as the submissions started to stack up, the theme morphed from gender into identity. "It became less about gender and more about acceptance and finding your place in the world. It wasn't just gender, but race, age, culture and everything else that helps us interpret who we are."
Sanja Lukac — The Trouble with Beauty & Syllable Series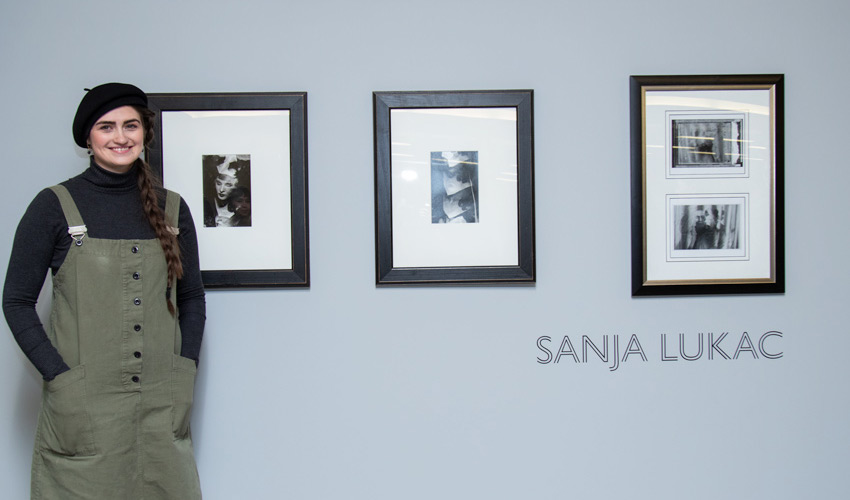 Sanja Lukac's work visually explores how identity has no boundaries and is infinite.
---
Sanja Lukac is an artist and curator who exclusively works with analogue processes and utilizes paper, plate, polaroid and film negatives in her contemporary photography practice. Her work for the MRU exhibit is composed of darkroom prints and polaroid images that visually explore how identity has no boundaries and is infinite.
Says Lukac, "Identity is in constant motion and grows from our individual experiences in an environment which has no control or predictability." She says it can be challenging for her to present work to the public, but that she wanted to contribute within a space where education was the priority, to stimulate thought and evoke something in the minds of the public.
Kaitlin Moerman — Untitled, Life-Size Self-Portrait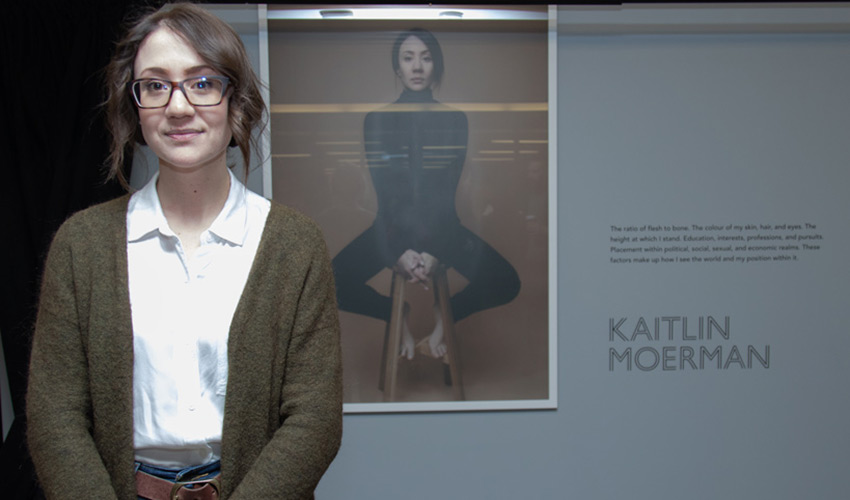 Kaitlin Moerman's self-portrait delves into the various aspects of what makes her who she is.
---
Kaitlin Moerman is a writer, editor and photographer, interested in people and places and how the two interact to create culture and identity. Her untitled, nearly life-size self-portrait was printed on 40"x 60" paper, then mounted into a white frame with acid-etched glass.
Identity formation and interaction is a subject Moerman says she has spent quite a bit of time with academically and artistically. "I'm interested in people. I'm interested in what makes them do the things they do, what makes them who they are, myself included."
When she saw the open call, Moerman was inspired to create new work, focusing on herself and her own identity. "I can't speak to anyone's identity but my own. When I look at my own image, I reflect a lot on who I am, what informs my decisions, how I got there. My thoughts, feelings, experience, my geographical placement inform the frame, composition and decision to take the photo. I'm in every piece. This piece just takes that to a more literal place.
Ellen FitzGerald Reichbart — THE SPACE IN BETWEEN Series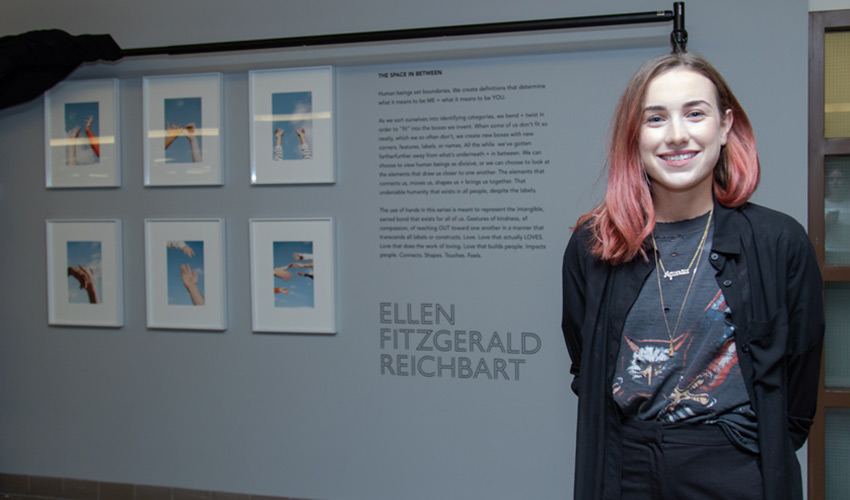 Ellen FitzGerald Reichbart's work focuses on unity in the Mount Royal community.
---
Ellen FitzGerald Reichbart is a lifelong artist who makes photographs, designs, art directs and works in digital marketing. The pieces in her series are not named, but numbered one through six. Reichbart said she had wanted to submit when she saw the open call, but didn't think her work was worthy. Encouraged by a friend who works at Mount Royal, Reichbart gathered together a group to execute an idea. Her photographs were taken on the MRU campus and feature both MRU alumni and staff.
"I wanted to focus on what unites us," says Reichbart. "What kind of shared identity do we have as human beings and what does that consist of? I think when we contemplate what unites us, there's a beauty in its simplicity. All human beings are searching for happiness, acceptance and love and striving to do our best with the tools we have."
Francis Willey — Natasha Brite, Mo B Dick, Drag King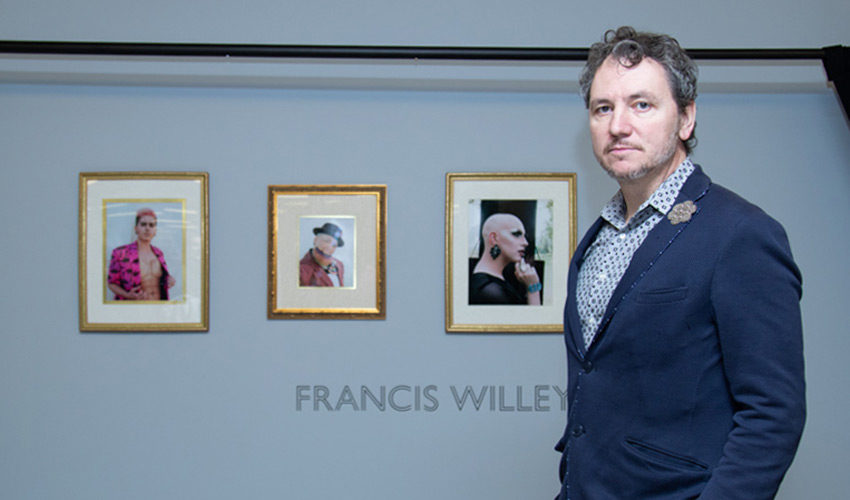 Francis A. Willey presents pieces from his series 'inclusionists', which includes themes of gender roles and freedom of expression.
---
Francis Willey is a self-taught, traditional 35mm film photographer. Willey's three images feature drag artists and are part of his ongoing series titled 'inclusionists.'
Willey believes that everyone should have the right to express personal identity. "I touch upon gender roles, rights and freedoms to express and build confidences, change stereotypes and build transformative feelings. Drag queens and kings personify freedom of expression through performance and persona with reversed gender roles."
Willey hopes that people will experience the MRU exhibition, which can hopefully help expand personal horizons and depth of compassion, support the arts and celebrate photography.
Desiatnyk says the reason he became involved in Exposure Fest is simple. "I do this because I love photography. Originally, I did the first wall because I saw an opportunity. We have this big wall at Mount Royal not being used. There was a photography festival that I loved. Let's bring in a bunch of photography that I love and hopefully people love it as much as I do."
Continuing Education at Mount Royal offers a Photography Certificate of Completion for those interested in learning the lens.
Feb. 8, 2019 ― Felicia Zuniga
Media request contact information.
Have a story idea? Please fill out this form.