New ablution stations open to Muslim students and employees
Private parent room also opens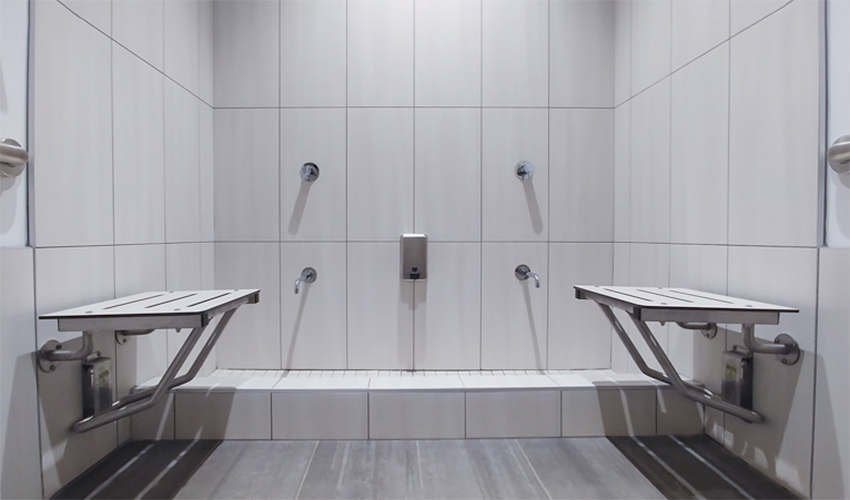 One of two new ablution stations for Muslim students and employees in W-wing.
---
Two new ablution stations to enable Muslims to perform the required cleansing ritual before prayer were celebrated at an event in the Office of Campus Equity and Meaningful Inclusion (CEMI) Wednesday. Muslims are required to wash their hands, face and feet ― a practice called 'wudu' in Arabic ― for daily prayers.
Khaula Bhutta, human rights advisor with CEMI, said before the ablution stations opened late last fall people had to use the sinks in public washrooms, which was awkward and uncomfortable. It was also difficult not to get water on the floor when they tried to wash thoroughly, which made it a safety hazard.
"This is about inclusion. This is an opportunity to showcase to the community, to different groups, that we are trying our best to create spaces where people feel safe, respected and where barriers are removed. We have a duty to provide these facilities under Alberta's Human Rights Act."
"It shows support for our prayers, for that ritual," explained Assad Chaudhary, a second-year business student and president of the Muslim Students' Affiliation. "It's a huge milestone and step forward on campus in supporting and accepting the identity of students."
Chaudhary says it is a relief to students to no longer have to explain the cleansing ritual in public bathrooms and to be able to prepare for prayer in a solemn, thoughtful way. "Some students may not feel comfortable enough to explain their faith to others. This respects their privacy and their own thoughts during wudu, which is also a form of prayer."
Interfaith coordinator Greg Veltman estimated there are 300 to 400 Muslim students at MRU, and about 100 students regularly use the stations, which are also open to Muslim employees.
The stations are located close to the University's Meditation Room (W201). "It was really important to be practical," Bhutta explained. "Most of the time when students take time out to pray they only have a few minutes between classes. They've got very busy schedules, and a lot of them are also working. The stations had to be easy to find and near the meditation space."
At the opening celebration, Mount Royal president David Docherty spoke of the need the stations fill. "I am so pleased we have these spaces for students, employees and visitors," he said. "They are more than physical spaces. They speak to what is important - what we value here in the Mount Royal community. With these spaces, we are saying - loud and clear - you belong here."
Bhutta said the project required a lot of consultation within the University and beyond to take into account the needs of the students, costs, best practices and design considerations. Facilities Management was heavily involved in the planning and led the construction. Students were consulted on the proposed designs and their input was used, such as ensuring the ablution stations were accessible to people with reduced mobility, with adjustable seating and lower soap dispensers and faucets. The door signage includes braille.
"Students told us Mount Royal is making them feel they belong here," Bhutta said. "It's great to see students use the stations."
New parent room also opened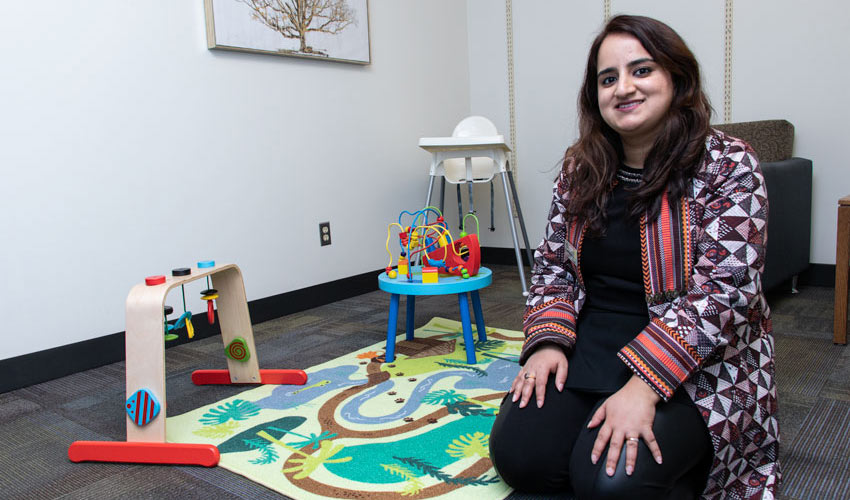 Human rights advisor Khaula Bhutta in the new parent room (F122).
---
A new parent room was also officially opened on Feb. 6. Located in F122, the room allows student parents to feed and change their babies, or pump breast milk in a private space, or enjoy time in a common area with other parents. Addressing students' practical needs also helps their mental well-being, said Bhutta.
"Students are facing so many different challenges, but I think student parents have a very unique challenge. Many of them identified that they feel isolated, and without a support network. So we asked how we could assist them."
Students in the MRU Parent Club, which has about 100 members, were consulted in the planning of the new space. The room is also open to employees with young children. Another parent room is located in the Riddell Library and Learning Centre. Before the parent rooms were built, Security Services helped CEMI find small, private spaces across campus for students who needed to pump breast milk.
"One of the challenges is students don't have the benefit of mat leave. There are days they have to make the choice: 'Am I going to be a student today or a parent today?' " Sometimes students end up dropping out if they feel they can't be both, Bhutta said.
Danielle Dusome, a third-year general science student and president of the Student-Parent Club, said, "I was pregnant the first year I attended Mount Royal and during that time I felt really alone as a because I couldn't relate to my peers and had different responsibilities."
Dusome said the new parent room will have many benefits. "Opening the room allows us to come together and create a community. Having a safe space to breastfeed or pump and feel comfortable is meeting one of the biggest needs for these students."
Veltman says building such spaces is important for students who need them today, but also for the future.
"People might ask, 'How many students (actually) have children?' But that question comes from the assumption that the University wasn't made for students who are also parents. The question should be 'How are we making this institution a space where that population would then grow because they're now included?' "
He says while Mount Royal has never been against students being parents, "in all these subtle ways we hadn't built an environment that is conducive to that."
The ablution stations are on the second floor of the main building, past the Meditation Centre in the hallway to Recreation. The new parent room is on the main floor in F-wing, behind the Cougars Campus Store.
Read about ways Mount Royal is making more inclusive and student-focused spaces around campus.
Feb. 8, 2019 ― Melissa Rolfe
Media request contact information.
Have a story idea? Please fill out this form.