Graduating class recons Calgary's future
Information design capstone encourages meaningful change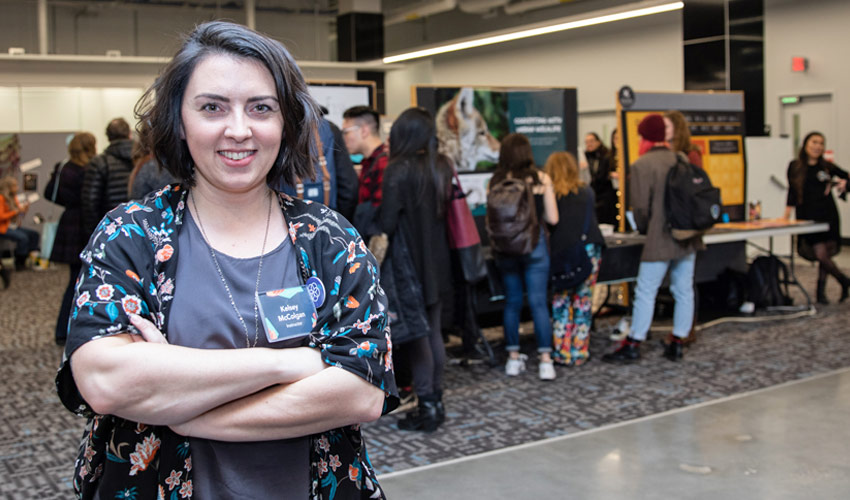 Mount Royal University's 2018 graduating class of Bachelor of Communication ― Information Design students are bringing attention through their year-end capstone projects to the difficulties impacting many Calgarians. The assignments were about understanding local challenges and why residents of the city should care.
"Throughout the 2018 fall semester, senior level information design students used the human-centred design process along with a systems-thinking approach to examine the United Nations' Sustainable Development Goals; a framework for the most important challenges that we are facing as a society," says professor Kelsey McColgan, who is also an alumna of the program.
McColgan describes human-centred design as a problem-solving framework that focuses on empathizing with the people one is designing for; adopting their perspectives to guide decisions in the design process, from problem identification and research through to concept development and prototyping.
And the UN Sustainable Goals are relevant to everyone. "The goals are a framework for the most important challenges that we are facing today as a society, with topics that include access to clean water and healthy food, sustainability, decolonization and reconciliation and many more."
The United Nations website explains that the Sustainable Development Goals are the globe's best plan to build a better world for people and our planet by 2030.
Students were tasked with finding a Calgary-based manifestation of an issue and worked with local subject matter experts to develop deep understandings of the complex and often overlapping systems that challenges are borne out of.
An exemplary piece was produced by student Emma Rosenberg. Her project worked to address the question: How might we encourage those experiencing homelessness living in Calgary to move towards a more stable life through community initiatives and involvement? The project was connected to UN Sustainable Development Goal 11: Make cities and human settlements inclusive, safe, resilient and sustainable.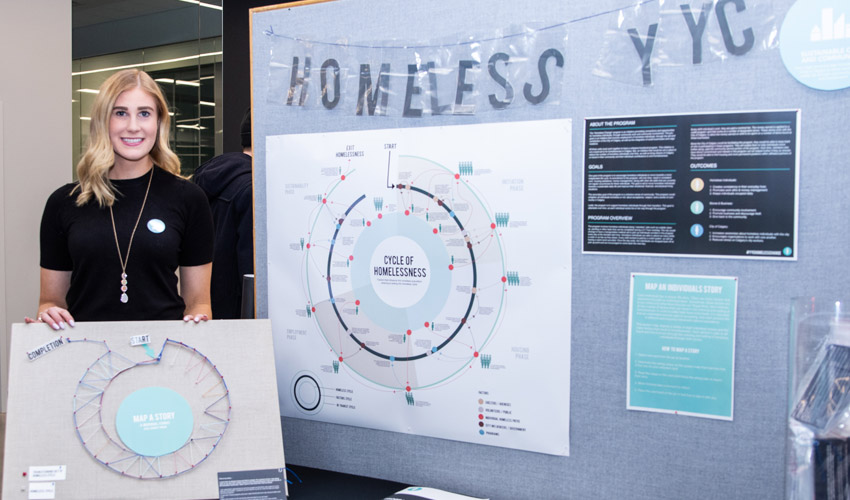 The idea came to Rosenberg after attending a public presentation by the Alex, which focused on how best to change community perspectives on homeless housing integration efforts. After the talk, Rosenberg realized that the main issue is not just finding affordable housing for those experiencing homelessness, but education about how homelessness arises in the first place.
"Individuals becoming involved and educated is the first step in getting homeless people out of poverty and into practices that eventually lead to permanent housing," Rosenberg says.
Agencies in Calgary are diligently working towards the eradication of homelessness, but the road to doing so is long and complicated. Rosenberg reached out to those in the industry who advocate for the homeless and discovered that Calgary has multiple organizations and efforts in place, however, there is a lack of cohesiveness between all parties. The lack of consistency makes helping those experiencing homelessness more difficult. That said, the passion each party shares for helping others is aligned.
Rosenberg was unaware of how valuable this project was going to be until she completed it.
"I have a new understanding of design that puts people first," she says, and adds she hopes the issues that were focused on can be tackled.
The projects were on display in the Ideas Lounge of the Riddell Library and Learning Centre on Dec., 6 at an event titled: Humanly 2018: Systems Thinking and Changemaking, Information Design Capstone showcase. Each assignment was presented in a print publication, which was available at the showcase, as well as online and on the state-of-the-art interactive visualization wall in the Ideas Lounge.
The ideas presented at Humanly amplify Mount Royal's capacity for changemaking as the designs challenge individuals to take action for good.
Dec. 7, 2018 — Rob Petrollini
Media request contact information.
Have a story idea? Please fill out this form.