Finding opportunity amid disruption
International Women's Day conference encourages women to forge a flexible path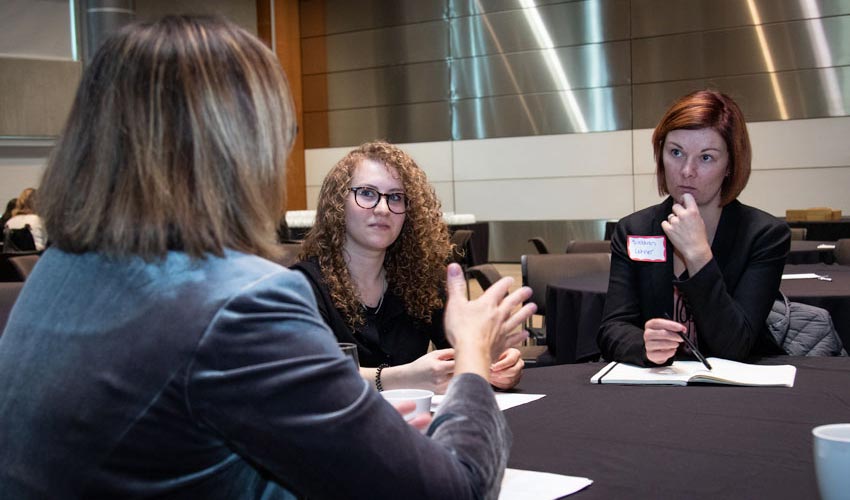 "Leadership is not defined by title or position. It's a choice that each of you can make."
That was the main message in a keynote address at an International Women's Day conference at Mount Royal on March 8. The conference offered strategies for navigating a career path and developing leadership skills for about 150 students, recent grads and other attendees.
The theme was 'Women in leadership during a time of disruption.'
The keynote speaker was Denise Man, head of and senior vice-president Digital Transformation at ATB Financial, who said, "As we participate in a time of disruption, leadership is more important than ever."
Man spoke about her non-linear career path, which took her from electrical engineering to software and intellectual property policy development, to working with digital technologies in locations around the globe. After returning to Calgary and attending law school, Man started at the bottom of the corporate ladder again as a summer student working in the mailroom despite her executive-level accomplishments in international business. In five years she rose to the position of chief technology officer.
Man summed up what she's learned about leadership in four key points. First, "The more you train your change muscle to be comfortable with adaptability, the faster you can bounce back and keep moving forward. Second, be accountable for your personal growth and never turn down an opportunity to learn. Third, communicate thoughtfully, clearly and authentically - who you are matters. And fourth, leadership is a team sport that requires collaboration and a focus on others."
Fourth-year information design student Elise Martinoski said Man's keynote address helped her see what she can do differently right away. "Our conversations regarding women in leadership in a time of disruption is a key piece to this movement, and all ears, men's included, should be a part of such a conversation to keep the momentum moving forward," she said. "My part in today's event is to share what I learned with others."
Man encouraged students to "embrace the journey and the setbacks" and to trust the journey they're on. "Don't worry if you don't know what you want to be - focus on where you are today and move into the next phase step by step."
And, noting that disruption can make it hard to predict the future, Man added, "When I was growing up there was no such thing as a head of digital. The jobs of tomorrow haven't been defined yet today."
International Women's Day was started in 1911- during another time of disruption, which included the industrial revolution, the rise of radical ideologies and women's suffrage - and evolved to advancing the contributions and roles of women across all realms of work.
Over the years, many of the barriers women faced have been reduced, if not eliminated, but there's a reason International Women's Day is still needed.

""The more you train your change muscle to be comfortable with adaptability, the faster you can bounce back and keep moving forward."


Denise Man, head and senior vice-president of Digital Transformation at ATB Financial
Man said that while only about five per cent of Fortune 500 companies have a female CEO, she has bold expectations for this generation: "You're going to bring a more equitable, inclusive future and solve some of the world's toughest problems. Smash those barriers and raise the bar by choosing to lead."
Martinoski said she was inspired by Man's presentation. "I loved Denise's challenge to lead from day 1. I think at times I go into situations being more timid and shy until I get my bearings in the new surroundings," she said. "But there is much more power in entering strong, being ready to lead and being ready to embrace opportunity."
In her conference remarks, Elizabeth Evans, dean of the Faculty of Business and Communication Studies, observed that "drivers of disruption can be motivators for positive change or negative regression. I hope this conference will inspire your thinking about your journey of leadership and how you will handle disruption."
Evans challenged the audience to see how disruption can present opportunity if they see it "not as external factors disrupting us, but us disrupting ourselves to be part of positive change."
Mount Royal is the only university in Alberta to be invited to join the recently announced Women Entrepreneurship Knowledge Hub, part of the federal government's Women Entrepreneurship Strategy.
"It is a pivotal time for Mount Royal as a leader in advancing women in leadership," Evans says. "Mount Royal will be reaching out to the broader entrepreneurial community to assess the current ecosystem for women entrepreneurs. This work is just getting underway."


Read more about the Women Entrepreneurship Knowledge Hub and the Bissett School of Business. Find out about the International Women's Day conference at Mount Royal.
March 12, 2019 — Melissa Rolfe
Media request contact information.
Have a story idea? Please fill out this form.