Alumnus recognized as one of Canada's Top 40 Under 40
Kevin Read is the founder and CEO of Nomodic Modular Structures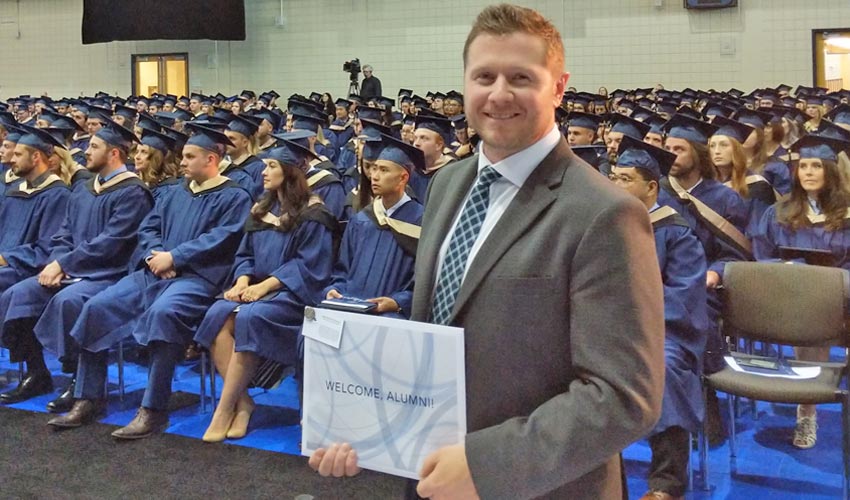 Kevin Read is a Mount Royal University alumnus, the founder and CEO of Nomodic Modular Structures, and this week, was named one of Canada's Top 40 Under 40. He was also one of eleven outstanding MRU alumni to be nominated for this year's Alumni Achievement Awards, and was recognized as one of Avenue Calgary's Top 40 Under 40 in 2017 alongside his wife and Nomodic co-founder, Julia.

Read's stepbrother and fellow alumnus Curtis Ince describes him as "an incredibly driven and likable person.

"I believe the experience and skills he gained at Mount Royal truly put him over the top, allowing him to launch and grow an innovative, successful business while raising the profile of Calgary in the process," Ince says.

Read graduated from Mount Royal with a business and entrepreneurship degree in 2006, and has since established himself as a visionary leader and entrepreneur who is redefining the construction industry. Read and Nomodic have excelled by identifying and establishing an innovative niche ― fully custom, permanent modular buildings ― that have translated into tailor-made cabins, recreational properties, remote operations lodges, offices, warehouses and more.

Since launching Nomodic Modular Structures in 2012, Read has grown the company from a small bedroom office to a team of over 40 individuals, recording annual revenues of roughly $20 million. Read and his team have established modular as a superior method compared to conventional construction, with benefits including time savings, improved safety and quality control, and reduced waste.

We are so thrilled for alumnus Kevin Read, founder and CEO of Nomodic, who was announced in @nationalpost today as one of Canada's Top 40 Under 40. Kevin is also one of our 2018 Alumni Achievement Award nominees. Join us in congratulating Kevin @Nomodic! https://t.co/d7rd1dzE74

- MRU Alumni (@MRUAlumni) June 27, 2018
The most exceptional thing about Nomodic, perhaps, is how it is applying these benefits to build affordable housing and schools, and helping homeless and Indigenous communities through partnerships with BC Housing and Indigenous and Northern Affairs Canada, respectively.

Beyond changing the construction game, Read is also extremely generous, volunteering time with his team at The Calgary Food Bank and Calgary Drop-In Centre, participating in a hockey tournament that raised over $300,000 for Alzheimer's research, and volunteering for many years at the Bethany Care Centre.

Mount Royal was fortunate enough to welcome Read back to campus for the 2018 Spring Convocation, where he shook hands with all 360 business graduates as they crossed the stage, welcoming them into the alumni community.
Learn more about the Alumni Achievement Awards and stay tuned to hear about this year's nominees and recipients.
June 29, 2018 ― Julie MacDonald
Media request contact information.
Have a story idea? Please fill out this form.