Gold-medal winner Kurt Oatway has a Mount Royal connection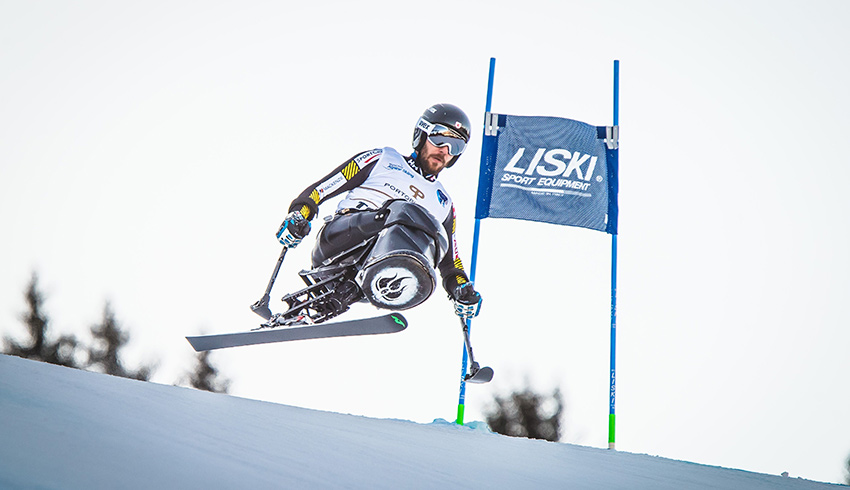 On March 11, Kurt Oatway achieved his Olympic dreams by placing first in the sitting Super G race in Pyeongchang. Oatway provided Marketing and Communications with an interview before leaving for South Korea.
A love of skiing has carried Mount Royal University alumus Kurt Oatway to great heights, and at the upcoming Paralympics in Pyeongchang from March 9 to 18, he hopes to reach even higher.
Born in Edmonton in 1984, Oatway started alpine skiing at age five and was enrolled in the Nancy Green Ski League at age six. He continued alpine racing through the K1 to J2 levels. After moving to Calgary, he graduated in 2002 from William Aberhart High School in the city's northwest.
After high school, Oatway attended Mount Royal College in a two-year transfer credit program, with a major in geology, later moving to the University of Saskatchewan in Saskatoon to complete his degree.
It was during a 2007 field school with the U of S studying sedimentary environments in Utah that Oatway fell 12 metres off a rock outcrop, landing on his feet. He suffered a radial compression fracture of the T12 vertebrae, resulting in an incomplete spinal cord injury. After lengthy surgery and recovery during 2007 and 2008 he went back to the U of S, graduating in 2010 with a Bachelor of Science ― Geology.
Oatway's passion for skiing was reignited while he watched the 2010 Vancouver Olympics, and decided on the sit-ski as an avenue to get back on the slopes. He started at Mission Ridge Ski Hill in the Qu'Appelle Valley outside of Regina in March of 2010, and continued to train with the Regina Alpine Ski Team under the guidance of Gord Poulton.
Ski skills crossed over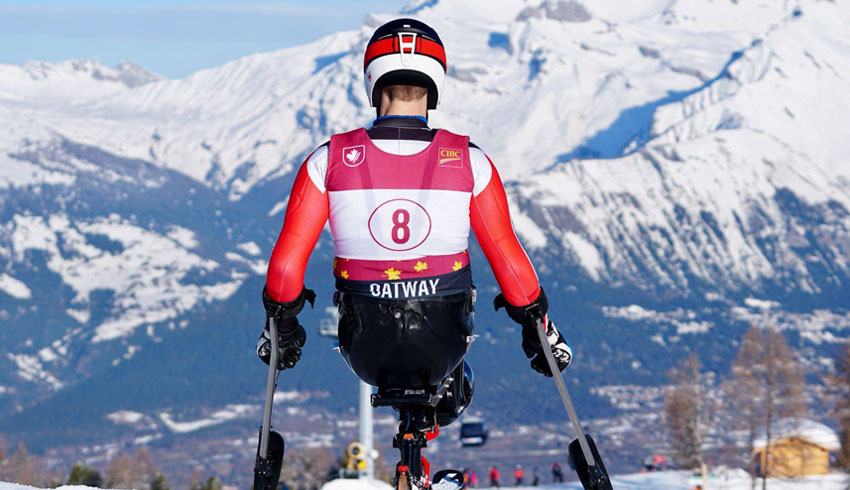 With his skiing background, Oatway says he quickly adapted to the sit-ski, and with encouragement and continued support from his family, his training and competitive career began to gain steam.
"There is a lot of crossover," he said during a recent interview on the Mount Royal campus. "I started skiing when I was five, racing when I was six, so getting used to the speed was not a factor. When I started on the sit-ski I was always thinking, 'I can go faster than this, I just have to figure out how,' and so I was never really scared as far as that goes, which is probably why I like downhill and Super G so much.
"How you move, how you feel in a turn, a good turn versus a bad turn, I knew the difference there. I knew the psychological, mind approach to how to race. I didn't have to learn to do a course inspection or understand the flow of a course. That had all been ingrained in me for 15-plus years beforehand.
"But your interface with the snow is more mechanical than it is biological. I don't use my knees to ski. I rely on a shock and a spring to interface with the snow. So that's totally different."
Moving back to Alberta put Oatway closer to world-class ski terrain and facilities here and in B.C. as he continued his journey.
With the help of the Regina Alpine Ski Team and the Saskatchewan branch of the Canadian Association of Disabled Skiers (CADS), Oatway eventually landed on the Canadian Para-Alpine Ski Team development team, culminating in qualifying for the 2014 Sochi Paralympics where his best result was fifth in the Downhill. The 2015-16 season was his most successful so far, with eight podium finishes and a second overall in WPAS World Cup GS points, third overall for total WAPS World Cup points, and first overall in WAPS World Cup points for Downhill, earning him the Crystal Globe for that event.
Focus on the podium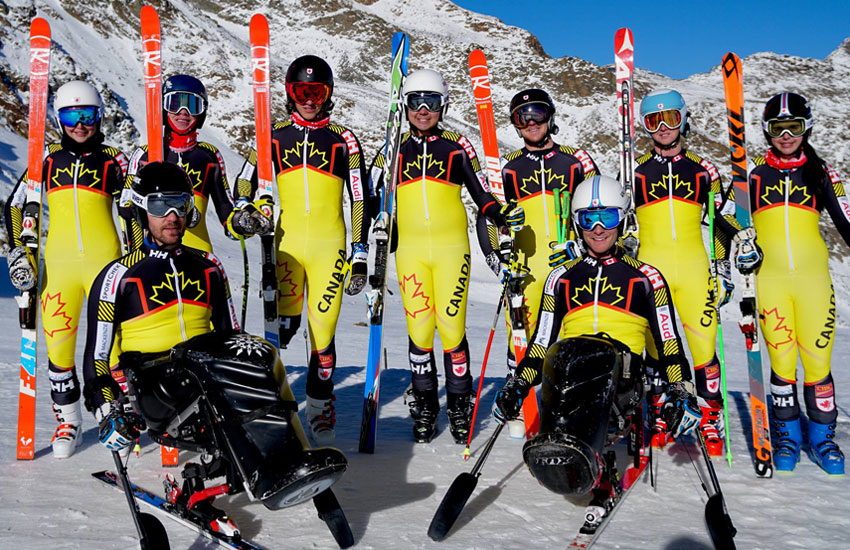 Injuries put a damper on the 2016-17 season, but this year Oatway is back and has set his sights on achieving more.
Despite a number of races in Europe being cancelled because of too much snow, Oatway said he was pleased with his skiing and looking forward to racing in Kimberly, B.C., training and more racing at Panorama, officially being named to the Paralympic team (he has all the points and World Cup starts and finishes he needs to make the team) and getting to Pyeongchang, with a scheduled departure on Feb. 27.
"Sochi was a fun experience but a little bit of a disappointment on the results end," Oatway says. "I didn't finish a lot of the races and I had an opportunity to finish on the podium on the Super G but it didn't work out that way. I had a little bit of a mechanical malfunction with my sit-ski and I lost a whole bunch of speed and time at a very crucial point on the course and ended up ninth. My best finish at Sochi was fifth in the Downhill and I'd like to improve upon that. If the course set is in my favour and things fall into place, I hope to get at least two medals, primarily in Downhill and the Super G."
Some of the challenges at the Paralympics, says Oatway, are the intense worldwide focus, larger venues and huge crowds.
"The size and scope of the (Sochi) venue was definitely way bigger than anything we encounter on our regular circuit," he says. "I know able-bodied athletes in the FIS World Cup, they have races where they have 100,000 people gather at the bottom of the hill no problem. For us, we're lucky if we get 100 people. To have large grandstands that are pretty much packed; to have your family there ― it's a little bit different. Your motivation to do well is even more stressed than it would be otherwise, I guess."
Overcoming injuries
Oatway says dealing with a broken foot at the end of the 2015-16 season in South Korea at a test event, having his gallbladder removed in September of 2016, then breaking his arm in January of 2017 were mental as well as physical challenges he's learned to overcome.
"Just keep going. Just keep plugging away. An injury is only as big as you make it," he says. "I've managed to heal pretty well from what I've had. If I actually had lasting effects from my injuries then I guess I'd approach things a little differently, I'd try to take it easy, but I've been pretty lucky with injuries. My foot healed up just fine. My left arm that I broke is actually better and stronger right now than my right arm that I didn't break, and I'm right handed. And I can actually eat a cheeseburger and not feel sick now (after his gallbladder surgery)."
As for the life-altering accident that resulted in his paralysis, Oatway sees positives there, as well.
"My paralysis from my original injury is still there, and that's more or less gotten as good as it's going to get, but ski racing has helped me to deal with it, and to accept it and kind of move on. One of the biggest setbacks in my life actually led to one of the biggest accomplishments. If I hadn't broken my back I'd be doing something completely different."
Oatway's achievements and attitude translate beyond the world of elite athletics, says David Legg, PhD, professor in Mount Royal University's Department of Health and Physical Education and an expert in adapted physical activity, as well as the Paralympics.
"Athletes like Kurt are outstanding role models for everyone and perhaps more specifically those with disabilities," says Legg. "Children with disabilities, like all children, should be encouraged to aspire for greatness on places like the playing field, art studio or small business."
Life after competition
Looking ahead, Oatway says he'd be up for one more four-year cycle ending with the Winter Games in Beijing in 2022. If, however, Calgary goes ahead with a bid for the 2026 Games and is successful, all bets are off.
"If they make the announcement and Calgary gets '26, I can't retire before that. Growing up skiing at Nakiska, to do an Olympic Games at Nakiska, or another mountain in Alberta as continuation of the '88 legacy - I'd have to do it."
When his sit-ski career is over eventually, Oatway, who will turn 34 shortly before the Games, says he'd like to put his education to work. His geology degree began with two years at MRU, and Oatway noted the changes on campus, including the new Riddell Library and Learning Centre built where he used to park his car.
"The core building has undergone a lot of changes as well, but there's still a lot of old parts that remain, which adds a little charm to it."
Mount Royal's Faculty of Science and Technology provides four majors to students.
Feb. 8, 2018 ― Peter Glenn
Media request contact information.
Have a story idea? Please fill out this form.