Cultural understanding and resilience as anchors
Latasha Calf Robe wins prestigious Calgary Aboriginal Youth Achievement Award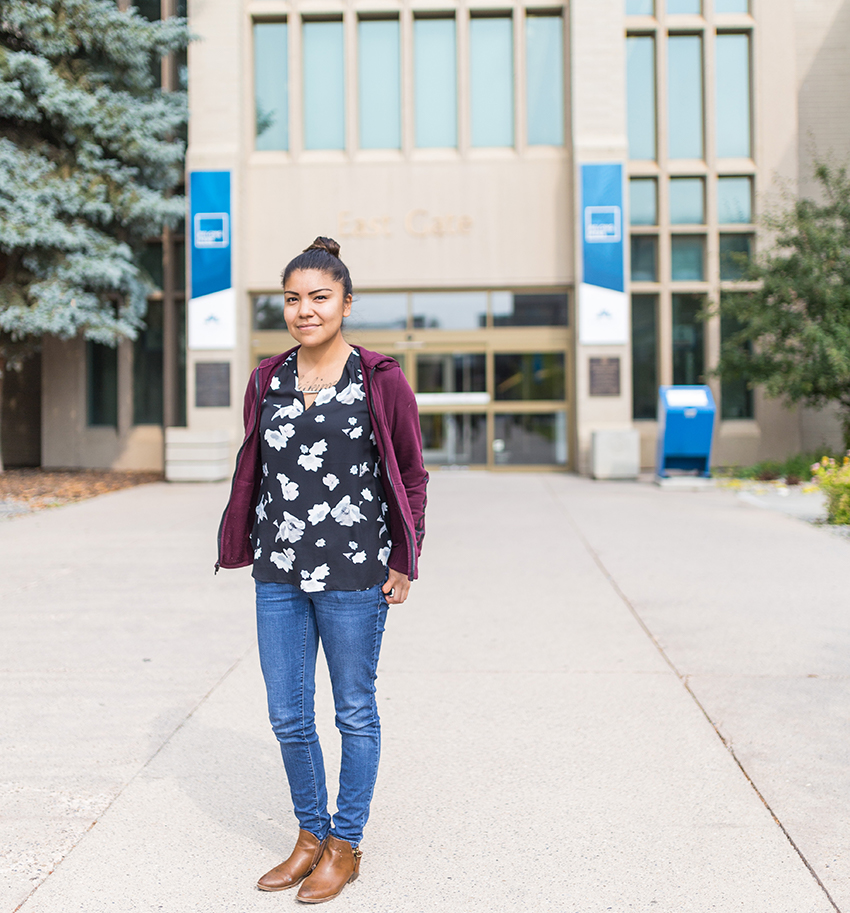 Latasha Calf Robe is a recent graduate of the Bissett School of Business who is now balancing staff duties at Mount Royal responsibilities between the Office of Teaching and Learning and the Institute for Community Prosperity. She recently received the Calgary Aboriginal Youth Achievement Award, which was bestowed for her launching and curating a series of six discussions called the Niitsitapi Resiliency and Empowerment Discussion Group this past year.
Calf Robe obtained a Bachelor of Business Administration ― General Management with a double minor in Indigenous Studies and Innovation and Entrepreneurship. Part of Mount Royal's Indigenous Curriculum Development initiative through the Office of Teaching and Learning, Calf Robe is a member of the Kainai Nation, part of Treaty 7 territory in southern Alberta.
"(The awards are) to recognize Indigenous youth in Calgary that have helped within the community, supported education and are putting themselves out there," Calf Robe explains. They are given out by The City of Calgary, and at the ceremony Calf Robe shared the stage with another well-known Mount Royal figurehead ― Calgary mayor Naheed Nenshi. The two first met in a Bissett classroom, where Nenshi taught an economics class.
"Latasha carries a lot of knowledge about Blackfoot culture. That's very special, because we don't see that very much anymore," says Kelli Morning Bull, a member of the Mount Royal team who nominated her for the award. So rousing was her initiative that colleagues Elder Miiksika'am and Professor Liam Haggarty also wrote letters of recommendation for Calf Robe.
As the Iniskim Centre's Student Success Coordinator, Morning Bull has known Calf Robe for a number of years. "She started off as a student looking for resources, but she already had a good sense of balance in her life, which made things easier," she explains. Calf Robe had just lost her father and was eight months pregnant at the time of meeting, and reached out for help getting her exams deferred.
"She was a great student and she's become a very special woman. She may be young, but I look up to her and I'm proud to know her."
"I wasn't made aware of the nomination until after it was submitted, and then (the nominators) were like 'Surprise!'" The second surprise came when she got a phone call informing her that she had won.
Filling in the blanks
While Calf Robe praises Mount Royal and Bissett's Business program, she felt that there could've been more Indigenous knowledge, heritage and culture weaved into her education. As an individual acutely conscious of the importance of Indigenous culture, Calf Robe took matters into her own hands, buttressed by the experiences of those around her, as well as her own.

"I was inspired to talk about resiliency because it's such a powerful tool, and it's the reason that lots of Indigenous people are still around today. They faced many hardships, and there are many meaningful and empowering stories about resiliency that not just Indigenous people can learn from. Those stories helped me keep going," she says.

Calf Robe's faith in resiliency stems from her Blackfoot roots, a faith she hoped to share with, and instilled in, other students, with the goal of helping them cross the stage at Convocation, too.

"Latasha's leadership represents what MRU students can do," says John Fischer, director of Mount Royal's Iniskim Centre. "(The University) is developing a reputation for being a place where community can come together, to learn and to discuss issues and to gain a greater understanding ― in Latasha's case, particularly about Blackfoot culture."

Moving forward, Calf Robe is championing the University's Indigenous Strategic Plan, which is working to infuse current curricula with more Indigenous content. Her series of resiliency discussions will continue to run for the next year, offering a place for the community to gather and discuss issues relevant both on and off the reserve.

"It'd be a great benefit to the education of all students that walk through Mount Royal to have that know-how of how to communicate with Indigenous people, and build meaningful relationships with them ― to have the knowledge about treaties and what Canada's built on, and to help us move forward together," she says.

Meanwhile, Fischer and Morning Bull are noticing the ripples of Calf Robe's work moving outward across the nation. Apparently, the CBE and other organizations are beginning to organize discussions in a similar vein as her initiative.

"Imitation is the highest form of flattery," finishes Fischer, while cracking a knowing smile.

Calf Robe is also a four-time recipient of the national Indspire award, which is a scholarship for Indigenous peoples in post-secondary who display academic achievement and dedication to helping their home communities with their education. Because of these achievements she was also awarded the Husky Renewable Energy Foundation Scholarship through Indspire for Indigenous people in the business field during her last two years of study at MRU.


Learn about Mount Royal's indigenization effortsand its Indigenous Strategic Plan.


July 27, 2017 ― Max Foley
Media request contact information.
Have a story idea? Please fill out this form.