Increasing Indigenous representation in the STEM fields
.caISES holds first national gathering of students and professionals at Mount Royal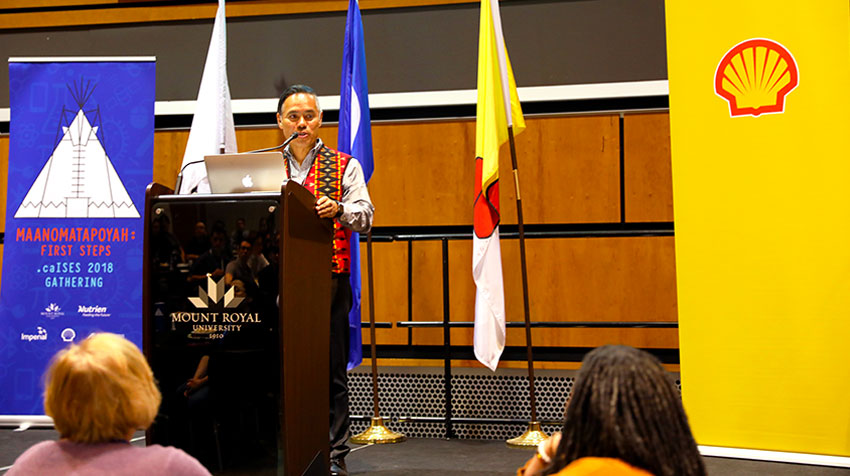 Matching Indigenous students in science, technology, engineering and math with mentors and potential employers is the key to success for a group underrepresented in these vital areas of Canada's economy.
To that end, the Canadian Indigenous Science and Engineering Society (.caISES [dot-see-eh-sis]) held Maanomatapoyah: First Steps, its first national gathering of Indigenous STEM (science, technology, engineering and math) students and professionals. Hosted by Mount Royal University and sponsored by the Aboriginal Science and Technology Education Program (ASTEP), part of MRU's Iniskim Centre, the event took place at Mount Royal Feb. 23 to 25.
Additional sponsors included Imperial, Nutrien, Shell Canada, Engineers Canada and Rio Tinto Arcan.
.caISES is the new Canadian region of AISES (the American Indian Science and Engineering Society), which for 40 years has provided networking, peer support and mentorship to Indigenous peoples in STEM fields at all levels of their educational and professional lives.
"Indigenous people are underrepresented in STEM education, and more and more, the best-paying jobs require that education," said Noah Arney, ASTEP administrator at the Iniskim Centre. "The opportunities in the STEM fields are increasing, and industry leaders have frequently spoken of a desire to hire more Indigenous people into STEM positions."
ASTEP has assisted Indigenous students in the Faculty of Science and Technology with both academic and co-curricular supports since 2012. The program has helped more than double the number of Indigenous students enrolled in MRU's science and tech programs.
During Maanomatapoyah, around 80 students were given opportunities to explore undergraduate and graduate opportunities, engage with Indigenous STEM professionals, as well as network with scholarship-granting organizations and corporations looking to hire. STEM professionals and corporations, meanwhile, had a chance to meet bright, accomplished young Indigenous peoples looking to establish a career in STEM. The weekend featured sessions on various topics, including Reconciliation in STEM, Indigenous Identity in Post-Secondary and Workplace, Career Pathways and Outreach and Community Engagement.
"Students (had) the opportunity to meet professionals in various industries and learn about their career paths. Professionals (had) the opportunity to connect with one another, and with students, to share their journey and network with one another," said Deanna Burgart, engineer, speaker and self-proclaimed "Indigeneer" (Indigenous engineer), who is a member of .caISES.
"Students and professionals also (had) the opportunity to connect with employers and post-secondary institutions to share and learn what other paths may be available to them both educationally and in their career."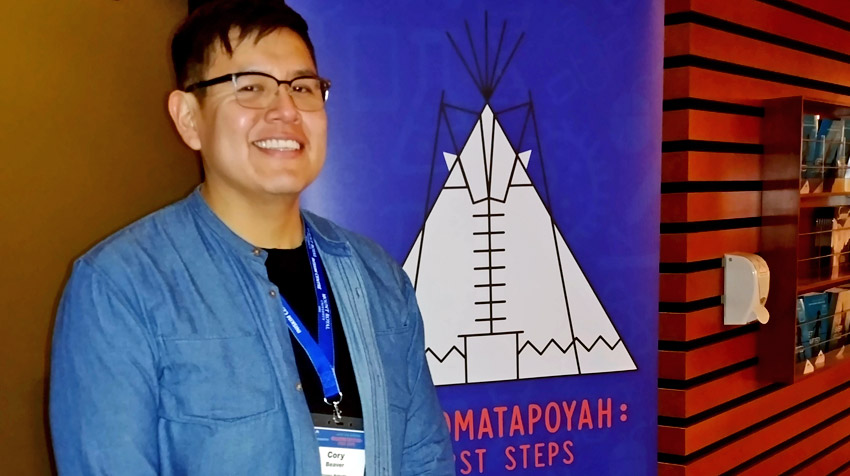 MRU student Cory Beaver didn't know what to expect going into the weekend, but found the experience enlightening.
"It was a very valuable experience," said Beaver, who is hoping to pursue business studies at Mount Royal or the University of Calgary, but is also interested in math.
"I think the panels were very engaging in terms of understanding what different careers are out there and how they work to bring more opportunities for youth, especially First Nations youth. It was helpful to know who's who when I was there and who I can potentially reach out to and network with."
Saturday's keynote speaker was Dr. Evan Adams, a member of the Tla'amin (Silammon) First nation. Well known throughout Canada's Indigenous community, he completed his medical degree at the University of Calgary and has had an accomplished medical career, including time as the deputy provincial health officer for British Columbia. He's also an actor, playwright, and producer, and appeared in the movie Smoke Signals as Thomas Builds-The-Fire.
"Indigenous youth are the fastest growing demographic in Canada," Burgart says. "Employers are seeking to increase Indigenous representation in the STEM fields and many recognize the value of Indigenous perspectives for the future.
"Many companies are not only seeking to increase Indigenous representation, they are seeking to improve the inclusivity of their organizations. At the National AISES conference in Denver, it was said that this conference is one where Indigenous STEM students and professionals do not need to walk in two worlds.'
This is what we hope to achieve here."
Learn more about ASTEP at Mount Royal.
March 2, 2018 ― Peter Glenn
Media request contact information.
Have a story idea? Please fill out this form.