Merging Indigenous learning into STEM
This year marked the fifth-annual MEG Energy Summer Science Camp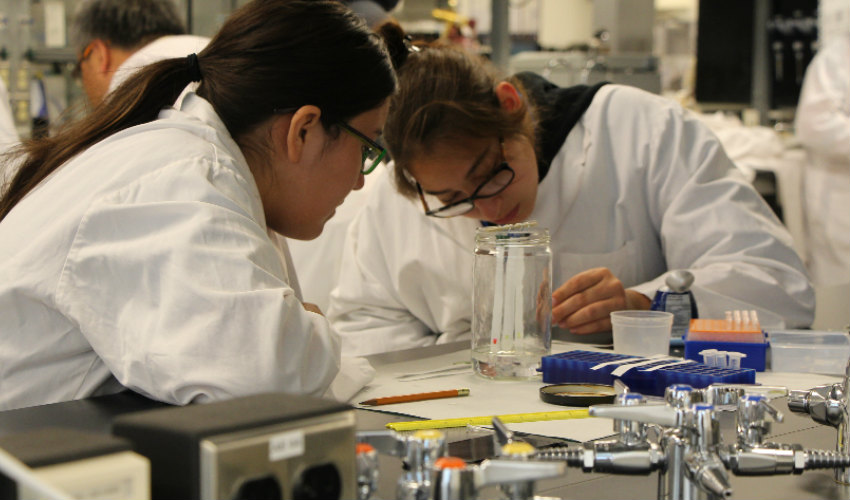 The STEM (science, technology, engineering and math) fields are notoriously male-dominated, a situation being addressed with numerous initiatives designed to attract more women to these careers. But they also seriously lack a representative population of Indigenous Peoples, something Mount Royal's MEG Energy Summer Science Camp hopes to help change. The fifth-annual immersive experience is taking place on campus from Aug. 12 to 18, with the objective of exposing high-school students from Treaty 6, Treaty 7, Treaty 8 and Métis settlements in Alberta to the secrets and opportunities of STEM.
Fully enrolled once again, the camp is part of Mount Royal's Aboriginal Science and Technology Education Program (ASTEP) program, which was developed in response to the underrepresentation of Indigenous Peoples in STEM. As Indigenous youth are the fastest growing demographic in Canada, the need is ever-increasing. Noah Arney, ASTEP administrator, oversees the MEG Energy Summer Science Camp, which is run through the Iniskim Centre.
"The whole point of the camp is to give students a taste of what science is like beyond high school and what the possibilities are," Arney says. "There are a lot of Indigenous People who work in the STEM fields at the certificate and diploma levels, but there are very few who have degrees. And those are generally the people who are in charge of things."
That leads to a lack of Indigenous knowledge within science, which can be an influential resource for learning. Indigenous communities have been observing and recording the natural world through oral histories for thousands of years, understanding that tends to be overlooked. Indigenous Peoples have extensive knowledge of animal populations and migration habits as well as native plant species. For centuries the Indigenous have been using willow bark to relieve pain, which contains the active ingredient in Aspirin. Recently, the Iniskim Centre took professors from the Faculty of Science and Technology to the Piikani Nation to learn about the plants and animals of the area, what they do and how they are used.
Three Mount Royal students are hired each year as camp coordinators to accompany the participants, who are in Grades 10 through 12, to their many activities. The students stay on campus for a week, building their familiarity with Mount Royal. Lindsey Red Crow, a Bachelor of Arts ― History student with a minor in Indigenous Studies, was a camp coordinator for the past three years (she is working with the Trico Changemakers Studio this summer), and says the objective is not only to introduce Indigenous youth to all science-related programs, but also to have them think about becoming an MRU student in the future.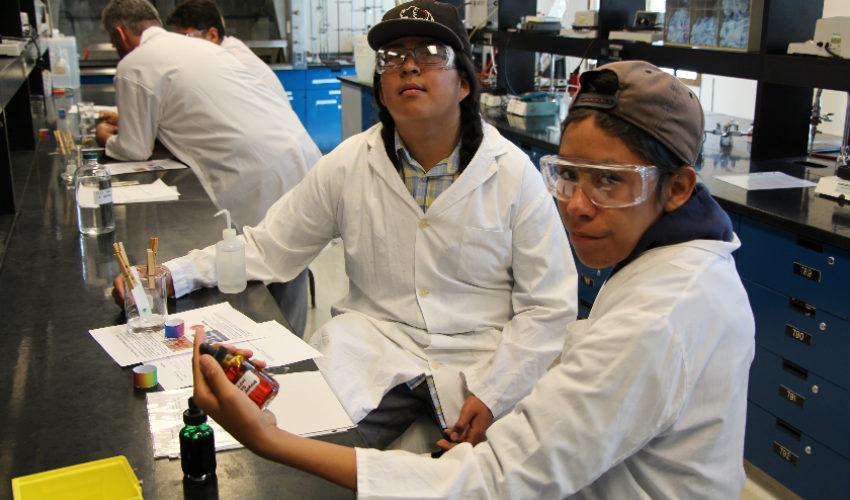 From the Wabasca Bigstone Cree Nation (Treaty 8) near Grande Prairie, Emily Cardinal's first experience with Mount Royal was through the MEG Energy Summer Science Camp in 2015.
"Honestly, the camp was my first actual experience at a university. All the people that were working the camp were super-friendly and I felt really at home. It was my first time being so far away from home, but I wasn't homesick," Cardinal says.
She is now heading in to her second year of studies at Mount Royal, having chosen the University due her MEG experience, and is considering entering the criminology program. Although she had originally planned to major in science, courses in Women's and Gender and Indigenous studies changed everything, Cardinal says. In the future, she would love to work with Indigenous women.
MEG Summer Science Camp students take part in experiments and workshops more advanced than what they would find in a high-school setting. Microscopes, genetic readers, computers managing big data, virtual reality and robotics are all touched upon in an experimental, hands-on manner, and are taught by Mount Royal science professors.
Camp participants also explore the Telus Spark science centre, travel to the Royal Tyrell Museum, go fossil hunting in Drumheller and visit Banff.
But instead of concentrating solely on traditional academics, Red Crow says they have worked hard to have the camp be a cultural experience as well. There is an excursion to Head-Smashed-In Buffalo Jump and a Lake Minnewanka boat tour, where MEG campers learn why that particular body of water is sacred for the Stoney Nakoda people.
"Due to most of the students coming from many First Nations communities, we decided to provide Blackfoot teachings, such as setting up a teepee in the style of a Blackfoot teepee or watching Elder in the Making. We are also open to our students from other First Nation communities sharing their teachings with us."
In addition to the MEG Summer Science Camp, in February the ASTEP program sponsored and Mount Royal hosted the Canadian Indigenous Science and Engineering Society's (.caISES [dot-see-eh-sis]) Maanomatapoyah: First Steps, its first national gathering of Indigenous STEM (science, technology, engineering and math) students and professionals.
Learn more about the Iniskim Centre's Aboriginal Science and Technology Program.
Aug. 14, 2018 ― Michelle Bodnar
Media request contact information.
Have a story idea? Please fill out this form.