"We are much stronger than we think we are."
Mohamed Fahmy delivers keynote address at New Student Orientation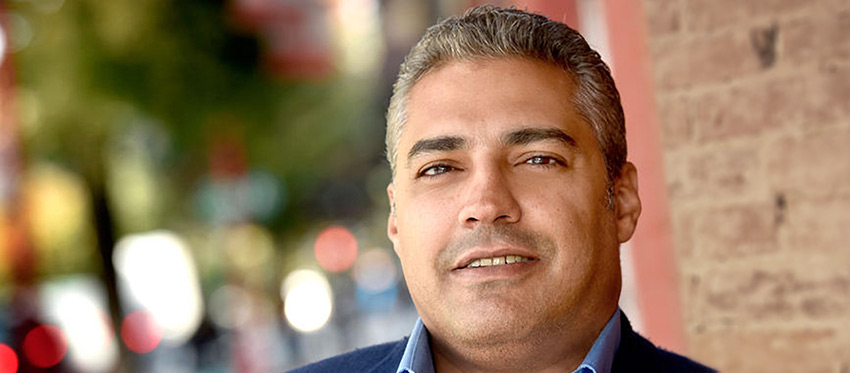 Mohamed Fahmy turned the worst experience of his life - being jailed alongside notorious terrorists, sleeping on the cold concrete floor of an insect-infested cell, being tried twice for crimes he did not commit - into a mission to help those suffering a similar fate.
Fahmy, an award-winning journalist, human rights activist and author, spent 438 days wrongfully imprisoned in Egypt, accused by the government of conspiring with a designated terrorist organization and creating fake news. But adversity can provide an opportunity to discover our true selves, he said in his keynote address at Mount Royal University's New Student Orientation on Sept. 5.
"Prison is designed to break you … You ask yourself, 'How do you stay sane?' Here is the answer: I believe we are much stronger than we think we are. Many of you here may not even know how strong you are," Fahmy said.
The Egyptian-Canadian was arrested in 2013 by authorities in Cairo shortly after taking the post of bureau chief for Al Jazeera English. Fahmy credits a slim volume he read in jail with reframing his narrative. Man's Search for Meaning was written by Viktor Frankl, who survived the concentration camps during the Second World War. Frankl wrote of the idea of "tragic optimism," Fahmy explained, which is the ability to "say 'yes' when you are facing, death, injustice, that sort of pain you have when you are an innocent person when you are in a cell, for example. How do you turn it into an achievement for you and for others?"
"That book is what kept me going. I live with this concept today and every day in life. How do you make the best out of your 24 hours of that day? How do you help people? How do you turn it into something better?" the 43-year-old said.
What a fantastic experience for our new students on their first day at #MRU to hear your story, an honour! #New2MRU #mrulife

- Mount Royal U (@mountroyal4u) September 5, 2017
That's a challenge students can explore in their coming years at MRU. Fahmy established the Fahmy Foundation with his wife Marwa Omara in 2015 while he was still in jail. The Vancouver-based non-profit organization provides advocacy and financial assistance to journalists and prisoners of conscience who are unjustly imprisoned around the world. There are more than 200 journalists imprisoned globally, he told the students, and more than 1,000 Canadians in jail abroad. Working with Amnesty International, Fahmy has written a "Protection Charter" that would reform how Canada reacts when its citizens are detained or imprisoned abroad. Fahmy urged the new students to find a cause or organization that resonates with them and sign on to make a difference.
"There are so many causes that you can engage in," he told the students.
Fahmy, who grew up in Kuwait and Egypt, moved to Canada with his family and attended university in Montreal and Vancouver before covering the Iraq War as an assistant journalist/interpreter for the Los Angeles Times in 2003. He co-wrote The Marriott Cell: An Epic Journey from Cairo's Scorpion Prison to Freedom and has a regular column in the Toronto Star. He's also served as adjunct professor at the University of British Columbia's School of Journalism and as journalist in residence at the University's Green College.
"Education is at the core of any successful career," he stressed to the gathering in MRU's gymnasiums. He advised students to broaden their educational experience and take advantage of opportunities to travel, to immerse themselves other cultures and languages. And when they do enter the workforce, they should do their best, try their hardest, put in the effort to make every day the best it can be.
"It will all count later on. You are building your reputation. That is what counts at the end of the day."
Sept. 5, 2017 ― Ruth Myles
Media request contact information.
Have a story idea? Please fill out this form.