Provost provides MRU highlights at Academic Town Hall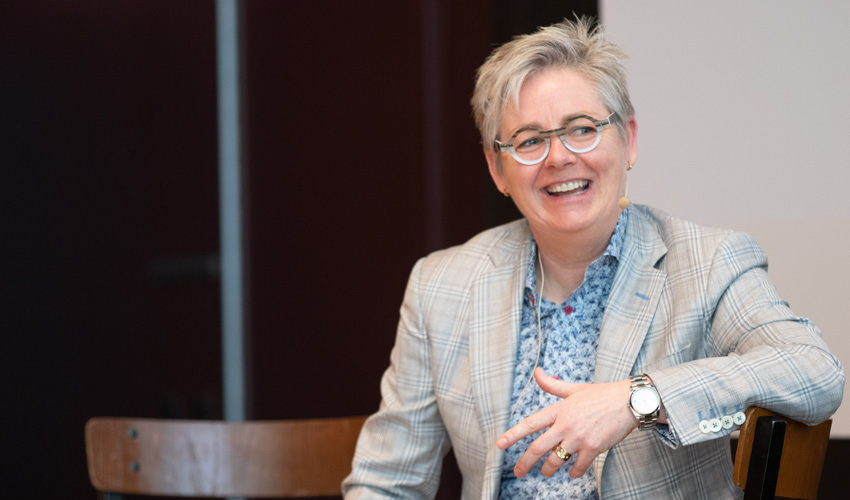 Celebrating the hiring of more full-time faculty, Mount Royal University's recent accolades, and looking forward to the arrival of new president Tim Rahilly, PhD, in just a few weeks were among the highlights of MRU's second Academic Town Hall on April 17.
Provost and Vice-President, Academic Lesley Brown, PhD, provided the end-of-semester update to the community at the TransAlta Pavilion at the Taylor Centre for the Performing Arts. The Town Hall also featured a deep dive into university governance with special guests Kenna Olsen, PhD, Associate Professor in the Department of English. Languages and Cultures and David Clemis, PhD, Associate Professor in the Department of Humanities, who sit on MRU's Board of Governors.
Mount Royal has a lot to celebrate, including the arrival of Rahilly from Simon Fraser University to begin his term as MRU's tenth president and first vice-chancellor. Current president David Docherty, whose eight-year term ends at the end of the month, will become president of Brandon University.
"I've had the opportunity to meet with Tim and I was super impressed. It's a new day with new possibilities ahead," said Brown, adding that what most impressed her about Rahilly was his visionary thinking and his capacity for considering big goals.
As she highlighted faculty awards, Brown pointed to the 3M National Teaching fellowship given to chemistry professor Brett McCollum, PhD and the Harvey Gross Award, bestowed on a geoscientist under 40 who has made a significant contribution to the field of economic geology, given to Michelle DeWolfe, PhD.
Brown spoke of student achievement as well, including Glenielia (Ariel) Crawler of Big Horn First Nation being selected as a 2019 Top 30 under 30 by the Alberta Council for Global Co-operation for her for her work promoting Indigenous rights globally, as well as her service in the Morley community.
The Accounting Case Club Team, meanwhile, won the CPA Business Challenge Case Cup Competition, while Future Innovators in Technology Justin Dubiel, Damian Laro, Anne Neumann, Ryley Penner, Dennis Campbell and Merry Ghebretatios will conduct research in co-operation with the University of Lethbridge.
Attendees to the Town Hall got a crash course at how Mount Royal's Board of Governors manages and operates MRU according to its mandate from the province and works in the institution's best interest. This is done by collegial governance using a bicameral (two-part) governance model that consists of the Board and the General Faculties Council (GFC).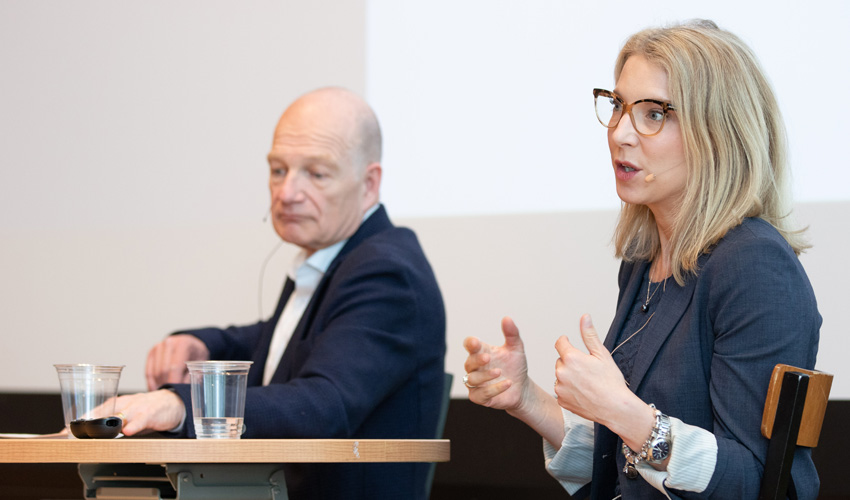 After revisions to the Alberta Postsecondary Learning Act that took effect on Feb. 1, 2019, the Board will be made up of a chair, the chancellor (soon to be named), the president, two alumni, two faculty members, two students, one non-academic staff, and not more than nine members of the general public, plus possible additional members appointed by the province.
Clemis and Olsen offered different perspectives. Clemis is finishing his second term on the board while Olsen's first will begin in the coming academic year.
"This oversight role is an interesting one," said Clemis. "The most important thing the board does is appoint and provide oversight over the president. That's the moment of contact the board really makes with the institution.
"The board is constantly receiving information about what's going on in the institution, largely from administration, and it makes judgements about how effectively the mandate is being realized or achieved. It's a kind of performance watchdog on the administration."
The board also sets direction for the institution. "Ultimately that comes out of the senior administration group, but the board listens, offers opinions and gives direction," Clemis said. "The Board's capacity to nudge, or ultimately direct, is very important."
Brown discussed highlights from the winter 2019 semester, which included seven per cent growth in full-load equivalent course-takers from 2014/2015 to 2017/2018 and increased degree student retention from 79.3 per cent in 2013 to 83.5 per cent in 2016 and 84.7 per cent in 2017.
The one per cent increase from 2016 to 2017 means "the number of people it would take to fill the Bella Concert Hall are choosing to stay at Mount Royal and possibly graduating across our stage, which is a tremendous point of pride for all of us."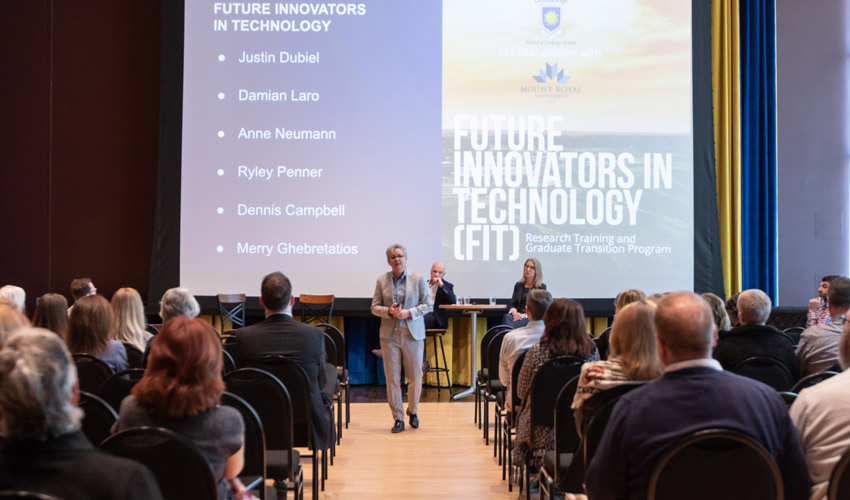 Mount Royal is also hiring faculty. There are 32 searches in progress for 25 tenure-track positions (four of which are Canada Research Chairs), one permanent laboratory instructor, four senior lecturers and two limited-term faculty. Meanwhile, the University has had three new majors approved for the Bachelor of Business Administration: Finance, Supply Chain Management and International Business. Several more majors are in various stages of the provincially mandated approval process, as the University moves toward its institutional goal of 15 degrees and 50 majors by 2025.
"One of the great priorities for me is improving permanency of the faculty cohort," Brown said. "I'm very proud to be in a position to hire full-time faculty at the institution."
The senior lecturers are new positions, agreed to in the most recent round of collective bargaining, and intended to provide more opportunities for permanent faculty employment at MRU.
The search process also continues for a Vice-Provost and Associate Vice-President, Academic and a Chair Support Coordinator.
In terms of budgeting, Mount Royal continues to be on track to submit a three-year balanced budget plan to the province in its Comprehensive Institutional Plan by June 30, 2019. A new provincial government means new postsecondary priorities, and all universities and colleges in Alberta are waiting to see what the new landscape looks like.
"We look forward to working with the new government," Brown said. "We don't have all the answers yet."
Read more about Mount Royal's tenth president and first vice-chancellor, Tim Rahilly, PhD.
April 25, 2019 ― Peter Glenn
Media request contact information.
Have a story idea? Please fill out this form.