Mount Royal's Institutes … exposed
Students lead research and community engagement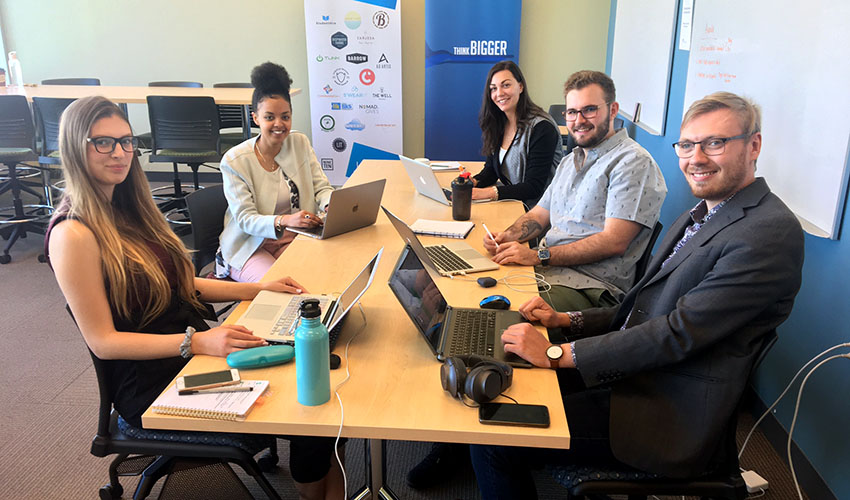 Within Mount Royal University, a number of institutes facilitate collaborative, multidisciplinary research and are bridges to the wider community the University serves.
MRU has four institutes and one affiliated institute. Each is focused on a different goal and each pursues support through donors aligned with the Institute's vision while fostering local and global partnerships. Institutes thrive through community engagement and during the summer are hubs of student activity.
Institute for Innovation and Entrepreneurship (IIE)"The Institute for Innovation and Entrepreneurship's mission is to support the development of high-impact talent that is essential to the continued economic prosperity of Alberta," says Director Ray DePaul. "This is accomplished by delivering transformative community-engaged learning experiences."
Students are at the centre of the IIE, says DePaul. Whether the Institute is providing mentorship or funding for a co-curricular project, engaging industry in capstone experiences, or offering undergraduate research opportunities, "we are passionate about providing experiences that will develop the innovative and entrepreneurial talent that the province needs."
In April, the LaunchPad program celebrated its seventh year giving MRU student entrepreneurs a boost. While the program is respected citywide for its $100,000 in student awards and the 300-plus attendance at the JMH LaunchPad Pitch Competition, the real impact often occurs behind the scenes. More than 200 students are engaged in the program, receiving more than 800 hours of personalized mentoring and coaching by Institute staff and alumni. This kind of personalized learning has proven transformative for students. For the fifth straight year, an MRU student was named the Entrepreneurs' Organization's Calgary Student Entrepreneur of the Year.
Growth Compass, meanwhile, is a community-engaged learning and scholarship initiative that delivers evidence-based insights and intelligence on how companies successfully scale up. Thanks to $360,000 in grants from the Ministry of Economic Development and Trade, the program engaged 100 members of the community and over 100 students in capstone experiences, applied research, and internships with growth-oriented companies.
The IIE has 20 students involved in summer internships, directed reading projects and research assistant roles. Students support projects across the Institute's three core community-engaged scholarship streams: High-Impact Talent, Business Growth and Sport Business Innovation.
These students are being supervised by associate directors Simon Raby and David Finch and supported by community engagement specialist Alexandra Swiston.
Justin MacLaren, a recent graduate from human resources and marketing, Anthony Mikkelson, a student in marketing and sports and recreation management, and Stephanie Ross, a student in marketing, are working with small and medium-sized companies in Calgary.
"Our goal is to take their stories and challenges they've had being entrepreneurs and turn them into case studies for use in classes," explains MacLaren. "Business case studies are such a big part of what we do analyzing companies, coming up with strategic recommendations and understanding how companies go through those decision-making processes. We really want to be able to apply that to different curriculums - in arts, and info design and communications, for example."
He said working with the IIE is helping him shift into a career.
"It really complements going out into the professional world and allows you to apply skills in more of a multifaceted way. It's a wonderful transition."

Wow. Another LaunchPad Pitch Competition complete and we could not be more proud of each and every one of the Founders. If you missed it, watch the stream on our FB page @InnovateMRU. Thank you to our donors who made this event possible @JMHCoCPA @LWConnect & Bridgewater Labs. pic.twitter.com/M3rQ8Umbua

- InnovateMRU (@InnovateMRU) April 5, 2019
Institute for Community Prosperity (ICP)"The Institute for Community Prosperity works to ensure that students and other citizens have access to high-impact, immersive, and uncompromisingly current learning to improve and transform communities," says Director James Stauch. "We work to unlock student potential beyond the classroom, helping them flourish as learners, changemakers and human beings."
Map the System is a program hosted by the Institute that helps students across campus understand, describe and explore potential solutions to a social or environmental challenge. Recent winners of the MRU challenge have all gone on to place among the top two teams in Canada. Student teams have focused on the opioid crisis in Canada (which also won the top global prize at Oxford), Indigenous food security and missing and murdered Indigenous women.
The ICP's role has expanded from training, mentoring, coaching and hosting on-campus student teams, to organizing the national challenge (on behalf of the McConnell and Trico Foundations), to authoring and co-producing (with the Skoll Centre for Social Entrepreneurship at Oxford University) a Student Guide to Mapping a System for students in the competition worldwide.
As part of its mission to connect learning, research and change leadership to build community and strengthen the common good, the ICP plans to roll out a new Fellowship program in the fall that will pair students with a community partner working on a community-wide challenge, while at the same time supporting their leadership development through a cohort model.
"This is an undergraduate research opportunity," says Stauch, "but it also challenges students to develop some critical 21st century skillsets; to be creative in making the issue understandable to the broader public, to be courageous in facilitating a community conversation about the topic, and to understand how to approach the issue from a 'systems' perspective."
The Miistakis Institute"Being a research institute, a conservation charity, and a social enterprise allows Miistakis to play the different roles necessary to broker, transfer or mobilize knowledge. Miistakis is able to take knowledge from the realm of academia to the realm of land and resource management," says Executive Director Danah Duke.
As Mount Royal University's only affiliated research institute, the Miistakis Institute explores opportunities to enhance MRU's environmental research capacity and works with MRU faculty, staff and students to realize environmental outcomes.
Miistakis takes an interdisciplinary approach to its research and enhances students' exposure to interdisciplinary research through internships, student mentorship, student volunteer opportunities, class lectures and case studies. It also provides integrated work learning experiences by providing employment opportunities, both short and longer term, for students.
At any given time, Miistakis is involved in 20 to 30 different environmental research projects. These are on-the-ground applied research initiatives addressing complex environmental challenges, and give students exposure to multiple stakeholders including government, industry, community, environmental not-for-profits and academic partners from other academic institutions.
The Miistakis Institute is running the final year of Call of the Wetland, a citizen science program to determine amphibian presence in Calgary's wetlands. A group of researchers and decision-makers are working to further urban wetland research in Calgary, with the goal of applying findings to improve urban wetland management and protection.
Participating researchers from Mount Royal include Melanie Rathburn, PhD, chair of biology, and Felix Nwaishi, PhD, an assistant professor in earth and environmental sciences. In addition, since 2017 seven Mount Royal University students have participated as summer interns on urban wetlands research.
Meanwhile, a collaborative initiative called Calgary Captured has Miistakis working with the City of Calgary, Alberta Environment and Parks, the Glenmore Weaselhead Preservation Society and Friends of Fish Creek. The project uses remote cameras installed in green spaces throughout the city to capture photos of wildlife to better understand biodiversity in our urban landscape.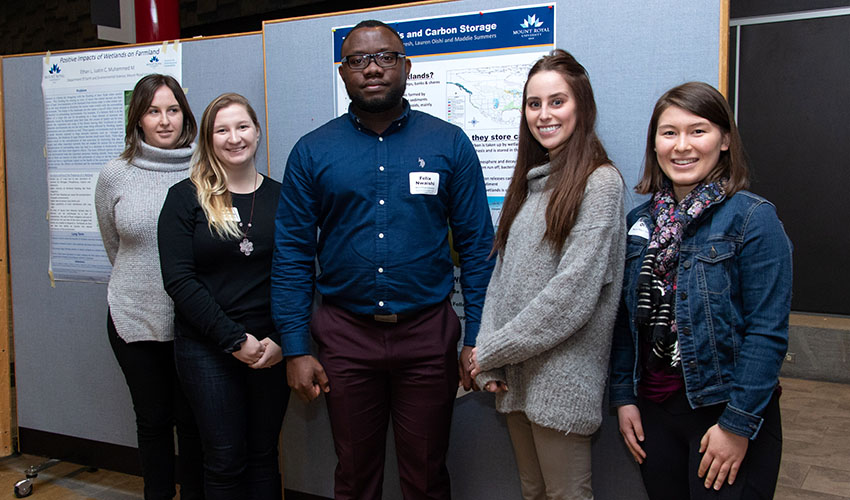 The Institute for Environmental Sustainability (IES)
The Institute for Environmental Sustainabilityis committed to research and scholarship, learning and community engagement. The Institute's main mandate is to support Mount Royal faculty in conducting research.
"We provide our undergraduates with learning opportunities as they participate in that research," says the Institute's academic director Connie Van der Byl, PhD. "We sponsor events on diverse sustainability topics throughout the year and are constantly collaborating with external partners to enable community engagement."
Funding supports initiatives across all faculties at Mount Royal: arts; business and communication studies; science and technology; health, community and education, and continuing education. To date, nearly 40 research projects have been funded by the IES, enabling the work of these faculty and Mount Royal undergraduate research assistants.
The IES engages students through paid undergraduate research positions (both directly with IES and through funded faculty research projects) and through campus events, including symposiums, movie screenings, sustainability related talks, and student awards at Research and Scholarship Days.
Highlights from the year include MRU's World Wetlands Day Event , and a new collaboration with Parks Canada , Canadian Parks Collective for Innovation and Leadership (CPCIL).
A pan-Canadian centre of excellence, CPCIL will develop and connect emerging leaders, innovative managers and engaged scholars in pursuit of the effective, inclusive, equitable and sustainable stewardship of parks and conservation areas.
The Canadian Parks Council is a collaboration of all federal, provincial and territorial parks administration. Its mission is to engage people with nature and to improve the management and stewardship of Canada's parks and protected areas.
Institute for the Scholarship of Teaching and Learning (ISoTL)
The Scholarship of Teaching and Learning is the developing field of original research and scholarship about teaching and learning practices specifically in the context of higher education. ISoTL is a research centre facilitating and supporting a community of scholars collaboratively advancing the existing body of knowledge about teaching and learning, leading to sustained improvement in student learning.
"Students are involved as research assistants and research participants, as most SoTL projects are focused on student learning in the classroom," says the Institute's academic director Michelle Yeo, PhD. "Additionally, a new exciting movement in SoTL is finding meaningful ways to engage students as full partners in the research. Several research projects funded by the Institute are involving students in new ways."
Currently, the Institute in the process of hiring a Canada Research Chair in SoTL, the first of its kind in Canada. Other activities include the first cohort of the new SoTL Development program entering its second year, with a second cohort starting in the fall. Some of the first cohort projects include inquiries into maker and design thinking, classroom motivational climate, self-regulated learning support tools, computer-based testing, feedback in a Community Service Learning environment, and Aristotle on teaching and learning.
As well, a new suite of grants this year includes Special Topic Grants that are co-funded with other areas on campus to support inquiry into SoTL and strategic priorities such as Active Learning Spaces, indigenization, and Community Service Learning.
The Ninth Annual Banff Symposium for the Scholarship of Teaching and Learning will be held from Nov. 7 to 9, 2019. Yeo started her term as President of ISSoTL (International Society for the Scholarship of Teaching and Learning) on July 1.
Register for this year's Banff Symposium for the Scholarship of Teaching and Learning.
July 11, 2019 — Peter Glenn
Media request contact information.
Have a story idea? Please fill out this form.