Department of Health and Physical Education pulls together to help Rwandan cyclists
National team trainer on campus to learn how to better treat athlete injuries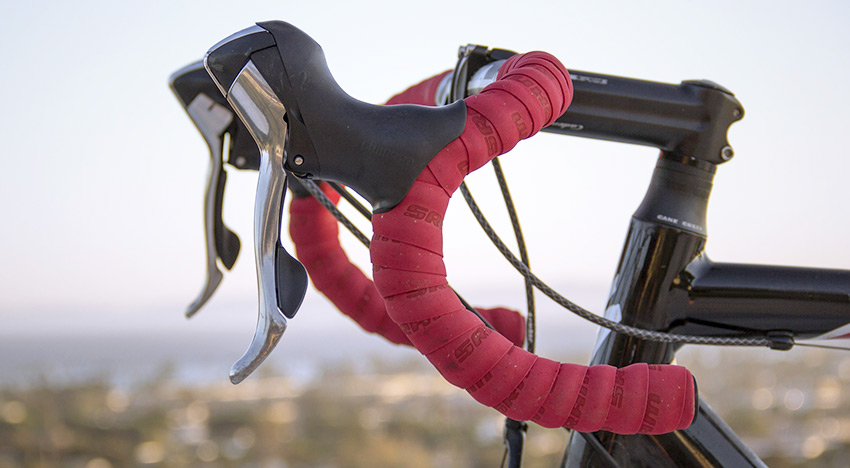 The prospect of improving athletic health and safety practices in Rwanda is one with a domino effect of benefits.
Obed Ruvogera, a 39-year-old massage therapist for the National Rwandan Cycling Team, landed in Calgary in late November to spend six weeks being mentored in first aid, athletic therapy and anatomy in various facilities and environments at Mount Royal.
Though his official title is "Team Masseur," Ruvogera's areas of expertise will extend far beyond massage therapy when he returns to Rwanda in early January.
The partnership came about when Bachelor of Health and Physical Education - Athletic Therapy alumna Andrea Dowd spent a month in Rwanda and Congo this past June. After a week training with Ruvogera and the cycling team, she saw an opportunity to push forward with the help of MRU colleagues.
"There is a huge potential for the Rwandan team to sophisticate their first aid training and then generate income for their cycling teams," says Dowd. "Being here in Calgary has opened Obed's eyes to the advances he can make in emergency healthcare for his cyclists back home."
Ruvogera says cycling is very dangerous in Rwanda, often involving frequent high-speed crashes. The annual Tour du Rwanda, in which Ruvogera first participated in 2004, has a history of serious injuries that even led to a leg amputation just last year due to lack of preventative healthcare practices.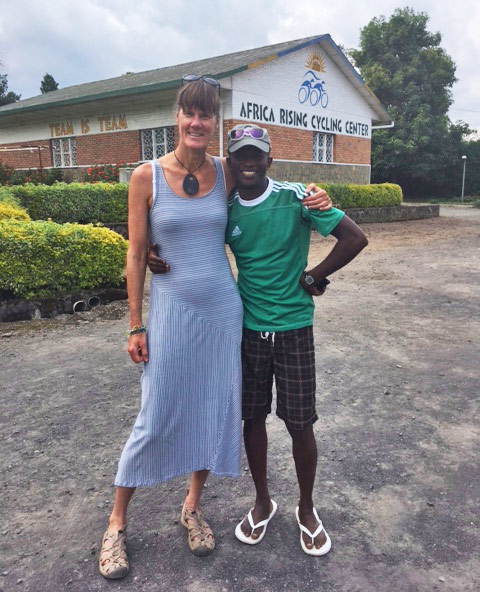 Dowd, who currently works at World Health as a certified athletic therapist, reached out to faculty members in the Department of Health & Physical Education (HPED) to help get some hands-on training for Ruvogera once he arrived.
The partnership has been mutually beneficial according to Dennis Valdez, a professor in HPED, with students getting involved in the passing on of information.
"We operate on a model where the highest level of learning is achieved when you are able to teach someone else a concept you have learned," says Valdez. "In this case, Obed has been our student, and by teaching him the MRU students have been able to solidify their own learning."
Dowd agrees, saying students that practise treating someone whose first language may not be English, such as "simply explaining to a patient that you are taking a pulse," is very applicable to real-life scenarios as a therapist.
At Mount Royal Ruvogera has been exposed to technologies in the classroom never before seen or used by Rwandan athletes. In fact, a school Ruvogera recently spoke at purchased a massage bed for him to add to his luggage on his return flight. This is in addition to a laundry list of items Dowd is hoping to send back with him, including a defibrillator, a scoop stretcher and a stethoscope.
To miss a Christmas with family showcases the dedication Ruvogera has to improving the well-being of his home country, but he has not doubted his decision.
"I'm here to learn, and my family is very happy for that."
The Tour du Rwanda will be held next in August 2018, moving to February in subsequent years to line up with the cycling season running from January to May all around the world. The Rwandan team has been so successful as of late that they attended the Colorado Classic bike race this past summer.
But it hasn't been all studying for Ruvogera. He recently saw Thor: Ragnarok in theatres, which he says has been a highlight of the trip. He also has gone snowshoeing in Banff, where his ensuing time in the hot springs unexpectedly turned into a learning moment when he was able to stabilize a man that fell unconscious in the men's shower.
In the years following the Rwandan genocide of 1994, which Ruvogera experienced at a young age, the success of the cycling team has meant more to the country than just medals.
"A lot of times during our races, it can take up to two hours for an injured person to reach an ambulance," says Ruvogera. "If I can train others to check a pulse and start CPR [in Rwanda], we could save lives."
Dec. 18, 2017 — Nicole Herback
Media request contact information.
Have a story idea? Please fill out this form.