From Hanyang to Mount Royal- An English Immersion Adventure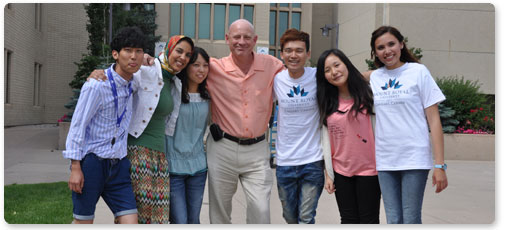 It's not everyday that the President of the University photobombs a photo shoot. Dr. David Docherty did just that, taking the time to introduce himself to a group of students participating in the English Summer Immersion Program at Mount Royal University.
Jacob Kim, from Hanyang University in Seoul, South Korea, was very impressed with Dr. Docherty, "The President was very friendly," Jacob said. "He just looked like a normal worker on campus, and he said hello to people. At my university, I never see the President."
Jacob, 26, is currently studying Educational Technology at MRU's partner institution Hanyang University. "It is educating corporate employees, so like human resource development," he explained.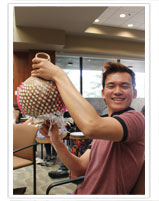 According to Jacob, Hanyang is one of the top five schools in Korea. "Our school is very famous for engineering," he explained.
Ahrah Kim can attest to this as she is currently studying Electrical Engineering at the University. When she is done, she wants to work as a researcher.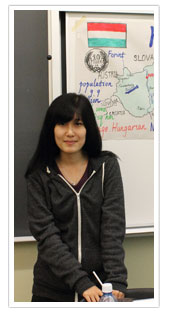 Both Jacob and Ahrah were two of the 17 students from Hanyang University who participated in the August Summer Immersion program. Students had to apply to participate and were selected based on academic achievement and a final interview process. Jacob said, "It is really tough, lots of people apply to participate in this program."
The group ranged in age from 20-27. Ahrah explained that the men are older because they have to enrol in the army for two years, and most fulfil their duty before they go to university.
Improving their English was the main reason both Jacob and Ahrah wanted to participate in the program.

However, English wasn't the only thing the two South Koreans learned. "One of my favourite parts of the program was meeting people from different cultures," said Ahrah. And Jacob said that he learned almost as much Spanish as he did English while he was in Calgary.
Both students really enjoyed visiting Calgary. For Jacob it was a break from the pressure back home. "In Korea I am really old," he said. "There is so much pressure on me about my future and my career. But here, for one month, I forgot everything."
It was similar for Ahrah. She enjoyed the break from the busy-ness of Seoul. "In Korea, there is always so much work to do," she explained. "Calgary is a very relaxed city- it makes me feel very comfortable," she added.
MRU and Hanyang University
Since partnering in 2010, Hanyang and Mount Royal University have
collaborated on various initiatives. This summer, 35 Hanyang students participated in the July and August Summer Immersion Programs. For more information about the Summer Immersion Program click here.
- Jocelyn Doll, September 2013