An exhibit of Inuit art aims to increase awareness across disciplines of northern cultures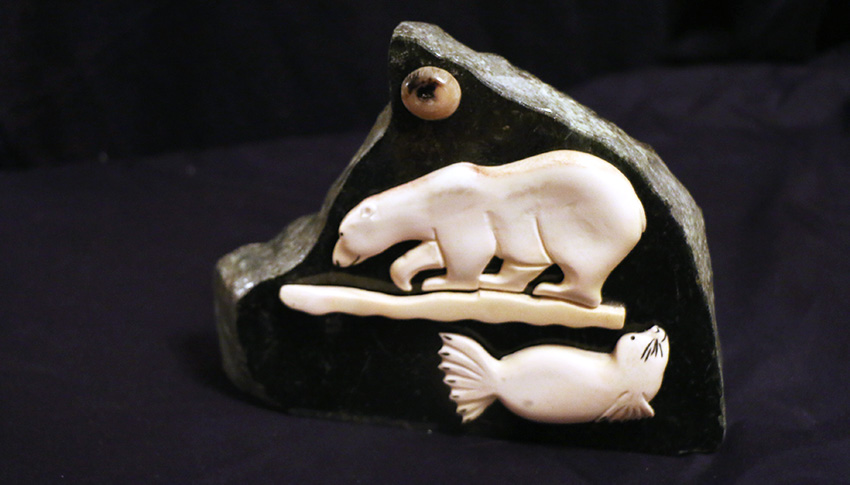 A collection of Inuit art recently acquired by Mount Royal University will be on exhibit next month as part of an event exploring the connections between land and art in the Arctic. With an interdisciplinary focus, the North to South Exhibit is directed at students in business, education, geography and Indigenous studies and aims to increase students' awareness of Inuit cultures.
Fifty pieces will be on display in the Riddell Library and Learning Centre (RLLC) from March 6 to 8. Geography professor Lynn Moorman bought the collection during an expedition cruise through the Northwest Passage last fall for which she was an onboard expert. The pieces come from nine communities from the western to eastern Arctic, including Nunavut, Labrador, northern Quebec and Greenland.
Moorman says the search for art was an entry point into the communities she visited. "It was just so rewarding, the stories I got to hear. Almost every time when I asked what inspired a particular piece or what story it was telling, it was about the artist remembering a relative teaching them something, like how to hunt or fish."
The exhibit, which will include soapstone carvings, thread work, beadwork, applique and prints, is being coordinated jointly by Moorman and Victoria Calvert, a professor in the Bissett School of Business.
Over two days, certain classes from three faculties will head to the RLLC so that students will have a hands-on opportunity to learn about the art, the artists and the landscape. An Inuk carver, Priscilla Taylor, who now lives in Calgary will help to interpret the art for students. Experts from on and off campus will talk about Arctic wildlife, geology, the Northwest Passage and the importance of protecting the North. Many of the talks are open to anyone.
"We want our students to see this collection because I think they'll appreciate the Inuit way of life and the Inuit people more when they understand and see the depth and complexity of their art and their stories, and when they understand something more about their way of being," says Calvert.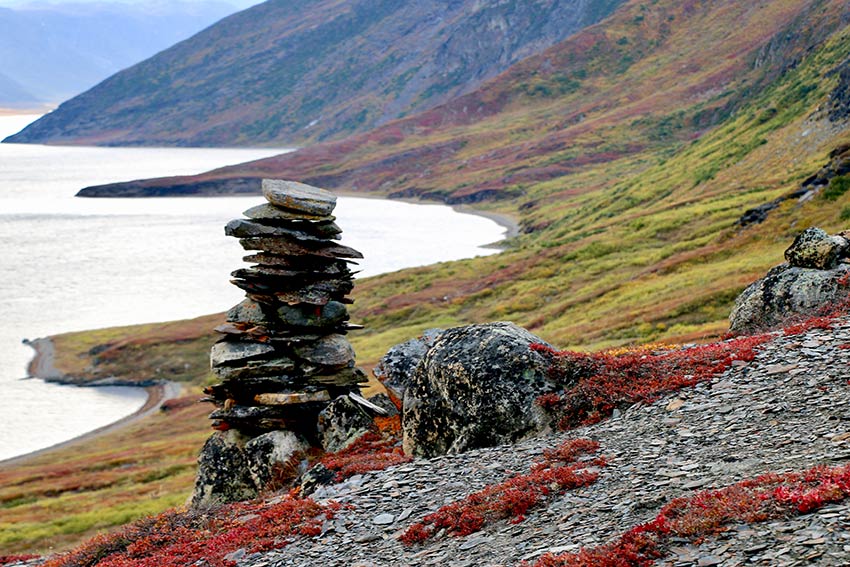 The event will also feature a large floor map of the North with the carvers' communities identified. The library's visualization wall will show photos of the landscape and the carvers, and tables will be set up to display the art, much of which can be handled by visitors.
As advocates for community-service learning, Calvert and Moorman collaborated with Professor David Finch to embed this initiative within a capstone marketing class. In this class, Finch's marketing students will work with their client at the Inuit Art Foundation to identify ways to expand the market opportunity for Inuit art.
"We're excited by this collaboration, because our program is driven by the principle marketing can change people's lives by creating new opportunities and markets," Finch says. The Inuit Art Foundation collaboration follows the Otahpiaaki project, led by Patti Derbyshire, which explored market opportunities for Indigenous fashion designers.
Education students will be able to use the information they learn - and a small collection of the art - as a teaching tool in their classroom placements. Geography and Indigenous studies students will also be participating.
"Experiential learning is always how we have taught here," notes Calvert. "It's our foundation."
Moorman hopes the exhibit will spark students' curiosity about the North and broaden their perspective of different Indigenous communities. She also hopes it will influence curriculum outside of Mount Royal.
"Think about just one of our student teachers coming through and spending a few hours with a carver and then bringing that experience to a classroom of 30 kids -- it can spark curiosity in those kids and it can trickle out from there."
Calvert views the exhibit as an important way for students to witness the benefits of community-service learning. "For business students, when we created the entrepreneurship degree program it was mandatory for every student to have three service-learning classes so that it became part of their being as a graduate," she explains.
"I firmly believe that all of our students should take courses that inform their ethical practice and their engagement with community," she continues. "Our business students, through their involvement in this, will become more aware of the impact they can have on non-profit organizations ― that they can be a positive force and that they have the moral obligation to do so. That's something that extends far beyond one class into a way of life."
Moorman adds that these art pieces can be a tangible demonstration of the University's commitment to indigenization. "If we are committed to indigenizing the curriculum, if we are committed to creating awareness of different cultures, ways of being and oral history, then this collection will contribute to the building and basis of a collection that others can add on to over the years to increase the voice, visibility and awareness on our campus."
The collection will be curated and made accessible to Mount Royal longer term and might include a permanent installation somewhere on campus. In addition to class visits, the exhibit schedule includes open times when anyone can stop by to see the exhibit. The event opens on March 6 with an art walk from 4 to 6 p.m.
The acquisitions were funded by the Canadian Alliance of Community Service Learning using funds left to MRU after a national conference held here in 2016.
North to South Exhibit

March 6 to 8
Ideas Visualization Lounge
Riddell Library and Learning Centre

The event opens with an art walk from 4 to 6 p.m. on March 6.


mru.ca/NorthtoSouth
Learn more about Mount Royal's geography, business, education and Indigenous studies programs.
Feb. 26, 2018 — Melissa Rolfe
Media request contact information.
Have a story idea? Please fill out this form.