Students raising awareness of Orange Shirt Day
Solemn ceremony on Oct. 1 to commemorate the residential school experience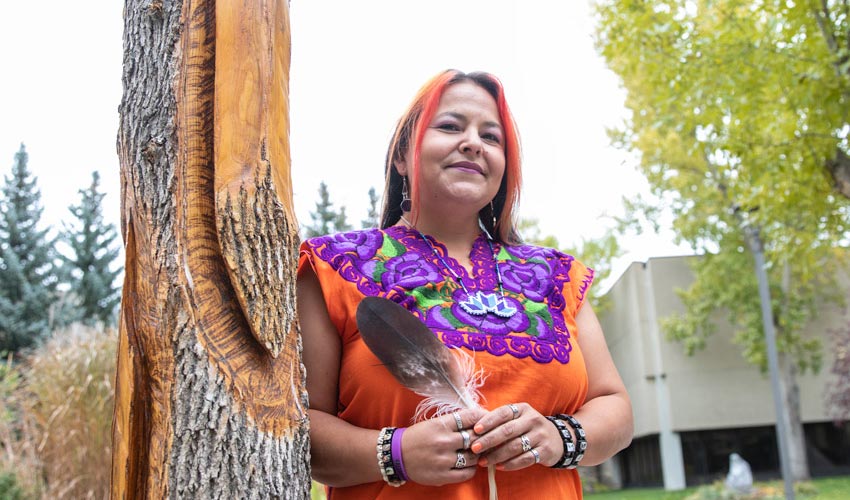 Orange Shirt Day is being observed in the Calgary area on Monday, Oct. 1. At Mount Royal, the day begins with Professor Richard Foggo's fourth-year child studies students in their capstone course distributing 500 orange buttons at main entrances on campus, as well as an information booth on Main Street.
At 11:30 a.m. a special ceremony will be held in the T-Wing courtyard, the site of a permanent art installation called Fallen Feathers. The installation was conceived by a Mount Royal employee, Carmela Amoroso in the Grounds department. She arranged for an artist from Tsuut'ina to carve large feathers into the trunks of trees damaged during the September snowstorm in 2014. She says the fallen feathers are a tribute to everyone who has been affected by the residential school system.
"Some of us never went to the schools, but our families did and we are often forgotten as casualties of this system," Amoroso says. "We had to endure the broken families that this caused. I lost many cousins to the '60s scoop and have had to endure the anguish of a broken parent. We are products of a damage that cannot be fixed."
Amoroso hopes that anyone who has been affected by the residential school system will feel like they are a part of the Fallen Feathers installation. "This is for all of us who have had to deal with the feathers who have fallen away and were taken by the wind, mentally, physically and emotionally."
Afterwards, the Iniskim Centre is hosting a small reception. Then, at 1 p.m., there will be a showing of the film Indian Horse in the Lincoln Park Room. The film is based on the novel of the same title, written by the late Richard Wagamese. It tells the story of Saul Indian Horse, an Ojibway man who as a young boy was removed from his family and sent to a residential school. Elders will be on hand to talk about the film after the screening.
Origins of Orange Shirt Day
Orange Shirt Day originated in Williams Lake, B.C. in 2013. Its purpose is to acknowledge the painful history of the residential school experience for Indigenous People. Historically, Sept. 30 was the day Indigenous children were removed from their homes each year and placed in residential schools. The orange shirt is a reference to the story of Phyllis Jack Webstad, whose new orange shirt was taken from her on her first day at the St. Joseph Mission residential school as a child.
The day is also meant to help set a tone of anti-racism and anti-bullying as a new school year begins at all levels of learning.
Foggo says the capstone course for his students has a strong connection to Orange Shirt Day and to his students' future careers helping children of all ages. They are working with Indigenous communities and Pathways Community Services Association to create a digital library, interviewing and recording Indigenous elders and knowledge-keepers about their lived experiences and stories.
"Many of our students will work with Indigenous communities and agencies," he says. "Our capstone course concerns itself with becoming more aware of Indigenous ways of knowing, and will enhance students' understanding of traditional healing practices, intergenerational trauma, spirituality, storytelling, history, sharing circles, and important customs and ceremonies."
Foggo adds that many cultural traditions were severely impacted by experiences in residential schools. "Orange Shirt Day is a reminder of this impact and awareness around it is an important step towards decolonization. This young girl's orange shirt was taken away. Celebrating Orange Shirt Day is a way of giving it back."
In the days leading up to Orange Shirt Day, Foggo's students visited classes in the Child and Youth Care and Early Learning programs to increase awareness of the day and encourage other students to wear orange.
"This day is very meaningful to me and many others," explains John Fischer, director of the Iniskim Centre. "It commemorates the 'truth' component that the Truth and Reconciliation Calls to Action are based on. It's important to recognize the harm done to 150,000 children and the continuing legacy that impacts many facets of our lives and those of Canadians."
The Iniskim Centre has partnered with the Child Studies Student Society and the Education Undergraduate Student Society.
Last year, the students of the Iniskim Centre partnered with other students to present the Intergenerational Healing Series: Survivors' Voices. Several elders spoke about their childhood experiences and their stories of healing and resilience, and shared vivid memories of leaving home and their first day of school.
Fischer says, "Truth telling must happen before we can truly engage in educational reconciliation." He believes partnering with students has the potential to make a big difference. "My hopes for Orange Shirt Day at MRU are continuing the initial awareness of some, the somber contemplation of those experiencing intergenerational trauma, and the possibility for MRU students to engage in activities that promote empathy and understanding of important truths."
Find out about Reconciliation: A Photographic Exhibition, a display of photographs and art featuring the work of George Webber and curated especially for Alberta's Exposure Festival. The exhibition will be on campus until early 2019.
Sept. 29, 2018 ― Melissa Rolfe
Media request contact information.
Have a story idea? Please fill out this form.