More than just a fashion show, it's Otahpiaaki 2018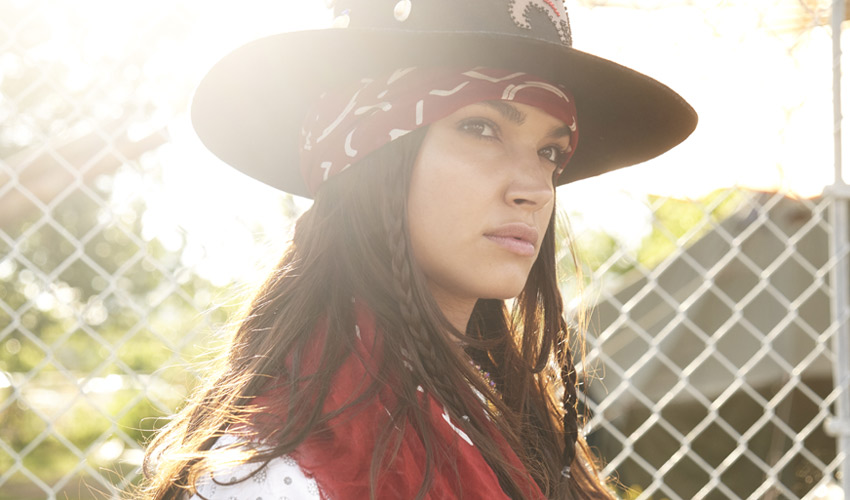 Set to take place from Nov. 5 to 10, Otahpiaaki Fashion Week was developed by a team of Blackfoot elders, Mount Royal students and faculty of the Bissett School of Business. Much more than just a fashion show, Otahpiaaki's "goal is to invite and contribute to significant social, cultural, restorative, and economic reconciliation across reserves, communities, regions, and territories."
Several events are happening right on the Mount Royal University campus, with three runway shows scheduled for Nov. 8 to 10 at the Atlantic Avenue Art Block.
See how to take part below…
---
In the three years since its inception, the Otahpiaaki "seed to runway model" has grown from a germ of an idea to a full-blown Indigenous fashion extravaganza. What started in a hallway at Mount Royal is now a collaboration of 26 designers and seven artists representing 18 nations and supported by MRU student and faculty research. The theme this year is Pride and Protest, and founders are an organic collective that is figuring out how to preserve history while working towards reconciliation through the promotion of talented and original Indigenous designers. Those designers are creating, frankly, really great clothes and accessories laden with ancestral meaning and executed with fresh perspective and imagination.
Otahpiaaki started in Professor Patti Derbyshire's senior professional brand studio and social enterprise courses in 2015. Designer Justin Louis of Section 35 visited to speak with students about MRU's response to the Truth and Reconciliation Commission's Calls to Action, and four students wondered if they might be able to stage a fashion show using Section 35 clothing. Team member and Otahpiaaki program assistant Veronica Marlowe contacted her cousin, designer Tishna Marlowe of Lutselk'e, and the first Otahpiaaki Fashion Week's runway featured work from the pair with models strutting through the hallway of the Bissett School of Business. Flash forward to 2018 and there are three runway shows, nine performances, six workshops and three panels scheduled for the six days of Otahpiaaki.
Funded through the Apaat tsi kani takiiks grant, a three-year initiative beginning in May 2017 as a continuation of the Suncor Aboriginal Business Education pilot project, the name Otahpiaaki comes from the Blackfoot language and describes the moment when the sole and the vamp of a moccasin are sewn together. Just like the moccasin, Otahpiaaki is a project that can be described as "emergent," says Derbyshire, adding that really listening to the designers has been pivotal to guiding organizers on the right path and helping to stitch together work from divergent disciplines to form the footing of what founders hope will assist Indigenous artists in becoming economic leaders and changemakers in Canada.
"Otahpiaaki really came from the designers that first and second year," Derbyshire says. "The idea of wishing they could get materials right here at home and not have to order them from abroad, right through to how they protect their work, how they think about developing their business, and if they're on the runway, how do they stay on the runway and go to market internationally.
"And that's the whole economic model." That's Otahpiaaki.
"Seed to runway"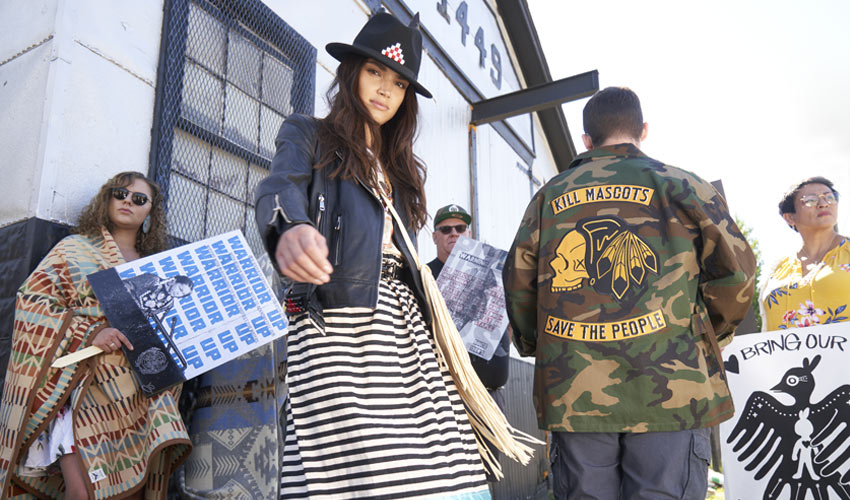 Forming the three legs of the tripod that grounds the Otahpiaaki concept are Bachelor of Science ― Environmental Science student Braden Etzerza, Bachelor of Arts ― Criminal Justice student Taryn Hamilton and Bachelor of Arts ― Policy Studies student Spirit River Striped Wolf.
Etzerza, who is an Oxford Global Challenge competitor, researches food insecurity issues for Indigenous Peoples. He intertwines Indigenous beliefs with the scientific study of plant growth, hoping to create new industries with the knowledge that was always there but largely ignored.
As designers are looking to source more materials locally, the group travelled to Paris two summers ago to delve into the ancient art of fabric dying while also studying how to assist Canadian designers in marketing overseas. While there, they organized a workshop around indigo, meeting with an expert on the dye who gifted them a little bag of seeds. Etzerza started the seeds in the MRU greenhouse last February, which resulted in more than 200 indigo babies. Over the summer they drove some of the seedlings to Nation territories in the Columbia Valley, others to the Metlakatla Nation, while some stayed here in Mohkinstsis. Even though Etzerza says it didn't go exactly the way he had hoped, "We were still able to produce some materials to use." There were seven harvests from four locations overall, each of which will produce a different colour of blue.
At the Poo'miikapi Shawl & Quilt Workshop - Otahpiaaki Indigo Dye workshop Elder Carola Jones will use the indigo crop to teach about the indigo ceremony. Participants can create their own shawl or contribute a tile for the Otahpiaaki 2018 Community Healing Quilt.
Sui generis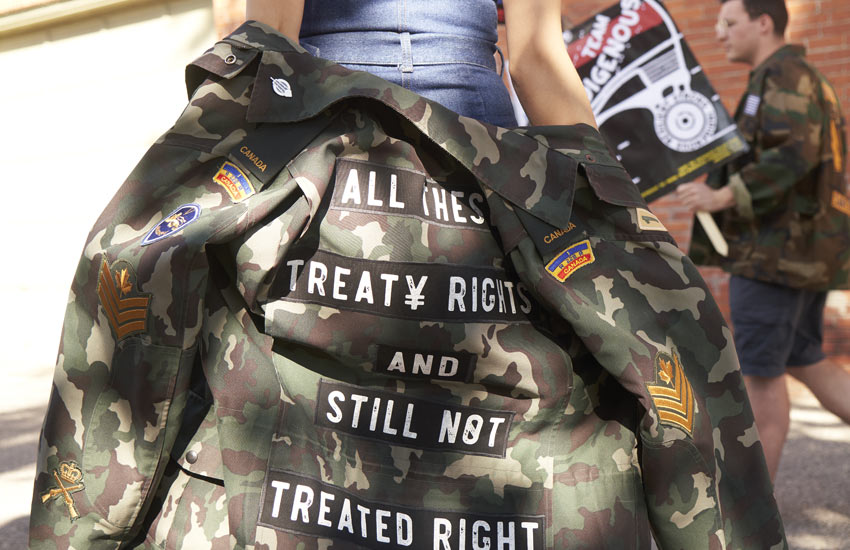 Hamilton is taking a swing at combating cultural appropriation, seeking to help artists and designers protect their property.
"It's a big issue," says Hamilton, whose next goal is law school.
With Derbyshire, Hamilton began looking at intellectual property (IP) laws in Canada, including the Trade-marks Act, Copyright Act and Industrial Design Act. She began to notice that current legislation does not protect custodianship, for example, how designs can be passed down from generation to generation in families.
"You can't actually patent those, because you need to have the rights owner from the beginning of time," Hamilton says.
The research kept bringing her back to what is known as sui generis, which, loosely defined, is an aspect of IP law that provides protection outside of other protections, or that exists independently. It may allow for special insurance for Indigenous Peoples against misuse of cultural symbols and designs.
IP law is built on the theory that a consumer's rights are equal to a designer's rights, and arguably another designer's right as well, Derbyshire says. "What we're saying and what sui generis suggests is that, no, in the case of Indigenous designs here in Canada in this post-Colonial era, the Indigenous designer gets the privilege."
With guidance from Elder Jeannie Smith, Hamilton and Derbyshire came up with the idea of bringing collections back to communities to "file" with the community's representative or lawyer. Conversations with elders and community members would be recorded, and then if anyone were to try to appropriate that property there would be a band of representatives and lawyers who could come together to fight on that person's behalf.
Through the process of elder consultation, designers would register their work with their nation, and ultimately be able to license it, or at least be in a position to litigate against appropriation. Their adaptation of sui generis law requires conversation and collaboration with the goal of moving past disputes and dealing with them in the manner of restorative justice. Designs could even be shared in a respectful way, Hamilton says.
"It's a little different from contemporary Canadian law, but I think at this time it's a measure that can be done for now. But there needs to be new legislation that covers all aspects of intellectual property."
Derbyshire argues that "IP law doesn't typically work for any creative, let alone Indigenous creatives. But what is particular to Indigenous creatives is this idea of lineage." Designs are family-based and carried through generation after generation after generation. Those can be established and fixed, she says, which would allow for more safeguards against incidences such as the Christi Belcourt and Valentino disagreement. Although mainly positive, Valentino's use of Belcourt's art in their fashions was still fraught with complications.
On Nov. 8, Hamilton will host Helping Others: Aispomotsiop, a panel discussion where designers and artists will speak about the theft of their ideas and how to move Indigenous designs into safer spaces.
Social enterprise
Last summer Striped Wolf presented his research on what is effective in empowering civilians and a nation to engage in social change at the federal government's Indigenize the Senate event. Someone who cares about his people and wants to translate his university education back into his community, Striped Wolf is looking at how something like Otahpiaaki works in this time of healing for Indigenous People after a period of trauma.
"I think that social enterprises like Otahpiaaki could help pave the way for other social enterprises through learning about what the obstacles are when faced with a group that has experienced cultural genocide, which is an aspect of subjugation, and how that affects empowerment."
Through the Assembly of First Nations there have been discussions about how to bring wealth to Indigenous communities, and one way is to create their own.
"That's what Otahpiaaki is doing, is trying to help Indigenous people create their own wealth and find those obstacles, including trauma. We might not have the answer as to how to work with the group, with the civil disorder, this wicked issue that faces Indigenous communities, but at least we can contribute to the conversation and relay our point of view and our experiences and we're hoping to make a better situation out of it."
New Bachelor of Business Administration ― Marketing graduate and Otahpiaaki volunteer Monica Segura says, "What really kind of resonates with me is the whole concept of 'it takes a community to raise a child,' and for me to be able to come in as a non-Indigenous student and be allowed to be a part of that and help in whatever small way I can is humbling.
"At the same time I get to know a little bit more about my country's culture that has been neglected for a long time. It's a very beautiful and collaborative and communal way of learning and growing."
---
Otahpiaaki is proud to partner with Espy in Inglewood, which will be providing an Otahpiaki Pop-up shop with selections from designers on sale during the week. They also host all three nights of the runways.
Otahpiaaki runway shows
Thursday, Nov. 8 at 5 p.m.
Friday, Nov. 9 at 5 p.m.
Saturday, Nov. 10 at 5 p.m.
Otahpiaaki workshops
Poo'miikapi Shawl & Quilt Workshop - Otahpiaaki Indigo Dye
Beading & Jewellery Making Circle - One Day Only!
Ledger Art Workshop Hosted by John Pepion
Activism 101 - Warrior Skirts, Protest Shirts, and Political Posters
Rhythm of the People - Spoken Word, Poetry and Hip Hop with Naát'áaníí Nez Means and JB The First Lady
Sahpahtsimah Rising Youth Grant Writing
Otahpiaaki panels
Courageous: Aksistoiyipaittapiiysinni ― hosted by Riley Kucheran (Ryerson University)
Helping Others: Aispomotsiop ― hosted by Taryn Hamilton (Mount Royal University)
Treaty Yo Self at the Calgary Tower
Everyone is invited to the Treaty Yo Self Hip-Hop Inspires After-Party atop the Calgary Tower to conclude Otahpiaaki. Performers include Nite Sun (East Prairie Métis Settlement); BLKFT (Siksika Nation); JB The First Lady (Nuxalk & Onodaga Nation) and Naát'áaníí Nez Means (Oglala Lakota/Omaha/Dine, Navajo Nations).
There will also be two film screenings: The Road Forward by director Marie Clements and Rainbow Warriors by Derek Jagodzinsky of LUXX Ready-to-Wear.
Oct. 29, 2018 ― Michelle Bodnar