'It's about survival': Calgary Peace Prize honours Anote Tong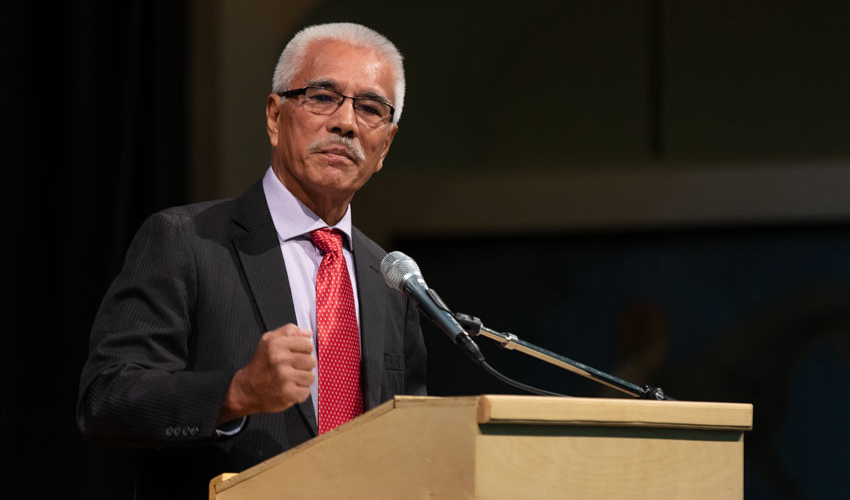 Fears over the fate of his island nation of Kiribati in an era of destructive storms and rising sea levels have spurred Anote Tong to action at home and abroad.
Tong, who was nominated for the Nobel Peace Prize for his efforts to combat climate change and the enormous risk it poses to his people, on April 3 received the 2019 Calgary Peace Prize.
"The Calgary Peace Prize inspires the leadership needed to build the greater global moral values which ensure that no one is ever left behind," said the 66-year-old Tong of receiving the award. "I will try to do justice to this wonderful honour. For me, it's a wonderful boost, an injection of energy."
Tong continues to raise awareness about the impacts of climate change, passionately arguing that due to rising sea levels, and more immediately flooding and damage from cyclones, his country in the Central Pacific's Micronesia region may cease to exist and that all of its people may need to be re-settled.
His story was highlighted in the acclaimed 2018 documentary Anote's Ark that was directed by Canadian Matthieu Rytz and premiered at the 2017 Sundance Film Festival.
"Anote Tong has dedicated his life to fighting against the ills of climate change," said Mark Ayyash, PhD, a professor in sociology at MRU, member of the Calgary Peace Prize selection committee and director of Mount Royal's Peace Studies Initiative.
"He grabs people's attention and brings home the urgency of the issue. This is something that is happening right now to the people of Kiribati, and is something tangible and real."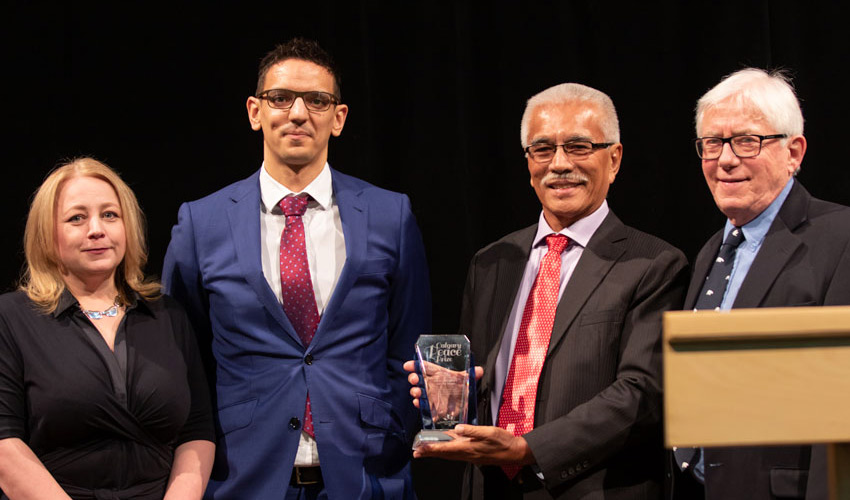 The Calgary Peace Prize recognizes outstanding individuals from the global community who work towards making the world a more just, safer, and less violent place. Previous winners include Justice Rosalie Silberman Abella, the Honourable Douglas Roche, the Truth and Reconciliation Commissioners of Canada, Retired Lt.-Gen. Romeo Dallaire, Dr. Samantha Nutt, and Emmanuel Jal. Winners of the prize are decided by a selection committee made up of community members.
The ceremony in the Lobby of the Jack Singer Concert hall included a VIP reception with an address by Mayor Naheed Nenshi, followed by the award presentation. Tong then spoke about his journey as president of Kiribati, and of trying to convince world powers of the dangers posed by a changing climate to his home and people.
"It's not about economics, it's about survival. It's about people."
During his time as president of the Republic of Kiribati from 2003 to 2016, Tong created one of the largest marine-protected areas in the world, the 408,250 square kilometre Phoenix Islands Protected Area, which became a United Nations World Heritage site in 2008.
While he lamented that the current government of Kiribati has undone many of his initiatives, Tong also outlined his vision for raising two of the islands of Kiribati with the help of people who built Palm Islands in Dubai, funded through his nation's abundant fisheries and undersea minerals resources.
A panel discussion followed featuring Tong and Graham Saul, the executive director of Nature Canada, Indigenous scientist Paulette Fox, and moderated by Peace Prize Committee member Bill Phipps. The discussion explored the themes of challenges with increasing flooding and wild fires and the plight of climate refugees.
Jennifer Pettit, PhD, Dean of the Faculty of Arts, told the gathering that the Peace Prize connects a range of issues, including the environment, justice, social justice, equity and human rights.
"When we think about peace, the first thing that comes to mind might not be a climate warrior, former politician and free diving enthusiast from an isolated island nation in the Central Pacific," she said. "But at Mount Royal, we take a broader view of what peace can mean. We look at peace through the lens of positive community interactions."
That shift in the scholarly community really started in the '90s if not before that, said Ayyash, "We are broadening the definition of peace so it's not just tied to war or end of war. You are instead starting to look at what people in the scholarly community call structural forms of violence that hinder efforts at peace."
The evening finished with words of encouragement from Tong, who stressed that battling climate change falls not just to governments, but to citizens of the world.
"Don't believe your actions are not relevant," he said. "Everything we do is relevant. Don't ever give up. The alternative is not acceptable."
April 5, 2019 ― Peter Glenn
Media request contact information.
Have a story idea? Please fill out this form.