Personal Fitness Trainer Diploma program comes to the Tsuut'ina Nation
Program for Indigenous students starts in Fall 2020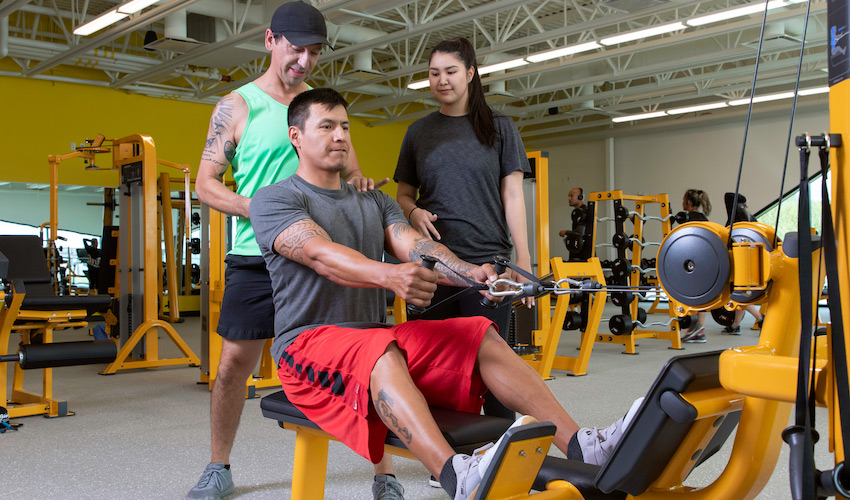 A unique partnership is offering students the best of both worlds: earning a Personal Fitness Trainer Diploma from Mount Royal University while experiencing community-based learning on the Tsuut'ina Nation.
Indigenous students from across Canada can begin their studies in the state-of-the-art Seven Chiefs Sportsplex & Chief Jim Starlight Centre in the program that starts in Fall 2020.
"If you're interested in a career in this exciting, engaging profession, this is an amazing opportunity to learn and get hands-on experience in the community," says Dimitra Fotopoulos, director, Faculty of Continuing Education and Extension. "There are no entrance requirements, so there are no barriers in terms of previous learning or experience. You don't need a diploma or certain courses to take advantage of this unique program; you only need to submit an application."
The full-time, two-year program combines theoretical courses with valuable practicum experiences in a small class setting. Students will study current health and wellness issues in the Indigenous population and across Canada. The program trains students to the highest national standard. After completing the program, they'll be eligible for the Canadian Society for Exercise Physiology — Certified Personal Trainer certification.
The learning activities, assessments and hands-on experience may be customized to address emerging health issues of indigenous populations. The customization of the activities and assessments will be a result of extensive collaboration between Mount Royal and Tsuut'ina Nation.
"We are proud and honoured to be a part of this exciting partnership," Fotopoulos says. "Our expert instructors and dedicated program team will ensure students get the most out of their experience and provide support as they achieve their goals."
The Seven Chiefs Sportsplex & Chief Jim Starlight Centre integrates sports, fitness and education, promoting community-based learning and practical experiences for students. The $55.6-million facility boasts two ice rinks, a multi-use gym, fitness centre, running track and more. There's also an opportunity for future employment within the facility for graduates. A yearly hiring fair sees strong demand across the industry for graduates of Mount Royal's program.
"Businesses hire graduates of our Personal Fitness Trainer program year after year because they know they're getting quality employees trained to the highest provincial and national standards. The comprehensive health science education our students receive prepares them to hit the ground running," Fotopoulos says. "The program is recognized for its academic rigour, practical experience and calibre of learning. Our relationship with industry keeps the program responsive and current with in-demand knowledge and skills."
Students in the program have access to Mount Royal resources, from the cutting-edge Riddell Library and Learning Centre to career counselling to living in student housing on campus. The University's Iniskim Centre, which provides programs and services to increase the engagement and success of Indigenous students, is also available to those enrolled in the program.
Visit mru.ca/PFT-TTN, email pft@mtroyal.ca or call 403.440.8776 for more information.
Sept. 11, 2019 — Ruth Myles
Media request contact information.
Have a story idea? Please fill out this form