Preemie Care helps ease unique journey to health
New book by MRU nursing faculty members helps parents and caregivers provide for the littlest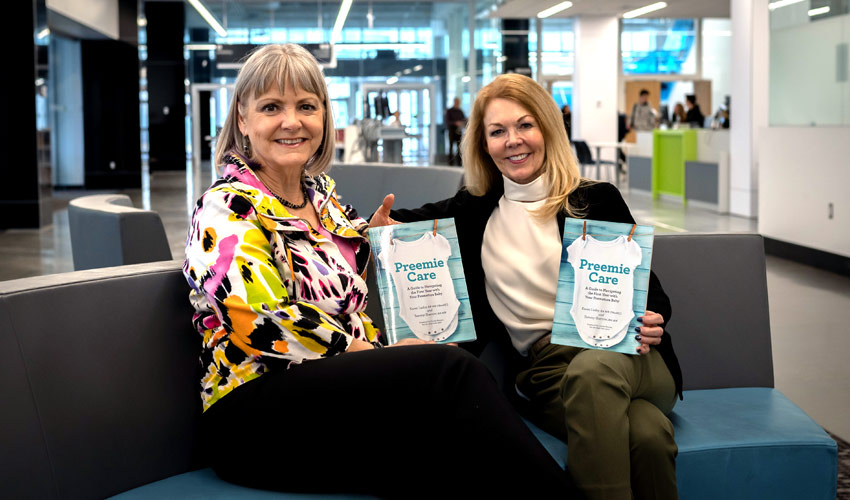 Parents prepare carefully and lovingly for a baby, but when that newborn comes early, there are many additional unexpected challenges and much added stress.
A new book written by Tammy Sherrow, Mount Royal University associate professor in nursing, and Karen Lasby, MRU sessional instructor, who, combined, brought to the project 60 years of combined nursing experience, helps ease the unique preemie journey towards health.
Preemie Care: A Guide to Navigating the First Year with your Premature Baby takes parents from the Neonatal Intensive Care Unit (NICU) through what to expect at the time of discharge and how to prepare for the journey home. It also covers nurturing a baby's health; feeding - from the breast, bottle, tube, and spoon - and supporting and stimulating a baby during each developmental phase.
Parents matter, too
Available since April 2019, the self-published book has struck a chord with parents and health-care providers alike, and the authors have been busy with TV and radio appearances.
"There wasn't another book on the market that addressed this in parent-friendly language, that was current, up-to-date and focused on the parent perspective as opposed to only focusing on the medical problems of the baby," says Sherrow.
Finding reliable information on the internet can be intimidating for parents, which is why Sherrow and Lasby chose to share their knowledge in printed form, which also comes as an e-book. They've also started a Preemie Care website that they will continue to grow and develop.
According to the authors, one in 10 babies will be premature, with 15 million parents worldwide affected annually. In Canada, among babies born prematurely, 1.5 per cent are born before 32 weeks and 0.4 per cent are born very early, before 28 weeks. Calgary has one of the highest rates of premature births in Canada. The cause of a premature birth is often not known but can stem from a health problem with the fetus, the mother or both.
The parent experience is filled with a wide range of emotions from stress to joy. Lasby says, "Parents start off with the fear, 'will my baby live?' And then, they worry if they will be able to manage the baby at home because they've had this highly skilled multidisciplinary team caring for their baby. Mixed emotions mount as discharge nears. They're excited but quite overwhelmed."
Premature babies face myriad of troublesome short-term health issues post-discharge, from feeding, growth, reflux, sleep and development. "Fortunately most of these health issues can be managed at home by parents. We focused on anticipatory guidance, tips, and proactive strategies for parents to try. And, the stats would say that only about 20 per cent of premature babies have long-term health issues, so it's not as common as parents fear," adds Lasby.
A collaborative process
Input from parents for the book was important to the authors, who worked with ten moms and dads throughout the writing process. Parent experiences are sprinkled throughout and their stories of optimism and encouragement are showcased in the final chapter.
"One of the most fulfilling parts of the book-writing process was working with those parents," Sherrow says. "They did everything from providing the stories to doing some minor editing of chapters. We started with focus groups of parents and we feel good about having met the needs of what parents feel is important."
There is increased recognition of parents as integral to the short-term and long-term health and developmental outcomes of premature babies. Sherrow says, "Parents now take a more active role in the NICU, but once they've gone home, they need to continue to be that advocate for their baby, whether it be following up with physicians or with occupational therapy and early intervention. They are the experts in their baby's care and behavior, so being a strong advocate is really important."
During her 33 years as a nurse, the majority of Sherrow's clinical experience has focused on premature babies, both in the NICU and in the community, as a staff nurse, manager, educator and researcher. Lasby's more than thirty-five year nursing career includes NICU roles as bedside nurse, transport nurse and educator, and in pediatrics, pediatric intensive care, and community health. Lasby has lead Calgary's post-discharge Neonatal Transition Team for more than twenty years.
Self-publishing was an education in itself, says Sherrow, adding she is grateful to Mount Royal for granting her a one-year sabbatical so she could focus on the book while Lasby continued to work full-time.
While the focus is on baby, the book also stresses the need for parents to look after themselves during a stressful and confusing time.
"We dedicate parts of the book and the final chapter to caring for yourself. Recent research shows that a lot of parents can struggle with PTSD following the NICU experience. They get home and baby's doing well and all of a sudden they feel overwhelmed and drained. We talk about caring for yourself and what you can do to nurture yourself as well as your baby, as well as red flags, what to watch for, the importance of reaching out for help, not sweeping it under the carpet. That's what really sets us apart. It encompasses the first year, contains practical and detailed parent strategies, and also focuses on parents caring for themselves."
Mount Royal's nursing program has been educating nurses dedicated to exceptional patient care for more than 50 years.
Aug. 26, 2019 — Peter Glenn
Media request contact information.
Have a story idea? Please fill out this form