Premier champions midwives at Mount Royal
Top baby names for Alberta also announced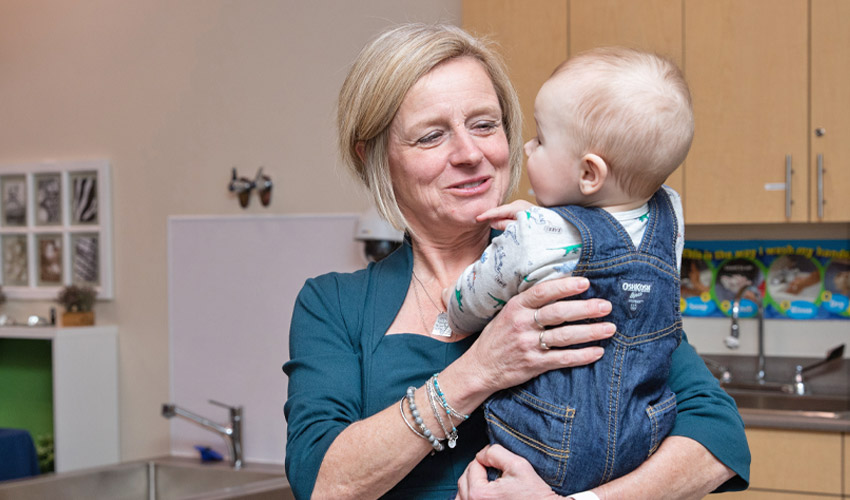 Premier Rachel Notley visited Mount Royal's state-of-the-art Child Development Lab to make two special announcements: the continued support and expansion of midwifery duties in Alberta and the province's top baby names … what she called one of her favourite messages of each year.
"Congratulations to all the new parents, and welcome to all of our new Albertans. As these children grow up, they will shape our future. We are going to help make sure they get a great start, with thousands of affordable child care spaces across Alberta, stronger child and family benefits, and hundreds of new and modernized schools," said Notley.
After an introduction by Mount Royal Provost and VP Academic Lesley Brown, Notley revealed that the most popular names were Olivia for girls and Liam for boys. Among the more unusual were two on a macro scale: Jupiter and Galaxy.
More than 50,000 babies are born in Alberta each year and Notley said midwives play an integral role in the birth of Alberta's babies. She described the profession as "worthy of respect" and "worthy of more responsibilities to help women make healthier decisions." Notley said her government is proud to be able to facilitate mothers' access to them in more and more communities across Alberta.
Over the last two years there has been a 30 per cent increase in midwife-assisted births in Alberta. In 2018 nearly 3,600 parents received the support of a midwife, up from 2,400 three years ago.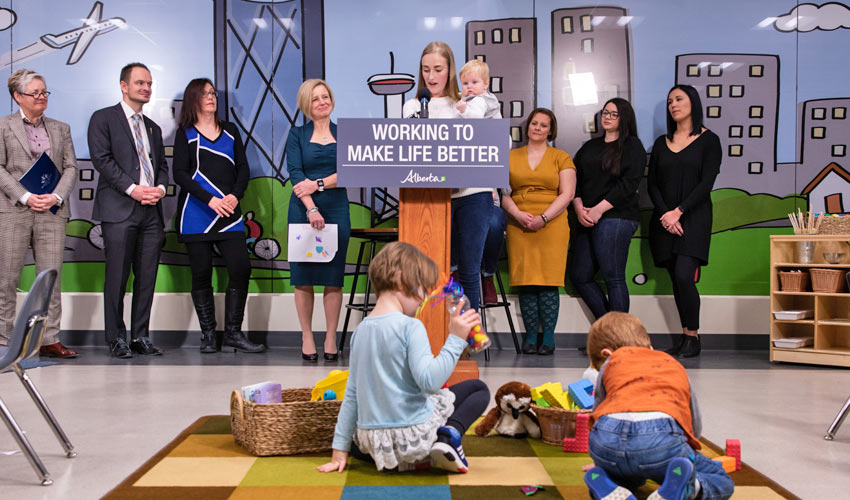 Another announcement made in Edmonton in the fall by Health Minister Sara Hoffman, MLA for Edmonton-Glenora, outlined changes and expanded powers for midwives.
Midwives who have completed additional training and are authorized by the College of Midwives of Alberta can now prescribe, dispense and administer a broader range of prescription drugs, contraceptives and contraceptive devices and, in a hospital, benzodiazepines and narcotics. They can also prescribe and administer vaccines, insert intrauterine contraceptive devices, provide prescription drugs to induce labour and use ultrasounds to determine fetal position.
Mount Royal University's Bachelor of Midwifery program is the only one of its kind in Alberta. Mother Sabrina Boothby, with baby Nolan in her arms, spoke about her experiences with midwife and MRU School of Midwifery faculty member Mary Landsiedel. Boothby, a nurse, lauded the practice of midwifery and said that for her, it made all the difference in a positive experience before, during and after birth. In particular, she said Landsiedel, whom she referred to as "My Mary" was able to provide peace of mind and get out out of her "nurses head."
Following her announcement, Notley answered a range of questions from media on pipelines, the timing of the upcoming provincial election and curtailment of oil production to prop up prices.
The premier then returned to the lab to visit with children, midwifery faculty and students, administration and staff.
Read the complete Government of Alberta news release here.
Jan. 15, 2019
Media request contact information.
Have a story idea? Please fill out this form.