Creating compassion after cancer
The Canadian Cancer Society estimates that in 2011 more than 170,000 Canadians will be diagnosed with some form of cancer, with an estimated 75,000 deaths.
Professor Lori Buchart is researching the impact of returning to work on cancer survivors.
As mortality rates have continued to decline over the last 20 years, more and more individuals are surviving the life-changing experience of cancer. The experience of surviving a life-threatening illness can incontrovertibly alter an individual, but for many working-age people the need to return to the work can lead to further complications.
At Mount Royal, researchers Lori Buchart and Tracy Powell are committed to finding new ways to improve the experience of returning to work after a life-threatening illness, particularly those who have been afflicted with cancer. Their research is providing an opportunity for organizations and people to develop best practices that can create a model of returning to work (R2W) that not only improves the chances of success for the survivor but for the organization as well.
A new model of post-cancer care
This competing paradigm in any R2W program is the primary focus of Buchart and Powell's research, and their unique perspectives are the key to developing a balanced program. A Professor in Mount Royal's School of Nursing, Powell spent her career before academia as an oncology nurse at Calgary's Tom Baker Cancer Centre, working on clinical trials of new life-saving cancer treatments and working with individuals recovering from cancer. Buchart's background as a Professor in Mount Royal's Bissett School of Business with a focus on human resources and training is also coloured by her own experience as a cancer survivor.
"We have focused on R2W experiences of cancer survivors as our primary research group because the experience is comparatively common but completely traumatic," said Buchart.
"Cancer survivors have the potential to develop lasting mental illnesses like anxiety and depression, but there is also potential physical and emotional damage from chemotherapy and radiation treatments as well as the cancer itself. The majority of employees we interviewed suffered anxiety or depression after returning back from their cancer treatments."
"Unlike the majority of individuals who go off work for non-life threatening illnesses, cancer survivors go back because their savings may be depleted or because they want a sense of normalcy in their life after a period of total disruption. Work is a big part of what was once 'normal', but they want work to look different. They don't necessarily want the same pace they had before they got sick."
Helping human resources help others
Marrying the desire to return to work with a program that is flexible enough to accommodate change is necessary to prevent further stress and conflict in the survivor's workplace. Through interviews with cancer survivors returning to work and human resources professionals, Powell and Buchart were able to draw out where some of the pressure points, and what might be done to alleviate them.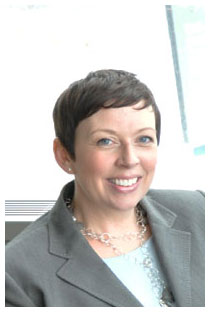 A former oncology nurse, Tracy Powell believes a more personalized return to work model can help people come back successfully.
"For many managers and HR people, the difference between someone coming back after a life-threatening illness isn't really on their radar," said Powell. "There are definitely some horror stories."
"One employee was dismissed shortly after their diagnosis. Another, who was actually a member of the HR staff, was treated very poorly by their manager upon return. Her manager actually said 'I know it's tough being sick, but I'm sick too - I have tendonitis.' How do you compare tendonitis with cancer?"
However, the biggest single contributor to preventing a successful R2W from an HR perspective is the existing workload related to anxiety and depression. The claims related to mental illness have spiked so dramatically that HR professionals have difficulty spending the time and energy necessary to build compassionate and customizable transition plans.
Buchart believes that keeping the lines of communication open during treatment and once an individual returns are critical in ameliorating some of the challenges that both HR and survivors face.
"People who are treated with cancer are stripped of their agency by their treatment. They have to submit to a process that they have no control over in surgery, chemotherapy or radiation and trust that the medical professionals are making the right call and working in their best interest. When they return, they can have trouble advocating for themselves."
Teaching advocacy and empathy
According to Buchart and Powell's research, having an advocate or intermediary for the cancer survivor is key to helping them navigate the challenges of returning to work.
"There is so much stigma related to talking directly about the mental and physical effects of cancer," said Powell. "Many people may look good, but feel horribly, and if they don't have an open venue for communication or feel as if their managers understand their issues, they may continue to feel terribly and have performance-impacting stress as well. Occupational health nurses can play a critical role in helping articulate the needs of the survivor."
Ultimately, teaching organizations and individuals to be mindful and open to the needs of returning employees is the key to building a successful R2W program. For nurses and HR specialists graduating from Mount Royal's programs, they have the benefit of professors who are teaching them the essential differences that will give them a better understanding of the real impacts on R2W programs. For Powell, giving students the capacity to truly understand the needs of both sides is mutually beneficial.
"This is not a simple issue of business versus the individual's needs. Studies have shown that well-treated and empowered workers are more productive. By giving returning workers agency over their experience and the support they need to find the work experience that is right for them, the company is ultimately looking out for its best interest."
- Colin Brandt, March 29, 2012