Students touring U.S. Civil War sites see how historical accounts change over time
As part of a two-week field school to the United States, Mount Royal University students explored historic battlegrounds of the Civil War and examined divisions within American society that remain, more than 150 years after the war ended.
Sixteen students toured four states and the District of Columbia as part of a six-credit field school in May, which comprised two courses: Travel Study in American History - The American Civil War in the East, and Outstanding Lives - Abraham Lincoln and Jefferson Davis. The field school was taught by Joe Anderson, PhD, professor of history and an associate dean of the Faculty of Arts.
As a public historian, Anderson examines how events are remembered and presented over time. "Our students become investigators of a cultural landscape," he says. "What students get to see on this field school is how we've talked about causation and consequence over time."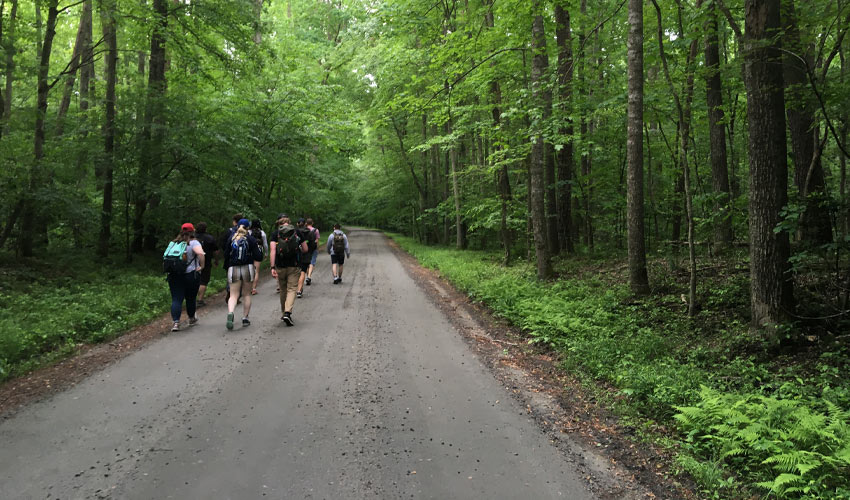 The focus of the field school was a study of the Eastern Theatre of operations in the American Civil War and how the war and its opposing presidents - Abraham Lincoln and Jefferson Davis - have been remembered since 1865. Students studied the major battles, discussed policy and slavery, and toured national historic sites and museums, including Gettysburg.
Students were shown how the stories of history vary depending on who's telling them, when they're being told and which voices are included.
"Memory is a big topic of historical investigation," explains Anderson, "including who is remembered and who is forgotten." Through time, the emphasis on the ways slavery shaped the conduct of the war, as well as the role African Americans played in ending it, has changed.
"One of the biggest conclusions students come away with is that history is not set, and history is something that we fight about."
Anderson points to recent, widespread controversies about public monuments of historical figures from the war. Many of the monuments in southern states celebrate Confederate soldiers as heroes of a just cause, even though some states were divided - a fact that became "politically uncomfortable after the war," according to Anderson. During the war, African Americans and a significant minority of whites opposed the Confederacy.
"It became politically correct to 'forget' the opposition to the Confederacy in the South - to re-remember the war as one in which there was no internal opposition to it. People say 'don't tear down the monuments because you're tearing down history'. But the monuments themselves are symbols of forgetting."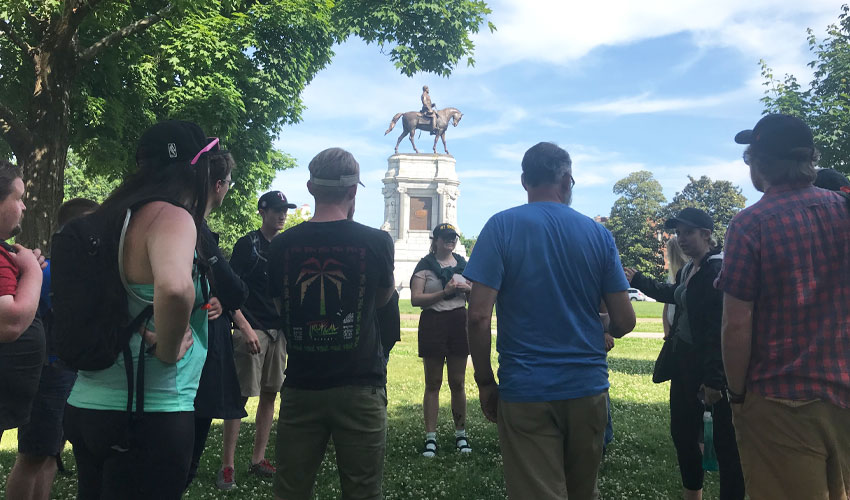 "People believe history is only about 'the facts'. Historians care about facts and what happened and who decided what, but what we're really concerned with is how we tell the stories." Revisions of history appear over time, Anderson explains, as attitudes change and different perspectives are shared.
Fourth-year History major Sarah Pointer says a memorable moment for her occurred during a discussion with a historian at a national park. "He posed a question to our group: is it a national park historian's job to reflect history as the public sees it, or to direct history. This question reminded me that the potential to change the field of history is in our hands as future historians," she says. "It allowed me to reflect on how I interact with the field of history and the consequences this will have on society's collective memory of historical events. I left the discussion and the trip feeling inspired and empowered."

William Pasishnek, beginning his second year as a History major, says he gained a new perspective, too, particularly in the role of museums. "Prior to the trip I lacked a critical view towards public history. Joe Anderson opened my eyes by persuading us to think from a different view. Since the trip I have gone to the local military museum in Calgary and gone through a whole new experience using the tools and techniques taught on the field study."
Pointer says the field school helped her discover what she wants to do next. "Mount Royal has this saying, 'You Belong Here.' This trip really reaffirmed that for me, and that this field - history - is where I belong, where I see myself." Pointer is considering graduate studies in public history after graduation next year.
"Viewing and discussing uncommon narratives in the study of the Civil War, such as the involvement of slavery and the United States Coloured Troops, invoked an emotional response from me while on the field school. I'm really motivated now to approach history from intersectional and interdisciplinary perspectives to change how society interacts with history," Pointer says. "Examining examples of public history and memory of the Civil War and memory allowed me to see the potential for the field of history to evolve and innovate moving forward. I do not believe I would of gotten that had I not gone on the field school."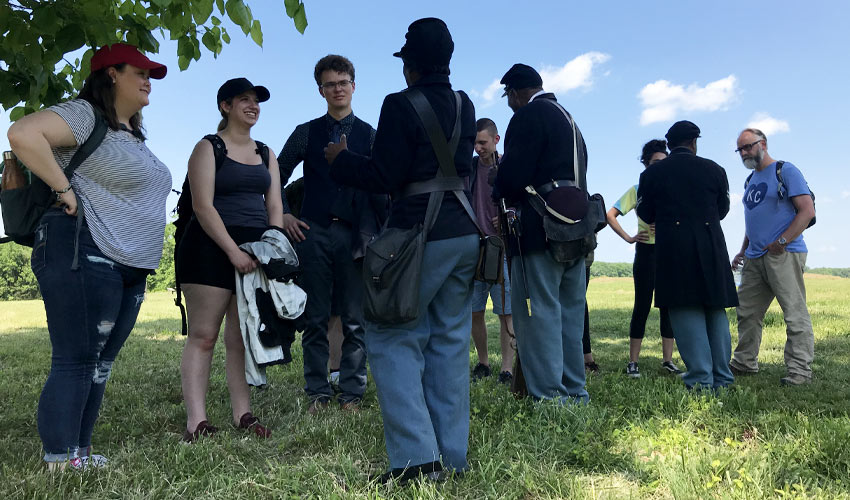 Typically, most students participating in the field school are History majors, according to Anderson, but it is open to all students from any year and program; the next one is planned for 2021.
The field school received financial support from the Centre for Military, Strategic and Disarmament Studies at Wilfrid Laurier University in Ontario. A Laurier PhD student studying war memory accompanied Anderson and the students and documented the trip on Twitter.
Welcome to Virginia! On Day 1 of #MRU HIST 2212 Field School our group spent the morning exploring @ManassasNPS where we hiked Matthews Hill & critically discussed the landscape beside General Thomas "Stonewall" Jackson's monument #experientiallearning pic.twitter.com/tzpwd9bAaq

- Katrina Pasierbek (@K_Pasierbek) May 15, 2019
To promote international experiences, the University gives every student who participates in overseas field schools a $1,000 MRU International Mobility Award funded by Scotiabank to help cover the costs. The field school also received a grant from the Alberta government, and SAMRU's Experiential Learning Fund awarded grants to the students who applied.
Pointer believes more students should attend field schools when given an opportunity. "I recommend field schools to any student. The international education office is super supportive. Saying that I got my money's worth is not enough."
Find out more about outbound international learning opportunities at Mount Royal University. Explore History and other programs offered in the Faculty of Arts.
July 19, 2019 — Melissa Rolfe
Media request contact information.
Have a story idea? Please fill out this form.