Robert Nelson wins Outstanding Future Alumni Award
Former SAMRU executive member dedicated to meaningful change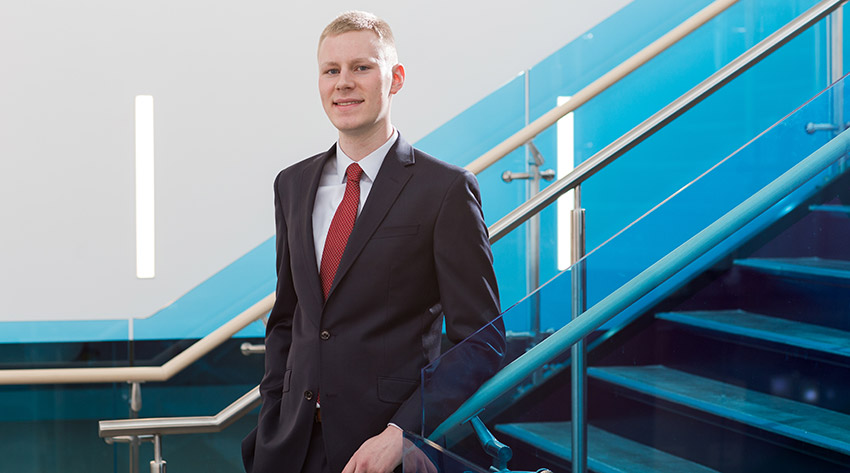 Robert Nelson
Outstanding Future Alumni Award winner
Bachelor of Arts - Policy Studies, 2018
Robert Nelson may be a political animal, but that doesn't mean he's a beast.

Rather, the recipient of this year's Outstanding Future Alumni Award sees the give and take inherent in the art of governing as a means to achieve "meaningful change." Take Mount Royal University's inaugural fall semester reading week. It had been on the radar for the Students' Association of Mount Royal University (SAMRU) for years.

"The big reason we were pushing for the fall reading week was that it's been increasingly recognized in post-secondary institutions that student mental health is becoming a fundamental concern at campuses across Canada," says Nelson, who served as vice-president academic of SAMRU in 2016/17. "In our internal assessment, we'd seen an increase in reports of anxiety, depression and suicidal thoughts.

"Fall reading week gives students room to breathe, to catch up on assignments and to rebalance work and studies."

In 2016, MRU announced that it would implement a fall reading week in 2017. For Nelson, it's that kind of end result that keeps him moving forward.

"I think it's my interest in politics as well as the knowledge of how the work of the Students' Association benefits the students that keeps me so engaged," says the 22-year-old Policy Studies student. "Things can go on over years -the fall reading week had been a point of SAMRU advocacy since 2010 - but over time, you can really see the real impact that it has. Knowing the potential benefits has the effect of keeping me involved and engaged."

It certainly has. During his time at MRU, Nelson has been extremely active. In addition to his one-year term as vice-president academic, he served as a member of the SAMRU Student Governing Board, sat as a member of the SAMRU Vice-President Academic Advisory Committee and served on the SAMRU Vice-President External Advocacy Committee. He's volunteered with the Policy Studies Students' Society since enrolling at MRU in 2013, including serving as treasurer and vice-president. He also shared his passion for politics as a Get Out the Vote volunteer at MRU during the 2015 federal election.

Congratulations to our 2017 Outstanding Future Alumni Award Scholarship winner Robert Nelson! Former @SAMRUBuzz VP Academic pic.twitter.com/2pjZCN7dYo

- MRU Alumni (@MRUAlumni) October 20, 2017
Through it all, he's managed to excel academically, earning a spot on the President's Honour Roll since 2013 and on the Dean's Honour Roll every semester but one (and that's because he wasn't taking enough courses to qualify).

"There have been a lot of late nights," he says of trying to balance his academic work with his political life, before adding with a laugh, "Sometimes my balancing of priorities doesn't take into account how much time there actually is during a day."

The Calgarian envisions a future of serving the public, whether it be as an elected official, political staffer or public servant. Continuing his education - through law school or studying for his Masters in Public Policy - is also in the plans.

As for hobbies, that's not how he's wired, Nelson says. As a 16-year-old, he got involved with his first campaign during the 2012 provincial election. Since then, he's been actively involved in provincial and municipal politics, volunteering on numerous campaigns for candidates he believes in and serving on a variety of boards and committees.

Despite the bad rap politics have been getting as of late, Nelson is as committed as ever.

"The part people don't see, which is unfortunate, is the genuine desire of many people involved in politics to create meaningful change. It's about advocating for policy they think will benefit society as a whole."

TD Insurance has long been a supporter of the Alumni Achievement Awards through an affinity partnership with Mount Royal University Alumni Relations, offering home and automobile insurance benefits for Mount Royal alumni.
TD Insurance is proud to provide eight scholarships each year to the recipients of the Outstanding Future Alumni Award, Alumni Legacy Entrance Scholarships and Alumni Legacy In-Course Scholarship to realize their dreams and full potential.
Nov. 27, 2017 — Ruth Myles
Media request contact information.
Have a story idea? Please fill out this form.