Alumna Roisin Dillon brings home top prize at Oxford University's global competition
Experience as a nurse makes research on opioid crisis solutions especially relevant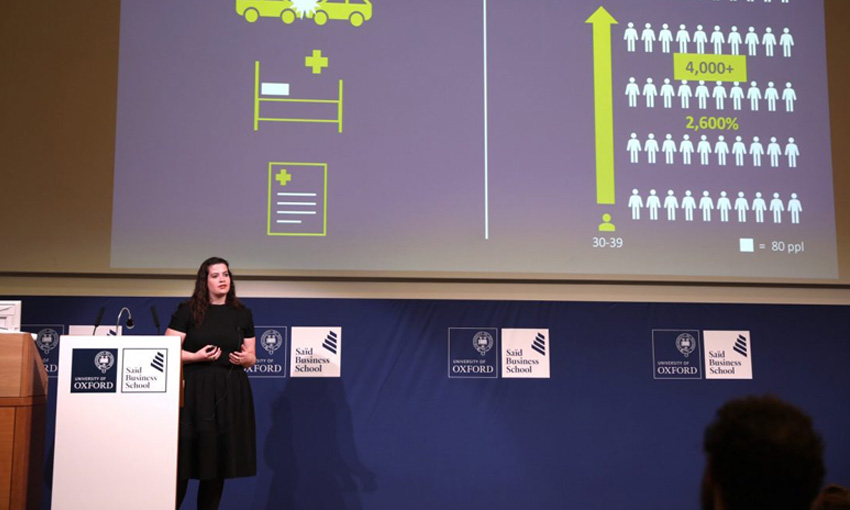 Mount Royal University's Roisin (Roe-sheen) Dillon won the top prize at the prestigious Oxford Map the System Challenge at Oxford University over the weekend, with a passionate submission and presentation highlighting possible solutions to the opioid crisis in Canada.
"To have been selected the winner of such a prestigious competition is an honour," said Dillon, a recent Mount Royal Nursing program graduate and 2017 valedictorian. "As a nurse, I've seen the devastation of the opioid crisis. It's so important to continue to educate and work with one another to alleviate these impacts."
In Canada, the opioid crisis led to 4,000 preventable deaths last year alone (a higher death toll than automobile accidents). Dillon analyzed interacting systems, such as government and public policy; supply from the black market and pharmaceutical companies; the system of care among emergency responders; healthcare professionals and nonprofit workers; and, the mindsets in the community.
"Roisin's grasp of the issue from a research standpoint, a clinical nursing practitioner viewpoint and a personal perspective, having lost a friend to a fentanyl overdose, meant she combined analytical rigour, real world experience and passion," said James Stauch, Director of the Institute for Community Prosperity at Mount Royal.
Contributing factors identified in Dillon's submission were the over-prescription of opioids, the consumer-culture of medicine and the Canadian practice of pain eradication (as opposed to pain management). She advocated for education and information sharing as solutions, pointing to Portugal as a country where narcotics addiction has been turned around.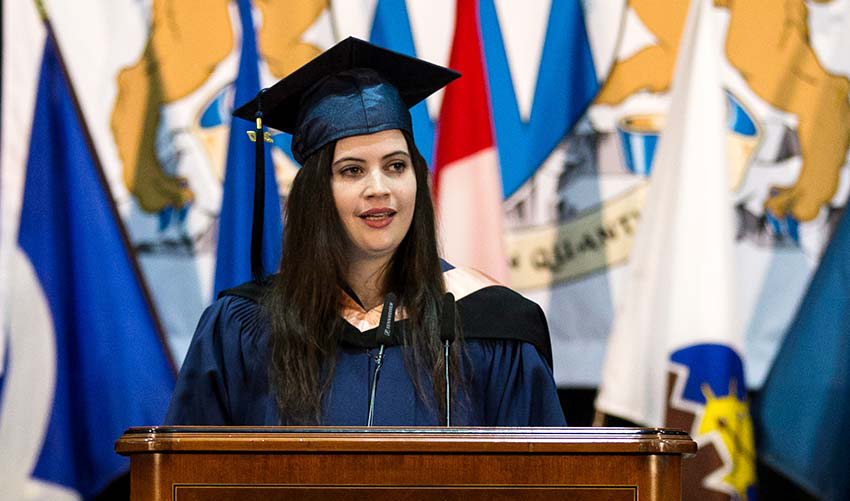 The Map the System Challenge is an initiative of the Skoll Centre for Social Entrepreneurship at Oxford's Saïd Business School, partnering with educational institutions around the world. Students describe a social or environmental challenge they care about, examining the underlying system and the gaps and levers of change required to shift the system.
This year, there were 470 entries from 27 schools worldwide. Fifteen teams took part in the semifinals at Oxford on June 1 to 3, giving a 10-minute pitch to judges. The top six went through to the final round and presented to the panel of judges and a live audience. University of Melbourne finished second and Simon Fraser University came in third. Winners receive a $7,000 prize.
Community Engagement Strategist Anna Johnson provided coaching for Mount Royal's participation in the Challenge, while Information Design student Ashleigh Metcs supported Dillon with design work and visual narrative. The J.W. McConnell Foundation's RECODE program and the Trico Charitable Foundation funded the Canadian portion of the Map the System Challenge, travel for the Canadian teams and supported work on the projects.
"This is another signature marker of Mount Royal's changemaker campus providing extraordinary opportunities to undergraduate students and recent alumni," said Stauch.
Mount Royal's Institute for Community Prosperity connects learning, research and change leadership to build community and strengthen the common good.
Read more about Roisin Dillion.
Student-centred learning is the mandate of Mount Royal's Bachelor of Nursing.
June 6, 2018 ― Peter Glenn
Media request contact information.
Have a story idea? Please fill out this form.