Students mark their ballots
The polls have closed for the Students' Association of Mount Royal University's 2018 elections
The results are in!
The following four members of the student community have been elected to the 2018/2019 Representation Executive Council
Andrew Nguyen, president

Cordelia Snowdon, vice-president academic

Amanda LeBlanc, vice-president external

Shayla Breen, vice-president student life
Learn more about your new executive.
Read the preview election story featuring an outgoing executive member and an engaged student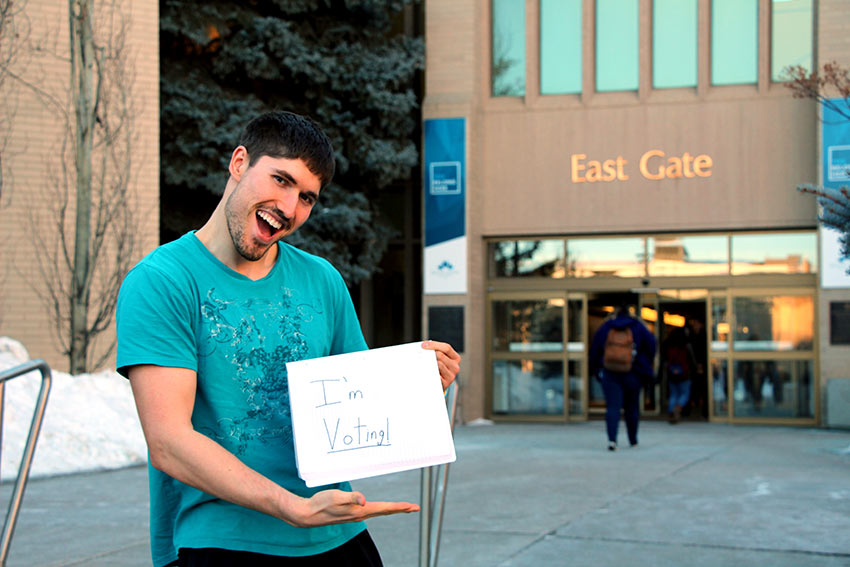 Next week marks one of the most important times of the year for Mount Royal University students who want to make an impact at their institution.
From March 12 to 14, Students' Association of Mount Royal University (SAMRU) members will have the chance to vote in their upcoming election, choosing four fellow students to make up the 2018/2019 Representation Executive Council (REC).
All four positions ― president, vice-president academic, vice-president external and vice-president student life ― advocate to all three levels of government and sit on numerous internal committees, representing thousands of student voices and working diligently to improve the MRU experience.
Each REC position is a full-time job, dealing with important matters ranging from tuition costs to mental health supports, while also realizing the objectives of the Student Governing Board. Part of each student's tuition goes towards the services offered by SAMRU and, by extension, the REC.
"It's money that drives everything. Part of the school fees (students) pay goes to SAMRU," said Shauna Hunter, chief returning officer for SAMRU Elections. "If they don't have an executive that listens to (them), they don't have any say in where that money is spent."
Hunter says the current student executives have worked hard to make the MRU student community aware of the upcoming election, but SAMRU is planning to spice up the in-person polling stations next week to further their efforts.
"This year we're going to have a selfie poster so people can take their pictures after they vote and post it on social media," Hunter said.
Ian Parsons, former president of Club N3RD and fourth-year Cellular and Molecular Biology major, believes exercising democratic freedom is important in all types of elections, but says the SAMRU elections are especially relevant.
"It's always important to promote your own civil rights ― municipally, federally, as well as in student civil elections, because it affects us all," he said, adding that he wants REC candidates to address real issues.
"It's been four years now and I have seen people run on the grounds of improving the Wi-Fi on the campus and nothing has ever happened. Real change is what they can manage effectively."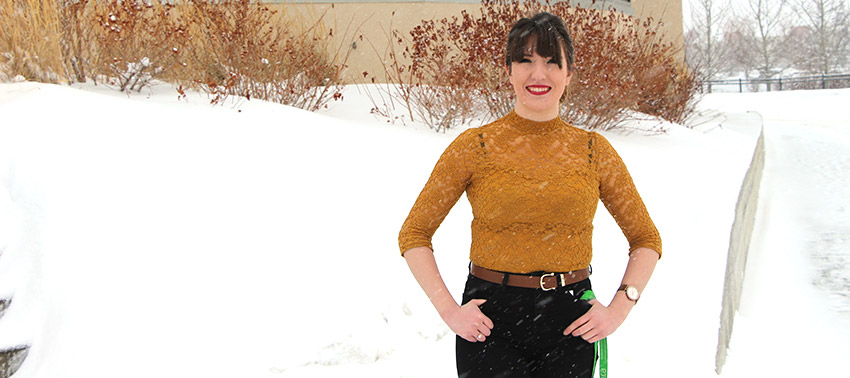 Current Vice-President Student Life Madelaine McCracken addressed issues close to her heart during her one-year term, including mental health awareness and consent through working with internal groups like Campus Equity and Meaningful Inclusion.
"Something I found to be very interesting as well was just letting students know what's actually happening on campus," she said. "That was something I wanted to promote more." Hence an added emphasis on the Student Life page found on MyMRU.
While interacting with different levels of government and listening to many student voices, McCracken said the overall experience has taught her valuable skills that will transfer over to her future career in education. McCracken managed to overcome several obstacles during her term, learning from each challenge blocking her way, and she advises the next REC to do the same.
"Do your research, be engaged and don't be afraid to make mistakes, because that's just bound to happen ― that's life and it's okay," she said. "There were a couple of pitfalls that I faced, but I then learned and got to establish more skills and traits instead. It was a fantastic learning experience."
The campaign period for the candidates begins on March 11 at noon. Voting will be open from March 12 to 14.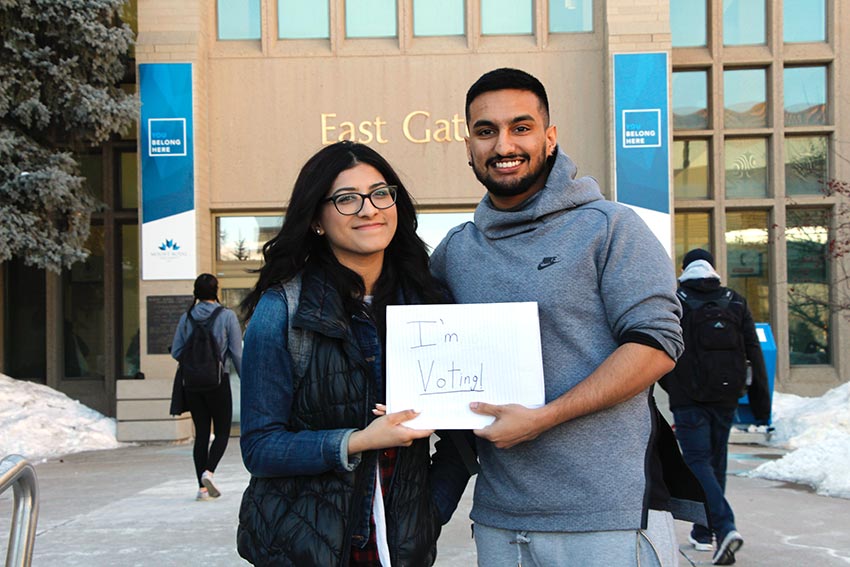 Students can vote in-person across from the Tim Horton's on Main Street on March 12, at West Gate on March 13 and 14, or online any time through samru.ca/Vote. Students will be asked to enter their MRU student ID number and name to vote online. All ballots are confidential and the voting period runs from 10 a.m. beginning March 12, ending at 5 p.m. on March 14.
Held at the Wyckham House food court, the candidates' debate runs from noon to 1 p.m. on Tuesday, March 13, offering students the perfect opportunity to learn what potential representatives stand for.
"The candidates themselves will get a chance to speak and present their platform, and there's a long question and answer period," Hunter said. "If you have anything on your mind that you want to know how your representatives might feel about, it's a good place to ask them in a public forum. It's a safe space ― no matter what you ask, it's going to be answered."
"Within your time here, you are paying towards the Students' Association - you pay us to be existent, basically," McCracken said. "It is your right to absolutely vote and to be able to have your voice heard."
March 6, 2018 ― Paul McAleer
Media request contact information.
Have a story idea? Please fill out this form.