Students hosting energy summit SevenGen 2019
Leader brings together Indigenous youth to talk about future of energy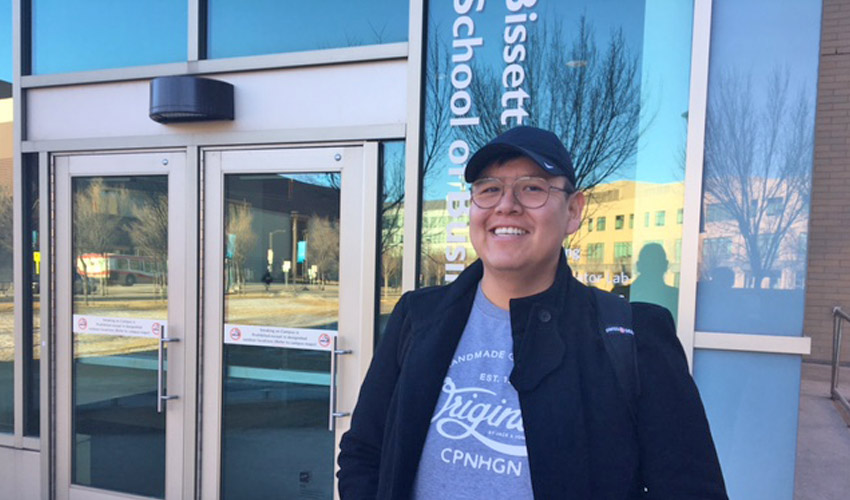 Combining a concern for the future of energy and climate change with a deep desire to help Indigenous youth has inspired Mount Royal University student Cory Beaver.
Beaver and other Indigenous and non-Indigenous students in the Mount Royal chapter of a group called Student Energy are hosting SevenGen 2019. The first Indigenous student energy summit in Alberta will be held Jan. 24 to 27 at the Grey Eagle Resort on Tsuut'ina Nation.
Two hundred Indigenous and non-Indigenous youth aged 18 to 30 from across Canada are expected to come together to unite communities, build relationships and break social barriers. The goal is to empower Indigenous communities to lead and live sustainably through the intersection of energy, food, water, and the transition to a sustainable economy.
Beaver's interest in energy and climate change was piqued at a climate change workshop. He says he "always knew about climate change but after leaving that workshop I knew I had to raise awareness."
That led to meeting Student Energy executive director Meredith Adler at a Suncor Energy Foundation gathering, and then attending the Student Energy Summit in Merida, Mexico in 2017.
"Attending one of the sessions at the summit, I was inspired by hearing the story of Student Energy and how they began. They were tired of getting a seat at the kids table and they wanted their voices heard. They realized there was a need to involve youth."
Beaver thought of his own community of Îyârhe Nakoda (Stoney Nakoda) and youth there, many of whom are struggling with addictions and what he calls a lack of "youth engagement and empowerment."
"I felt like I wanted to do something positive and I wanted to give youth opportunities and to inspire youth to really look at education as a means to an end."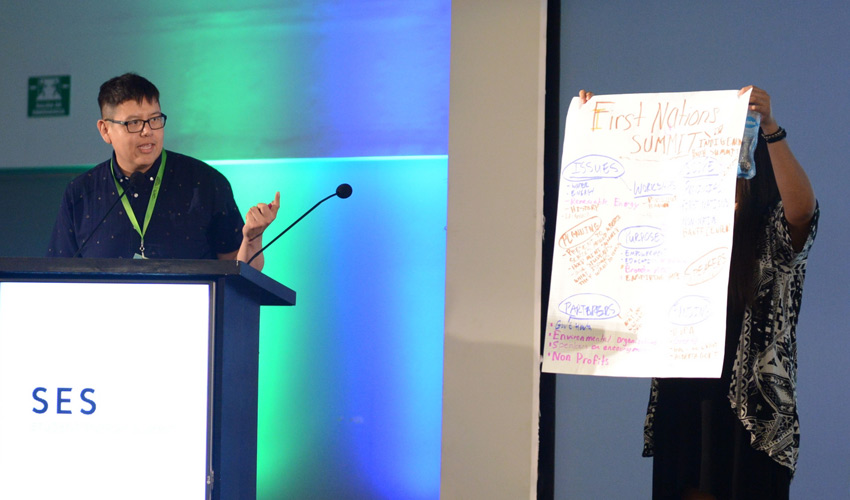 Beaver, who is taking some time away from his studies pursuing business to co-chair the event along with Disa Crow Chief of Siksika, hopes the summit makes a difference for Indigenous and non-Indigenous youth.
Other members of the SevenGen steering committee include Braden Etzerza, Nikita Kahpeaysewat, Morgan Murphy, Hunter Adams, Nathan Kaye, Michael Batas, Olivia Reshetylo, Lindsey Red Crow and Devon Blind.
"Our goal is to talk about the challenges and opportunities for renewable energy in First Nations communities, discuss sustainability and what that looks like, and also raise awareness about climate change. We want to inspire and empower youth at the same time."
The summit involves a wide array of panel discussions, from Indigenous changemakers to industry leaders and more. Thursday's keynote speaker is lawyer and activist Roberta Jamieson, CEO of Indspire. Sessions include Climate Change, Energy and Indigenous Communities, and a workshop titled Energy Transition Game led by Suncor Energy. Sunday includes the Innovation Jam where participants are invited to pitch ideas to the audience before a giant brainstorming session.
"It is crucial for young people to be able to lead, innovate, unite with their peers, and collaborate with established professionals ― as Cory and the team have done," said Adler. "These experiences build their skills for the future and show that youth can really be part of building the solutions we all need."
Connie Van der Byl, PhD, associate professor in the Bissett School of Business and the academic director of MRU's Institute for Environmental Sustainability (IES), called the summit an "exciting and important event. The IES, along with MRU's Institute for Community Prosperity and its director James Stauch, are supporters of the Summit.
"It addresses critical sustainability issues of energy and climate action and focuses on Indigenous youth led solutions. The IES is honoured to be a supporter but this is truly a student-led initiative."
Beaver said he's sensitive to the extreme positions of both sides of the energy debates but hopes to encourage a middle way of thinking about these often polarizing issues.
"Sometimes a lot of people don't like the term 'climate change.' It has a negative connotation. I feel like people can understand the idea of 'energy transition' rather than going from one extreme to the other. That might lead to a better, more positive outcome," Beaver says.
"It's a really touchy subject and I'm also guilty because I'm also reliant on petroleum and most of the things we use every day come from petroleum. It needs to be talked about in a way that it doesn't trigger extreme reactions."
Find out about Indigenous Mount Royal.
Jan. 21, 2019 ― Peter Glenn
Media request contact information.
Have a story idea? Please fill out this form.