Uniting Indigenous ways of knowing and western science concepts
Bachelor of Science duo analyzing Bow River water quality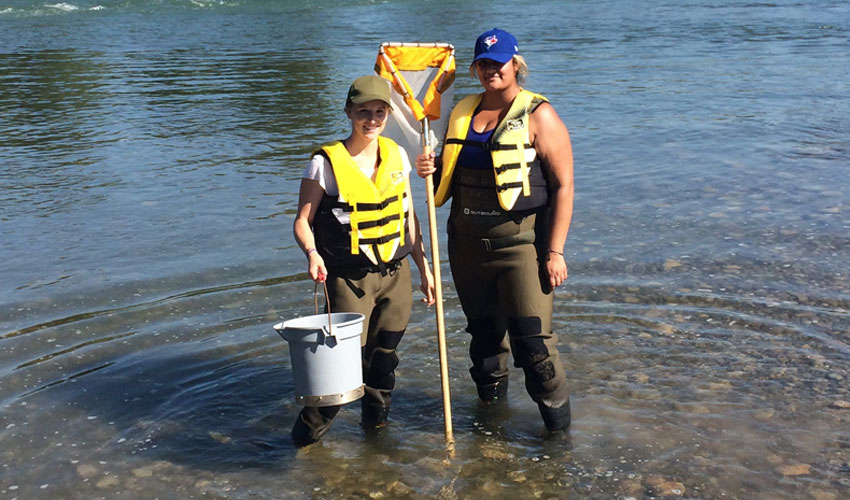 A Bachelor of Science duo from Mount Royal University are investigating Bow River water quality upstream and downstream of an Indigenous community as part of a unique bursary and mentoring program.
Hannah Grewal and Danielle Dusome, who is Métis, took on the research because it was an opportunity to pursue valuable work experience in their field, as well as to participate in reconciliation between Indigenous and non-Indigenous peoples. Their work is being funded through Sistering Indigenous and Western Science (SINEWS), a bursary and mentoring program supporting eight pairs of women from post-secondary institutions, with each pair consisting of one Indigenous and one non-Indigenous individual.
Applications for SINEWS were open across Canada with seven pairs selected from Alberta and one pair from the Northwest Territories.
"The goal of our research is to determine the health of their water" says Bachelor of Science - General Science alumna Hannah Grewal. "We conduct water testing (biological and chemical) on the Bow River water upstream and downstream of the community we are working with."
The researchers are working in the traditional territory of the Niitsitapi (Blackfoot).
"We are also speaking with elders and other members of the community to obtain traditional knowledge about water," Grewal says.
SINEWS' purpose is to give women in science and technology the opportunity to develop scientific leadership and teamwork skills, create a professional network and foster positive relationships between Indigenous and non-Indigenous women and their communities. SINEWS is funded by Natural Resources Canada through its innovation fund.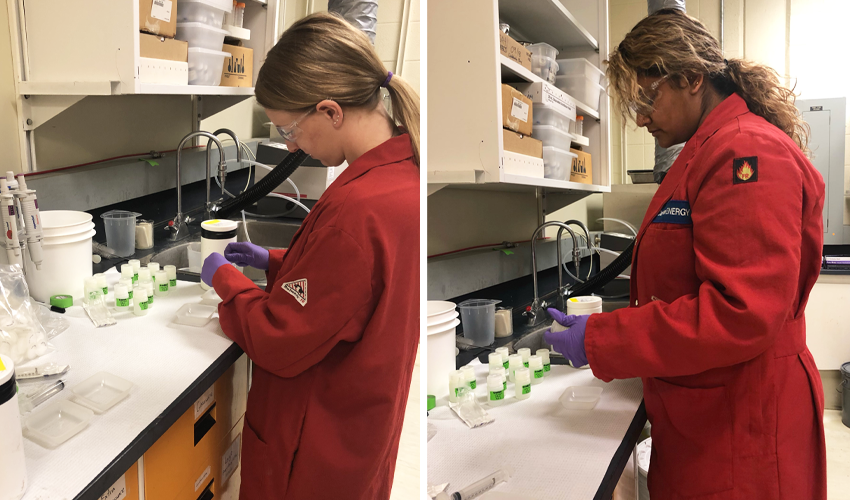 Grewal and Dusome were introduced to each other at Mount Royal through the Harry G. Schaefer Mentorship Program. They shared a mentor in 2018.
"We continued to build on our friendship and professional relationship over the last year by both being part of the Peer Health Education program," said Grewal.
The two did a lot of groundwork prior to submitting their application to SINEWS.
"We spoke with many professors in the chemistry and environmental science programs at MRU and with members of the Iniskim Centre to gather various perspectives on Indigenous environmental issues to produce a well-rounded application," said Grewal.
The opportunity has allowed Grewal and Dusome to participate in academic research by conducting fieldwork, and build meaningful relationships with members of the community they are working with. Dusome, who is in her fifth year of study at MRU, has been exploring her Métis heritage for some time and felt that this project would be a meaningful way to continue learning about her background.
"This is a perfect combination of things that I am passionate about,' Dusome says. "It encourages women in science, Indigenous people in science, relationship building through reconciliation, traditional Indigenous knowledge and scientific research."
Dusome is also working towards an Indigenous studies minor, and says, "I often thought about, and was asked about, how I would be able to use the knowledge I gained from both my science major and Indigenous studies minor and combine them. This opportunity really showed me how I could use both in a way that supports reconciliation and allows me to bring together these two worlds of knowledge."
The recent move from student to alumna to researcher was seamless for Grewal.
"I had completed my independent project in developing a lab manual for Analytical Chemistry II and implementing a Community Service Learning component for the same class," Grewal says.
"This gave me the background in doing lab work, completing ethics applications, doing scientific writing and creating relationships that I felt would make me a strong candidate for SINEWS."
Grewal and Dusome are still in the data collection process of the project. The duo have connected with the Mount Royal Science Student Society and plan to disseminate their findings and discuss their experience via a presentation at the beginning of September.
Major in general science to build a foundation in science, computing and mathematics. Minor in two disciplines of your choice (biology, chemistry, geography, geology, mathematics or physics) to learn specialized knowledge and skills.
July 30, 2019 — Rob Petrollini
Media request contact information.
Have a story idea? Please fill out this form.