Hirosaki University's Sensei makes lasting impressions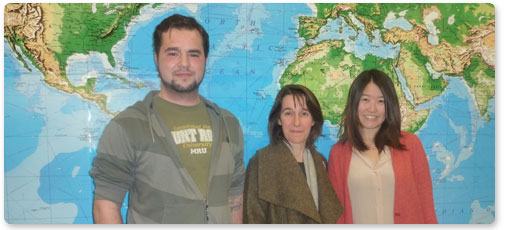 Sawada-sensei is a conundrum. She is a surprise. She is an anomaly and an absolutely beautiful person. At least that was my experience with her. I had first heard her name weeks before leaving to go to Japan. I was told by previous exchange students, and then by the International Office at Mount Royal University, that she would be the person in charge of me while I was in Japan. If anything bad happened, say, if I had passed out in the snow one night in January and was taken in by the police so that I wouldn't die (there is such a story), she would be the one to pick me up. I had heard so much about her before I ever met her that an image was formed in my mind of what she might look like. I saw her as a little Japanese lady, kind and motherly, yet stern in a professorly sort of way, with a short bob of a haircut and a wardrobe of blouses and long dresses. That image was my own reckoning-nobody had cared to describe her to me before I met her.
On orientation day at Hirosaki University, one of the schools MRU has a partnership with in Japan, Sawada-sensei came up to me to introduce herself. "Hello! You must be the student from Canada. Mitchell was it?"
"…uh, yeah! That's me. But just call me Mitch." I replied, my response delayed by a perfect sense of surprise. I'd like to think I recovered pretty well.
Sawada-sensei is nothing like what I imagined her to be. She is originally from New Zealand, but grew up in Japan. She speaks with what could be considered a British accent, wears lots of shawls and necklaces, and is more stern than she is motherly, but incredibly kind nonetheless. She changed her last name to "Sawada" after she married. While I was in Japan, I took her Regional Cultures class, as well as both of her Japanese Literature classes, and although I disagreed with her on some academic points regarding those subjects, I enjoyed arguing with her and even more so I enjoyed teasing her with stories about my life in Hirosaki (it was particularly fun to walk into class with shorts, showing off a new tattoo).
Last month, I received an e-mail from the Office of International Education at MRU that read, "Did you know Hannah Sawada is at MRU this week?" No, I didn't know. After a bit of back and forth to see if Sawada-sensei would have some time to meet, we organized a short hour-long meeting. When I arrived in the International Office on the third floor of the Bissett building, I saw Sawada-sensei talking to some people in the meeting room across from the reception desk. As I waited patiently for her to be done with her conversation, we made eye contact and gave each other a little wave of acknowledgement. After a few minutes, she was done and she came out to say hello.
"Mitch!" She said, opening her arms wide for a hug, "How are you?"
"Sensei! I'm good! It's been too long. Two years now, hasn't it?" The hug I gave her seemed to envelope her small body. Her shawls were fluttering around her, and I was reminded of when I would see her walking down the halls of Hirosaki University. We sat down and began catching up.
We talked about my time as her student in Hirosaki and laughed about the sort of reputation I left when I returned to Canada.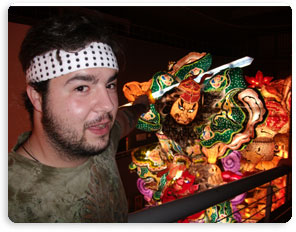 "We were talking about who we remembered coming from Canada. We couldn't remember anybody's name except for you! I remember someone said, 'Mitch! I remember Mitch very well!'" She was laughing as she told me this, "You have quite the reputation, but it's not bad."
"Except for when I walked into class with a new tattoo, right?"
"Oh my gosh," she said, covering her face as she laughed, "I didn't know what to think."
I missed Sawada-sensei. She was definitely one of the most engaging people I had met while I was in Japan. She was open enough to let me do the things I wanted to do-I only told her my night-before stories because I knew she would just cringe and give me some cautionary advice. She is someone worth knowing, and I hope that I get to see her again soon.
That's the worth of a student exchange. My experiences are better than any sort of grade I could have gotten in a class; the people I met are more precious than any amount of university credits I could receive. They're lasting. They're life changing.
-Mitch Parent, April 2013