Friendships Foster Partnerships: A Profile of Trygve Hermansen, Norway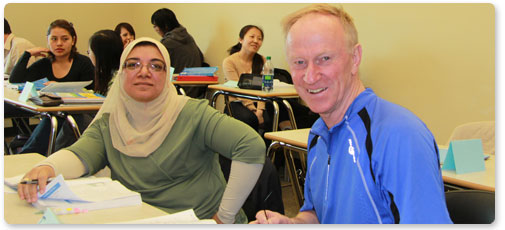 Although his trip from Elverum, Norway to Calgary, Canada on April 9, 2012 lasted over 11 hours, Trygve Hermansen felt like he was right back at home when he reached Mount Royal's campus.
In 2004, Trygve came to Mount Royal College for the International Faculty Development Program in order to increase his language skills and methods for teaching content subjects in English.
"The people at Mount Royal were wonderful. I really loved the Canadian culture too," says Trygve. With a new admiration for Mount Royal and Canada, Trygve kept his experience close to heart, but didn't expect to develop a friendship that would foster several international partnerships and bring him back to Mount Royal almost ten years later to improve his English.
"Of course I missed Mount Royal, so I started to talk with Lorna Smith from the Office of International Education," says Trygve, reflecting upon the various collaborations and partnerships initiated as a result of that initial participation in the Faculty Development Program.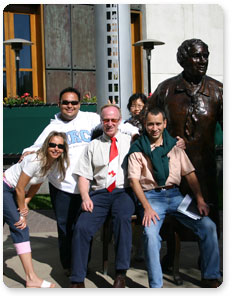 Upon his return to Norway, Trygve was a key player in initiating the partnership between Mount Royal University and Akershus University College. "When I returned I was very busy, but a delegation from my University went to visit Mount Royal and they were very impressed," recalls Trygve. In May 2006, a delegation from Mount Royal College, led by Provost Robin Fisher and Lorna Smith and including now Dean, Chad London and Audrey Olson, Manager of the Languages Institute was hosted by Akershus, under the leadership of Trygve. The partnership agreement between Akershus and Mount Royal was soon signed.
In 2007, however, Trygve was asked to apply as the Dean of Nursing at Hedmark University in Elverum. So , when he made the transition into his new position Trygve said "he was sure to put Hedmark University in touch with Mount Royal to see about creating yet another partnership".
Collaboration Continues
"The relationship between Canada and Norway is really important and I think the partnership between Mount Royal and Hedmark University will contribute to these relationships".
After five years as Dean, Trygve made a decision in spring 2012 to change career paths and to his delight, was offered a position to be the advisor to the President on International Affairs, specializing in North America. With an opportunity to return to working in an international context, Trygve took the position but recognized that his new position would require him to work on some of his English language skills.
"I thought I needed to refine my English, so I decided to write to the Director at Mount Royal and see if I could come back to my favorite university," says Trygve. Now across the globe at Mount Royal University, Trygve is enhancing his language skills as an English for Academic Purposes (EAP) student in the Languages Institute.
As part of the development of this new partnership, in May of 2012, an ETOL (Eco-Tourism and Outdoor Leadership) Field School , led by Associate Professor, Ian Sherrington and including 9 Mount Royal University ETOL students went to Norway. Trygve met with the group prior to their departure to share a bit of Norwegian culture before they embarked on their trek. "I was really impressed by all of the students. They were very nice and mature," says Trygve.
In reflecting upon his experience at Mount Royal Languages Institute, Trygve comments that "The course is perfect. I am very happy with it. I really like the way they've built up the program. You have to work hard, but you learn a lot."
Trygve says that he also enjoys the multicultural atmosphere that Mount Royal's English Language courses have to offer. "I really appreciate the diversity of my classroom. The students have exposed me to a lot of things," says Trygve. "There are nurses and doctors from Iraq and engineers from Venezuela." He says that these diverse perspectives have not only enhanced his English but have allowed him to expand his appreciation of international education."
Canadian Kindness
Besides truly immersing himself in his classes and the Mount Royal community, he says his outgoing personality has also contributed to improving his English. "Everyone here is very friendly and helpful," smiles Trygve, who admits it only took one trip to the grocery store to see the welcoming nature of Canadians.
"I was in line at Safeway buying some groceries but didn't have a Safeway card. The lady working yelled out to the other customers in line asking if they had a card that I could use. A lady quickly pulled her card out and I saved over nine dollars."
But the friendliness didn't stop there; the woman then offered Trygve a ride home so he wouldn't have to walk through the winter storm. "People are really warm and friendly. That is something I really appreciate."
In addition to the friendliness, perhaps it is his heritage that continues to attract him to Canada. "I am trying to track down some relatives. My grandmother had 11 sisters and eight of them came to Canada from Norway. A few of them came to Alberta." Trgyve has been in communication with his relatives from the area and has met with them on a few different occasions.
In May, Trygve's partner Anna came to Calgary from Norway for a visit and they had the chance to explore Calgary and the surrounding area. "We went to Banff, Lake Louise and Turner Valley. We even did the hike up to the Lake Louise tea house in May. There was still a lot of snow, but we made it," laughs Trygve.
Trgvye, Anna and her daughter plan on coming back to Mount Royal in two years to participate in the Summer Immersion English Program as a family. "It will be a great experience for everyone to work on their English," says Trygve.
In addition to his long-standing personal connection with Mount Royal, Trygve hopes that MRU and Hedmark University will continue their partnership and develop exciting new collaborative programs which will expand the international horizons of Canadian and Norwegian students and faculty.

- Andrea Morrow, June 15, 2012