Spreading the spirit through sport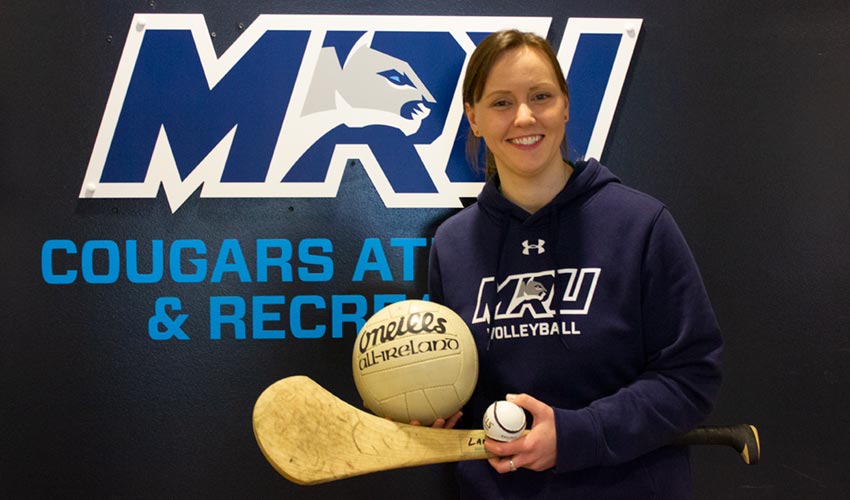 Since her earliest days on the Emerald Isle, Ciara Lane has been involved in Gaelic sport.
She comes from a passionate hurling family, so when she arrived in Canada in 2012 she quickly became involved in the promotion and development of hurling and Gaelic football in the Great White North.
Today Lane works in Cougars Athletics as an athlete services coordinator, and her coworkers have taken an interest in these strange and peculiar sports that she mentions frequently. In honour of St. Patrick's Day, Lane organized a crash course for Mount Royal athletes and staff to better understand the finer points of Ireland's most popular sports.
"I thought it would be great to gather equipment from my Gaelic Athletic Club - the Calgary Chieftains - and bring a little Irish sporting culture to MRU in celebration of St. Patrick's Day," Lane says. "We have some wonderful staff and faculty here on campus who either come from Ireland or are of Irish descent, so it's nice to see them getting involved, too."
Those who got 'involved' include Associate Professor Gwen O'Sullivan, PhD, of the Department of Earth and Environmental Sciences, and Associate Professor Simon Magennis of the Bissett School of Business.
"I was delighted to be asked to help out with this event. I played (hurling and Gaelic football) when I was younger and am very aware of their importance in Irish society," says Magennis.
St. Patrick's Day is when everyone gets to be Irish, so when better to showcase some of the best parts of Irish culture to students, staff and faculty.
"I've always found MRU to be very inclusive of other cultures and I've been lucky enough to see and take part in lots of events promoting different international cultures on campus. Irish culture is so much more than drinking green beer (which is a travesty, by the way!) and dressing in green once a year," Lane says.
According to Lane, Ireland's national sports are rapidly growing in popularity among Canadians. She believes this is because both hurling and Gaelic football are hybrids that include aspects of a multitude of different sports played every day in Canada. "Gaelic football has the skills of volleyball, basketball, soccer and rugby all mixed together, and hurling mixes the skills of hockey, lacrosse and baseball. So, if you've done basic Physical Education in school, chances are you've already got the skills for both sports."
While growing up in Ireland, O'Sullivan also played Gaelic sports for her school and local clubs. She has fond memories of travelling for tournaments around the country.
"Events like these on campus are a great opportunity to meet new people and try something new," says O'Sullivan. "But, more importantly, I think events like these create a vibrant, diverse culture on campus, which helps develop campus engagement and understanding of diversity."
March 15, 2019 ― Jonathan Anderson
Media request contact information.
Have a story idea? Please fill out this form.