Commitment to the community recognized with major award
Iniskim Centre's Steve Kootenay-Jobin is the recipient of the 2019 Chief David Crowchild Memorial Award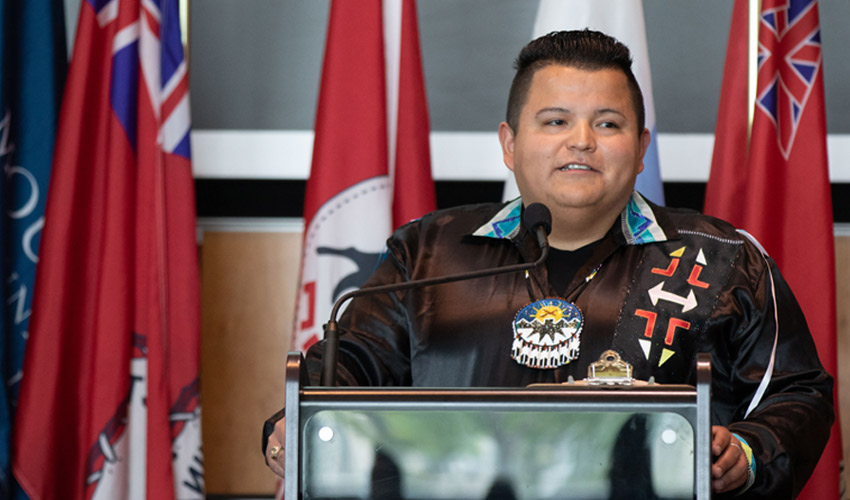 Regularly recognized and regarded as a valued Mount Royal community team member, Steve Kootenay-Jobin is a fixture on campus.
And on June 20, the mainstay of Mount Royal's Iniskim Centre had his commitment to the campus' Indigenous Peoples success acknowledged by the City of Calgary.
The MRU alumni-turned valued staff member is the recipient of the 2019 Chief David Crowchild Memorial Award, joining an impressive list of past honorees including former city mayor, Al Duerr, actor Tom Jackson and Mount Royal elder, Grandmother Doreen Spence.
The recent distinction for the Indigenous housing and events coordinator is given annually to a Calgarian who builds relationships with the Indigenous community and is a leader among peers. The award is presented by the Calgary Aboriginal Urban Affairs Committee, whose goal is to improve the opportunities and the quality of life for Indigenous people living in Calgary. Kootenay-Jobin is the first recipient from the Stoney Nakoda (Iyarhe) nation.
Day-to-day, he helps Indigenous students find campus housing, organizes cultural events, and supports Indigenous students while they attend school. Kootenay-Jobin also works with faculty and staff at the University on cultural training and ensuring that the school is accessible and inclusive for all.
"I am a firm believer in and love inspiring the message that we can come from anywhere and that we can become anything with hard work, dedication and commitment," he says.
"I struggled a lot in junior and senior high school and many of my teachers and friends' parents never thought that I would graduate. I share my stories of struggling with the students and community, but I focus on how I overcame them to all of the successes I have been fortunate to accomplish and the experiences that education has led me to."
Originally graduating from Mount Royal's Indigenous University Bridging Program (formerly the Aboriginal Education Program) in 2008, Kootenay-Jobin acquired an Arts and Sciences Diploma in 2010 and a Bachelor of Arts - Sociology in 2015.
The Chief David Crowchild Award is one of the highest honours of recognition for service and leadership in the Calgary Indigenous community. Kootenay-Jobin's late grandmother, Beryl Kootenay, had aspired to win this award, and now she gets to live the moment through her grandson.
"(My grandmother) had a major impact on my community involvement from a young age. Along with my mother working in Indigenous shelters as a social worker for 25 years, I am the third generation of Kootenays that has served the urban Indigenous community of Wichispa (Calgary) and the Treaty 7 community."
In addition to this work, Kootenay-Jobin also serves on several committees at MRU and in the Calgary community involved in diversity, human rights, murdered and missing Indigenous women and girls, mental health awareness, and cultural awareness.
Last May, Kootenay-Jobin was on the Walking With Our Sisters Committee that organized a two-week commemorative art installation at Mount Royal University remembering the lives of missing and murdered Indigenous women of Canada and the United States. The exhibit also acknowledged the grief and torment that the families of these women continue to suffer, raising awareness of the issue and creating opportunities for the community to openly talk about what has been called a genocide by many.
News of Kootenay-Jobin's success is being celebrated across campus.
Tom Buchanan, PhD, chair of the Department of Sociology and Anthropology, says, "The department is extremely fortunate to have a lasting relationship with Steve. He understands that change and progress are built upon relationships, patience and persistence. I feel extremely fortunate to know him as a professional." Members of the department were responsible for nominating Kootenay-Jobin for the award.
Iniskim Centre director John Fischer gets to see Kootenay-Jobin's passion and work ethic on a daily basis. He's neither shocked nor surprised at the honour bestowed to his co-worker, and believes it is considerably significant.
"This is a major civic honour and Steve takes a place with many leaders who have worked in our city to advance Indigenous Peoples. He is the first Stoney to receive the award and this is a source of pride. Of course, he is also the first Iniskim Centre staff member and employee of MRU to receive the Chief David Crowchild Memorial Award and I consider it as recognition of the work we have done through our Indigenous Strategic Plan," Fischer says.
"Steve is a leader who has built a supportive community within the Indigenous Housing Program at MRU. His coordination of the conferences, events, and lectures that are held by MRU and offered to the community are successful due to his diligence and commitment to ensuring that our ways are recognized and are featured prominently. His intelligent, patient, kind and optimistic nature are reasons why many enjoy collaborating with him. His leadership is also seen in his knowledge of the Indigenous community, his attention to detail, an understanding of issues, and his ability to communicate succinctly."
When Kootenay-Jobin first found out he was nominated for the award, he looked at the past recipients and did not think he would be considered.
"To be put in to the same category and recognized as these outstanding individuals is truly a great honour," he says. "It felt good to know that my passion is making a difference in the lives of the students and people I work with. I am humbled and so excited."
Always on the move, in July Kootenay-Jobin will begin the Master of Education at the University of Calgary. He will remain employed full time while he balances school.
"I aspire to become a director or senior level position when I am done school. I truly love Mount Royal and the opportunities it has provided for me and the community connections that I have formed."
We are making progress, but there is still much work to do. Read our Indigenous Strategic Plan 2018 Community Report.
June 20, 2019 ― Jonathan Anderson
Media request contact information.
Have a story idea? Please fill out this form.