Student uses Maker Studio to make 3D printer
Printing prosthetics on the agenda for health science student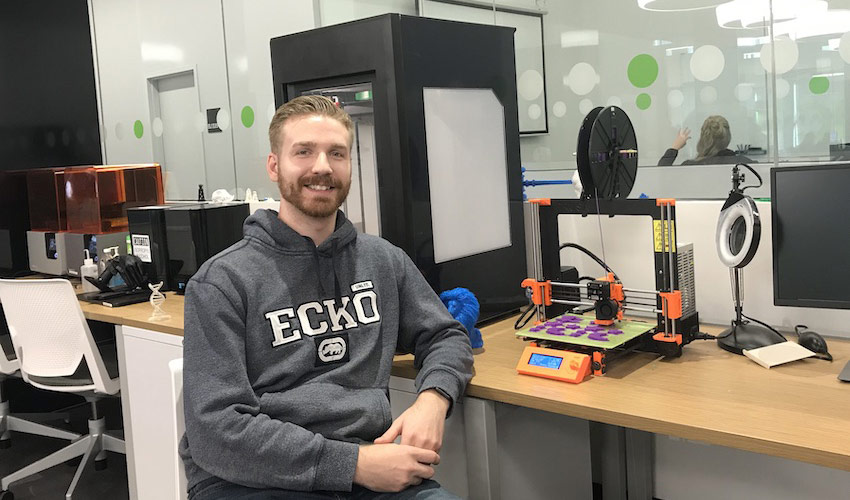 It's the ultimate hack: Stian French used a 3D printer in the Maker Studio at Mount Royal University to make a 3D printer.
The third-year Bachelor of Science ― Health Science student from Okotoks based his printer on an open-source concept he found during extensive online research.
"I could have bought the parts, but they were expensive and I knew they weren't expensive to make. Plastic is pretty cheap, but it takes a lot of time to print all of them," says French, 26, who was pleased to have found a publicly accessible design. "The Maker Studio saying they would print the parts was the catalyst I needed because I had already gotten all of the metal and electrical parts of the printer. The structural pieces printed here brought it all together."
Sitting in the Maker Studio, a bright, technology-rich environment in the heart of the Riddell Library and Learning Centre (RLLC), French is surrounded by a dizzying array of technology. From a laser cutter to a range of 3D printers, a soldering station to an industrial sewing machine, the space and its contents were designed to support creativity. Although French first learned about 3D printers in high school, his interest was piqued a few years ago.
"I saw a GIF of these 3D-printed objects that fit together really well. I thought it was really cool and wanted to know how they did it, so I started researching it," French says. "I love building things. Growing up, I always had Bionicles and Lego. The idea of building a 3D printer that can build things that I design was perfect."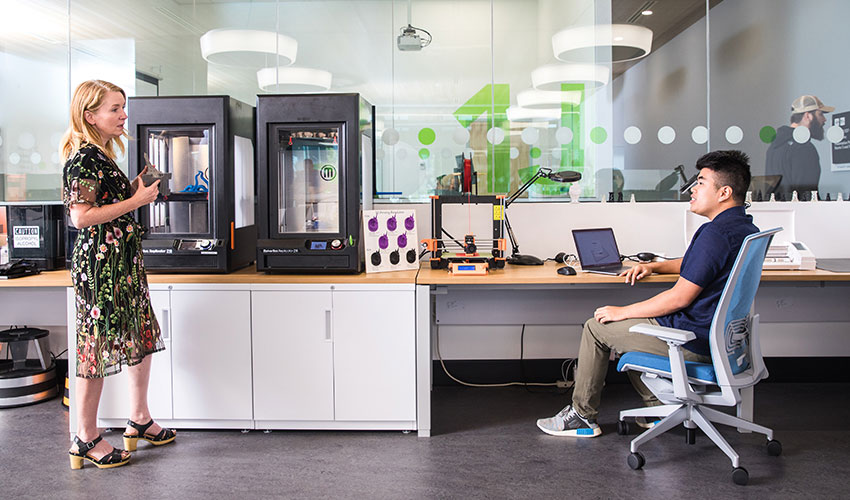 Kerry Harmer, the Maker Studio specialist, supports students, faculty, staff and the community in their endeavours in the University Library space. On average, users spend two to four hours at a time in the studio. Although there are 16 courses that have specific projects that must be done in the Maker Studio, that's not a requirement for utilizing the space, its equipment or the knowledge of the staff.
"Students will come in and do a personal project on the 3D printer and then they'll integrate that into their curriculum because they've built the confidence around the tool and the technology. The skills that students walk out of here with are immense," Harmer says. "That's why it's really important to allow people like Stian to come in and use the space (without a requirement that it be tied to a course).
"As he's learning 3D-modelling and understanding his 3D printer, it's quite possible that for a capstone project in his fourth year, he will be printing 3D prosthetics."
French, who plans on attending attending medical school to become an oral surgeon after graduating from Mount Royal, has just gotten started on his journey with the technology.
"I don't really know how to use 3D-modelling programs, so I want to design my own 3D printer and put it together as a way to learn how to use a 3D-modelling program," he says. "After that, I've seen a few 3D-printed prosthetics. I want to learn how to design those, and now that I have a 3D printer, I can make different iterations and prototypes and see how they work and what doesn't work."
The vision for the Maker Studio is that it promotes creativity, innovation, design-making and 21st-century competencies in learning, teaching and scholarship. In addition to the hands-on learning that takes place in the space, the environment is used to foster creative thinking.
"We have classes come in and we do ideation. It's not using any of the tools. It's just being creative, doing blue-sky thinking or learning to think creatively and use creative processes to do design thinking," Harmer says, adding the space has drop-in hours as well. "And when they do use the space, students are getting some of those 21st-century skills like failing forward, problem solving, collaboration. That's part of their experience here."
As 3D-printing becomes more accessible, the ways in which it will be used are endless. A recent story by the Forbes Technology Council looked into the future of 3D printing. Predictions ranged from one-off custom fashion design to bioengineering to on-demand part printing in retail locations such as Home Depot to printing a home in one day at a cost of $10,000.
In April, when the Maker Studio occupied a smaller area in the RLLC, 55 students came through its doors. In September, more than 560 students made use of the facility and its equipment. Users come from across Mount Royal's community and faculty.
"It's a democratic space where everyone feels welcome. There's none of the boundaries or siloing that happens when a maker space is tied to a faculty or specific end goal, like entrepreneurship," Harmer says. "We're in a library, so it's more of that this is a resource, just like all the books and all the other resources that are in the building for everybody."
And that sense of welcome is part of the community that's growing around the Maker Studio. People share ideas and equipment. At a recent workshop, the dean of arts sat alongside faculty, students and staff as everyone tried their hands at embroidery. French hosted a maker session in early November, sharing how he made his 3D printer and the challenges he faced during the process. Those included putting in parts upside down, soldering wires onto the electronics board and programming the software that determines how to slice the 3D model into 2D layers so the firmware can interpret the information.
"I love learning and puzzle-solving and creating things. Given the opportunity to share that with others, I was really excited to be able to do that and maybe inspire somebody else," he says. "I had to put the printer together and take it apart multiple times. I've learned that it's okay to start over from scratch. Just keep progressing and working towards your end goal."
Learn more about Mount Royal's Riddell Library and Learning Centre.
Nov. 30, 2018 ― Ruth Myles
Media request contact information.
Have a story idea? Please fill out this form.