Spirit River Striped Wolf testifies at Indigenize the Senate
Ethnic minorities should be woven into Canada's economic fabric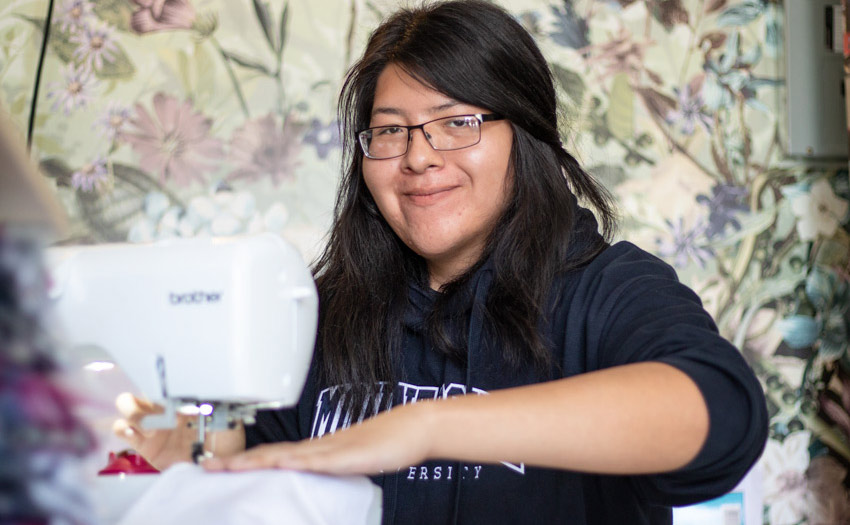 One of nine Indigenous students from across Canada to be handpicked for the federal government's Indigenize the Senate event, Mount Royal University's Spirit River Striped Wolf recently testified in front of the nation's most powerful lawmakers as a community representative. He brought forth his research and thoughts into how policy can support ethnic minorities in helping economies thrive.
Chosen from a pool of 150 peer-nominated young leaders, Striped Wolf is enrolled in policy studies at MRU. He has been analyzing why it is that Indigenous people struggle with participating in Canada's labour force, performing a comparative analysis of Indigenous Canadians versus ethnic minorities in the U.K. as part of a class assignment. Striped Wolf says the two groups usually start out quite similar in terms of economic classes, but eventually there is a diversion.
"In the U.K. ethnic minorities actually contribute billions of dollars into the economy through small- and medium-sized enterprises, yet Indigenous People struggle with entrepreneurship. It's interesting for me to try to figure out what is the issue. What I found in my research is that one thing that (ethnic minorities is the U.K.) had that significantly made them more successful as entrepreneurs was the fact that they have that sub-culture already," Striped Wolf says.
Ethnic groups supporting each other in their innovative endeavours as part of the same group ― part of a train of thought called the "Empowerment Theory" ― is invaluable, Striped Wolf believes.
"(My research) kept pulling me back to our cultural genocide and the trauma of that," he says. "A lot of Indigenous People still struggle with the self-worth trauma that they develop through what I call 'shame policies.' If you weren't white, you were inferior."
Rather than speaking directly to that issue, that shame tends to be couched as "health difficulties", and the recommendations are psychologists and mental health initiatives. But if the comparative numbers from the U.K. are any indication, Canada has not only been failing to name the real problem, but also suppressing what could be a major contributor to the economy.
"There aren't really any policies or policy frameworks for cultural genocide and the (negative) effect on our economic development as nations," Striped Wolf says. As part of Indigenize the Senate, Striped Wolf was able to meet with the Senate leaders of each party and had several opportunities to speak. His testimony was recorded for later use.
Otahpiaaki 2018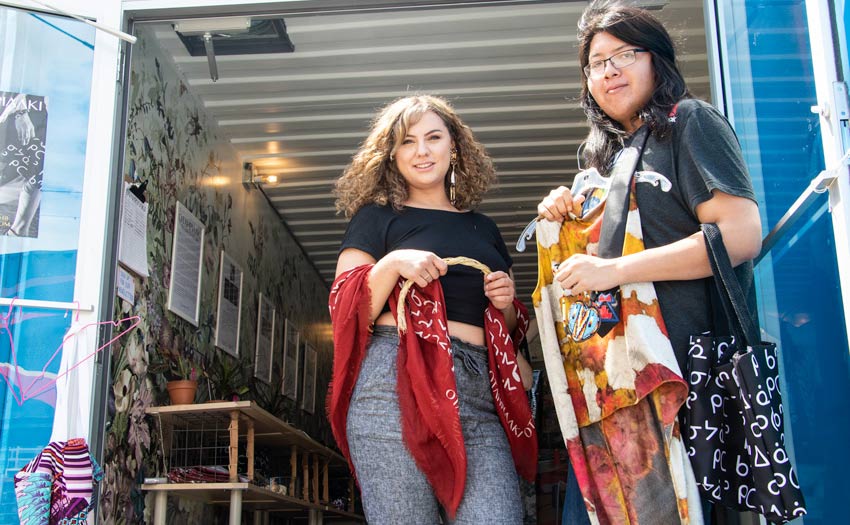 Striped Wolf is also one of the producers of Otahpiaaki, a social innovation project developed through MRU's Bissett School of Business and headed up by Professor Patti Derbyshire, and now in its third year. The name comes from the Blackfoot language, and describes the moment when the sole and the vamp of the moccasin are sewn together. Striped Wolf has been involved with Otahpiaaki from the beginning, helping to develop the project's moniker and find its elder, Jeannie Smith Davis, who is from the Piikani Nation, also Striped Wolf's home community.
Otahpiaaki brings together Indigenous fashion designers, artists, musicians and performers to celebrate the many forms of Indigenous beauty. Much more than just a fashion show, however, Otahpiaaki also involves three major research projects, including Striped Wolf's.
Fourth-year Bachelor of Arts ― Criminal Justice student Taryn Hamilton is another major contributor to the project. From the Barren Lands First Nation located in northern Manitoba, Hamilton works at Otahpiaaki researching new ways and best practices on decolonizing the runway based on creative practices and traditional teachings. Her research is focused on promoting and protecting the unique identities, land-based stories, industrial designs and intellectual property rights of Indigenous designers and artists. She has participated in the DetermiNATION Summit 2018, the Indigenous Education National Centre for Collaboration Symposium on Indigenization 2018 and the Indigenous Social Innovation Conference 2017. She also recently presented her findings at the Global Conference on Indigenizing Entrepreneurship at Algonquin College. Future plans include attending law school at the University of Victoria, which offers a new program combining the intensive study of both Indigenous and non-Indigenous law.
Earth and environmental sciences student Braden Etzerza, who took his research to compete in the 2017 Oxford Global Challenge, has been delving into Indigenous food sovereignty with research addressing food insecurity issues for Indigenous People. He has highlighted the need to create gardening spaces for the urban Indigenous, planting the seeds for start-up community growing spaces. Also looking at the prospects that could be provided through prosperity crops, this summer Etzerza is growing indigo dye on his home reserve.
Striped Wolf describes Otahpiaaki as a seven-generations "seed-to-runway" economic model focused on Indigenous fashion and design, and sees great opportunity.
"We want to bring the programming into reserves. For us, that means how our work can impact other communities, especially when we have a growing network of Indigenous designers across Canada. There's so much potential there."
At the Junction …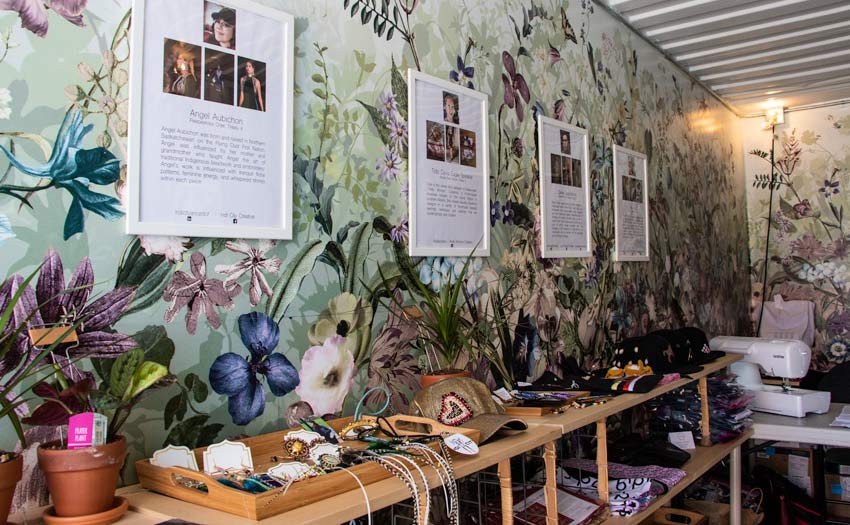 Throughout the summer Otahpiaaki is occupying a train container on Fridays and Saturdays at the East Village Junction, found at 8 Avenue and 4 Street SW adjacent to the National Music Centre. There they are selling the work of their designers, with the eventual goal of having little shops - potentially in airports - stocked with exclusive Indigenous apparel.
"This has been a really cool opportunity to sort of test it out, see what might be needed, the logistics involved. It's been a nice trial for us for what we might want to do later," Striped Wolf says.
Designers include Angel Aubichon of the Peepeekisis Cree Nation, who creates authentic handcrafted beaded jewelry and also dabbles in wearable technology. Tobi Davis Eagle Speaker is from the Kainai Nation, and incorporates her Blackfoot heritage into her original designs of earrings, necklaces, watches, purses and moccasins. Clothing designer Derek Jagodzinsky is from the Whitefish First Nation, and his company LUXX Ready-to-Wear's fashions have been featured in the Native Fashion Now exhibit, which toured throughout the U.S. And Justin Louis of the Cree-Maskwacis Nation is co-founder of Section 35, which crafts both art and clothing.
Bringing it back home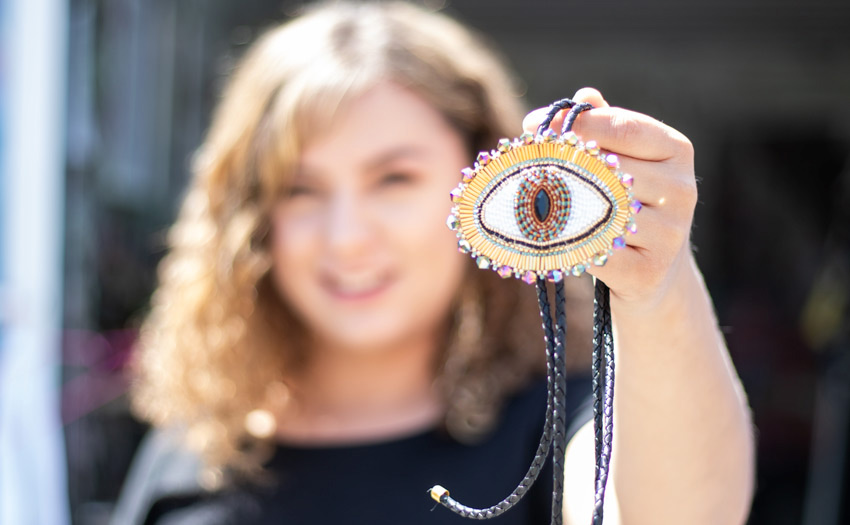 All of this work being undertaken by Striped Wolf, Hamilton and Etzerza is a way to try to give back to Indigenous populations. Striped Wolf's father was unfortunately part of the Sixties Scoop, which he says had long-lasting negative effects, and violence and self-destruction are unfortunately common in his home community. Striped Wolf's neighbour Colton Crowshoe was murdered in a crime that remains unsolved. The last witness says Crowshoe's final interaction was with the police.
"I've had multiple experiences where I've gone to these memorials and seen elders just cry and basically beg us to do something. It was at the Colton Crowshoe one where they said, 'The police aren't listening to us. Governments aren't listening to us. The only thing we can do now is tell our youth to go and do something.'"
Those words touched Spirit River, and led him to discover his passion for studying policy. Seeing the "bigger picture" is providing him with power.
"Right now I think we're in an interesting period of time, and I think that interesting period gives us policy windows and opportunities to be able to make change." 
July 5, 2018 — Michelle Bodnar