Walking With Our Sisters honours murdered and missing Indigenous women and girls
1,665 moccasin tops provide a visual representation of all those who have been forever lost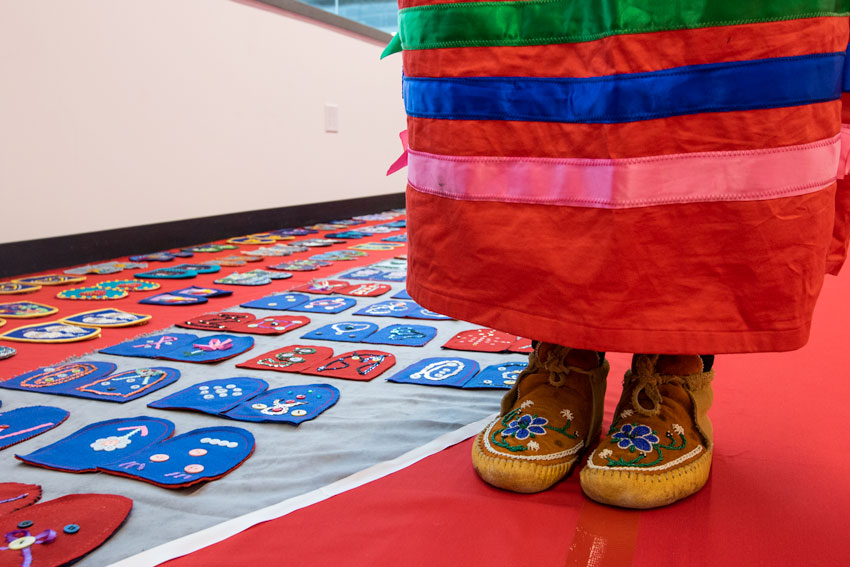 They are loved and they are not forgotten.
An art instillation honouring murdered and missing Indigenous women and children in Canada officially opened at Mount Royal University on April 29.
Walking With Our Sisters (WWOS) is made up of 1,665 pairs of moccasin tops that have been created by over 1,400 volunteers to honour and pay respects to the lives and existence of missing and murdered Indigenous women, girls and two-spirited people across North America. The installation is located at the Riddell Library and Learning Centre and will be open until May 13.
WWOS is in the midst of visiting over 25 locations across North America before its final installation in September of 2019. The project is supported by thousands of Indigenous and non-Indigenous men and women across North America who care deeply about this issue. WWOS does not accept government funding, and no one gets paid for working on the instillations.
Each pair of moccasin tops (also called vamps or uppers) represents an Indigenous woman who is missing or murdered, but never forgotten. They are sisters, mothers, daughters, aunties, cousins, grandmothers, wives, partners and friends.
The work exists as a floor installation made up of beaded vamps arranged in a winding path formation on fabric and includes cedar boughs and bundles of willow. Viewers remove their shoes to walk on a path of cloth alongside the vamps. Instillations in each city reflect local Indigenous peoples, their customs and creation tales. In Calgary, Blackfoot, Stoney and Tsuut'ina elders were consulted and viewers will see a Blackfoot Medicine Wheel, where on April 29 area families placed vamps representing their murdered and missing loved ones. Another area is in the shape of a Blackfoot woman's dress, while the path reflects the area's Elbow and Bow rivers.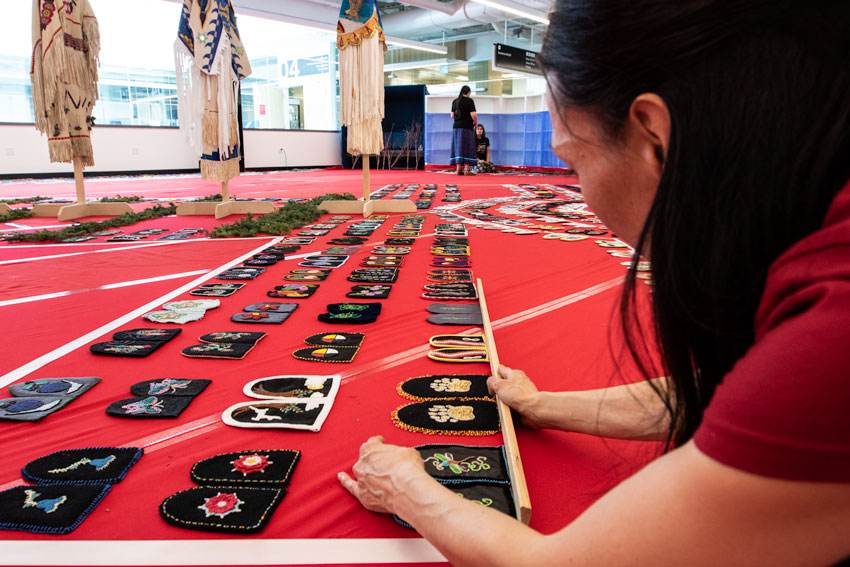 "For the past two years we have worked to engage and educate the broader community on this issue, as well as Indigenous culture and issues to continue the process of reconciliation," said Wynter Ducharme, a co-lead of WWOS Calgary, the local chapter of WWOS. "Our goals have been to honour and remember the lives of our sisters who have been lost, many whom have never received justice, and to stand with grieving families and remind them that we have not forgotten."
Moccasins are symbolic of the path a person walks in life. In some traditions, moccasins are placed on the feet of the person in death to help them on their journey into the next life. Moccasin vamps are the top part of the moccasin that most often carry adornment of some type, whether beads, quills, embroidery or other materials. Whether fully or partially beaded, different nations have developed their own variations on the size, style, shape and choice of imagery on the vamps.
"One of the guiding protocols to working with this bundle (because this is not just an event, but also a ceremony) is love and kindness," said WWOS Calgary co-lead Jessie Loyer, Liaison librarian for the Indigenous studies and anthropology at Mount Royal. "Everything is done with practised kindness, gentleness, patience and love. This can be challenging when working with a large group of strong Indigenous women, but it has helped us move past the obstacles and work together, keeping in mind what this is for: to honour those that are missing, to provide space for the families to grieve, and to provide education about the issue and protocols."
According to data from the RCMP, more than 1,181 Indigenous women or girls have gone missing or have been murdered in the last 30 years. Indigenous women make up four per cent of women in Canada, but represent about 25 per cent of murdered or missing women in Canada today.
Organizers said WWOS will focus on sharing the experience with families of murdered and missing Indigenous women.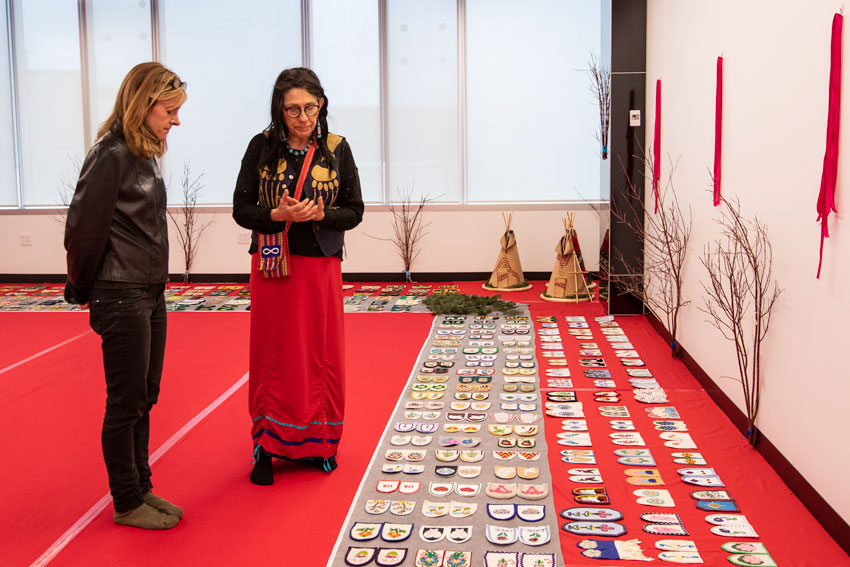 "I am glad that WWOS is here in our community because it will provide families a space to not only grieve for their loved ones, but provide an opportunity to gather with community and celebrate the lives of our stolen sisters and brothers in ceremony," said Staci Duchene, a WWOS family liaison.
"Families endure ongoing grief and loss, and this is an opportunity to have the community come together in a healing way, as well as provide Calgarians with the opportunity to learn more about this Canadian crisis."
Loyer said the committee is working hard to make sure everyone is made to feel welcome at WWOS in Calgary, which is free of charge.
"It's important that MRU is involved in this process," she said. "We know that even hosting WWOS at the university will mean that some people won't feel welcome and we know that we have to work hard to reach out to the community; one of the ways we are doing that is by offering bus tickets to family members affected by this issue and providing free parking while the installation is on. It's just a small way to make this more accessible."
Hosting WWOS is another step in the path to indigenization at Mount Royal. The University's Indigenous Strategic Plan 2016-2021 outlines five guiding principles in support of reconciliation, the progress for which has been reported in the Indigenous Strategy Steering Committee's 2017 Community Report. On April 26, the report was presented to the community at the same time as Mount Royal President David Docherty was gifted with a Blackfoot name by Clarence Wolfleg Senior (Elder Miiksika'am), as well as a warrior headdress representing leadership in the community.
Mount Royal is located on the traditional lands of the Blackfoot Peoples and Confederacy and the Treaty 7 Nations in southern Alberta, which include the Tsuut'ina Nation, the Piikani Nation, the Kainai Nation, the Siksika Nation and the Iyarhe Nakoda Nations.
Mount Royal's Indigenous Strategic Plan outlines directives for indigenization at the University up to the year 2021.
April 30, 2018 ― Peter Glenn
Media request contact information.
Have a story idea? Please fill out this form.