#WeHaveChemistry at Mount Royal
New science major celebrated in conjunction with Beakerhead, Doors Open YYC and Science Literacy Week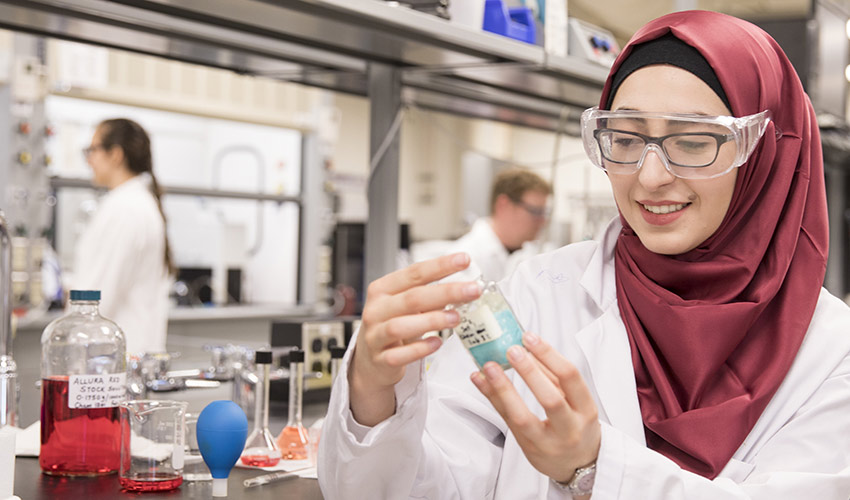 On Sept. 20, Mount Royal University will officially launch its new Bachelor of Science ― Chemistry, which counts as the institution's 33rd major. An initial cohort of 30 students is already registered and taking courses, with a full roster of 40 expected in two years.
An achievement more than a decade in the making, dean of the Faculty of Science and Technology Jonathan Withey, DPhil, says the new major is exciting as it's the first in the faculty in a while. At the same time as developing the innovative chemistry curriculum, the faculty is also re-envisioning biology programs while connecting with the tech sector and pushing data analysis to try to transcend business and science.
Withey is a notable chemist himself, having been named a Fellow of the Royal Society of Chemistry for contributions to the field. "I think (chemistry) is underappreciated in terms of how significant a role it plays in so much around us. All of the materials that you use in your everyday life, it's all chemistry. It really is everywhere."
The Sept. 20 date coincides with Science Literacy Week, and popular science broadcaster Joe Schwarcz, PhD will be on campus to answer common questions on chemical mysteries after a fun, hands-on Pop-Up Science Carnival as part of Calgary's Beakerhead 2018. Also on Sept. 20 and as part of Beakerhead, the Mount Royal Library's 360º Immersion Studio will host What's So Special About A Weasel's Head? from 10 a.m. to 6:30 p.m., where visitors will be able to virtually explore Calgary's iconic Weaselhead Park. At 5:30 p.m., those studying the Weaselhead's ecology will share what they have learned.
Doors Open YYC is also coming to campus. Mount Royal is hosting two locations ― the Riddell Library and Learning Centre and the Taylor Centre for the Performing Arts. The public is welcome to discover both buildings for free between 10 a.m. and 4 p.m. on Sept. 22.
Major reactions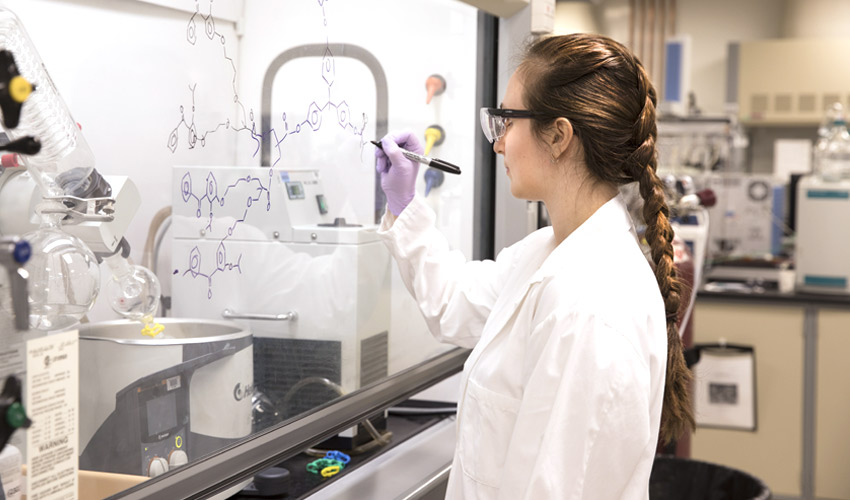 The Canadian Society for Chemistry denotes there are five major branches of chemistry: organic, inorganic, physical, analytical and biochemistry. Mount Royal chemistry students are immersed in all of these, says Professor Chris Lovallo, PhD and chair of the Department of Chemistry and Physics, plus they get a look at computational and "green" chemistry.
The Mount Royal chemistry major differentiates itself from others across North America through its focus on Community Service Learning (CSL), says Lovallo. All chemistry majors will work with community partners on solving local issues and graduate with a CSL designation on their degree. Students have already started soil testing with a group of landowners near Oyen in an attempt to determine the amount of fertilizer pollution in the area.
Mount Royal's chemistry degree will prepare students for a number of different occupations directly after completing their undergrad, Lovallo says, setting them up for careers in the fields of chemical research, lab technicians, formulation and quality control jobs, pharmaceuticals, skin care, sports science, alternative energy and sustainability (among many more), and will also prepare them for post-graduate school.
Chemistry professor Nathan Ackroyd, PhD, says Mount Royal's commitment to personalized learning is what students will find most valuable while studying and experimenting. "I've had students contact me four years after taking just one class to say, 'I don't know if you remember me, but I was in your class and I need a letter of recommendation.'
"The truth is, I do remember them. If you want to know who your instructors are, and you want them to know you, this is your best option. That's an opportunity you don't get very many places," he says.
And even without a designated degree, science graduates have been making their mark in the chemistry field already.
Bachelor of Science ― Health Science (2017) alumnus Brandon Shokoples engaged in undergraduate research with professors McCollum and Carol Armstrong, PhD, while at MRU, subsequently presenting his research on chemistry language development at the National Canadian Chemistry Conference in Toronto and the American Chemical Society Conference in San Francisco. He has also co-authored two publications on the subject, and is currently at McGill University as a graduate student in experimental medicine.
Professor Brett McCollum, PhD, and student Darlene Skagen are teaming up with the University of Illinois Springfield to develop students' professional identities, communication confidence in chemistry, content mastery and appreciation for chemistry as an international language, a project which expanded in the fall of 2017 with the addition of Augsburg University and the organic chemistry class of Michael Wentzel, PhD.
Research assistant Jordan Hofmeister evaluated the experience of Peer Learners (similar to teaching assistants) in a flipped classroom environment relative to the criteria of High Impact Practices of Kuh. He won second place in the Graduate/Undergraduate Student Oral Competition category at the 101st Canadian Chemistry Conference and Exhibition for his work.
"We've been doing a really excellent job at Mount Royal of drawing students in to chemical research and chemistry research. We've been feeding students out to graduate school even without a major, and so we're very excited for this opportunity now to move students through the new chemistry program knowing that we're going to produce some of the best graduates that Mount Royal has to offer," McCollum says.
Fourth-year cellular molecular biology student Juhene Khalil is carrying out research with Lovallo right now. "We've redesigned the dry labs (non-experimental). What we did was we took out a software program called Odyssey, and we replaced them with free online digital learning resources. We were trying to see if they help students with concepts in chemistry, long-term retentions."
Although too far along in her current major to switch to the chemistry degree, Khalil says that the chemistry labs she was able to take helped her find her passion for scientific research "I think it's just actually doing something and seeing it," she says. "We see it on paper all the time. But actually seeing it in your eyes, you're like, 'Wow. This is actually true. It's not just something that someone came up with.' "
Discover more about how Mount Royal chemistry collaborations are creating a potent mix.
Sept. 10, 2018 ― Michelle Bodnar
Media request contact information.
Have a story idea? Please fill out this form.