The Working Mind earns Award of Excellence
Mount Royal one of eight employers in Canada honoured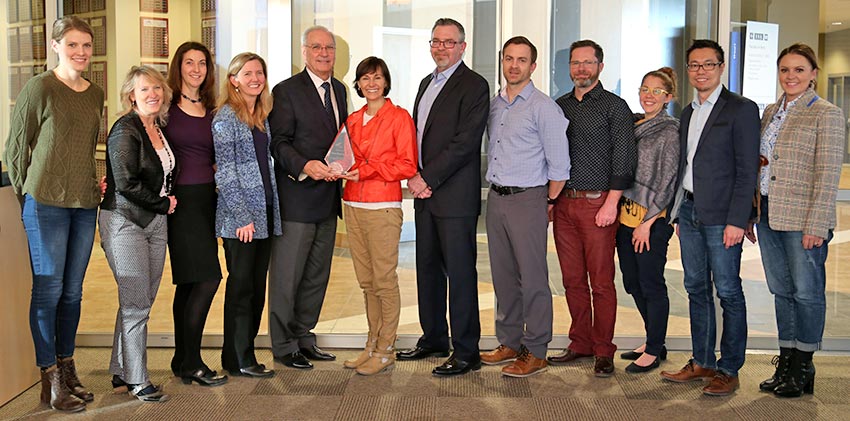 Mount Royal University has won an award for giving employees tools to better manage their mental health. The University received The Mental Health Commission of Canada's Award of Excellence on Dec. 8 for being an early adopter of The Working Mind, and was one of eight employers across the country honoured.
The Working Mind: Workplace Mental Health and Wellness is a program created by the Commission to promote positive mental health in the workplace and decrease stigma related to mental illness. Trained Mount Royal employees have facilitated sessions for colleagues since December 2013. A total of 412 have completed the training in 29 sessions.
"A significant portion of our staff have learned a lot more about mental health, mental illness, how to take care of themselves and others and about the harm of stigma associated with mental health problems," says Laura Henderson, health and promotion specialist at Mount Royal University's Wellness Services. "This helps to create a safer and more caring campus community where people can be more open and supportive."
The Working Mind training includes a focus on dispelling the myths around mental health issues and illnesses, aiming to reduce associated stigma; an overview of the Mental Health Continuum Model; self-assessment of mental health along the continuum and strategies for employees to apply. There is also a version of The Working Mind for managers, and a program for students called The Inquiring Mind.
The program's goals are to support the mental health and well-being of employees, enable full productivity, ensure the workplace is respectful and inclusive of all employees ― including those with mental health problems and mental illness ― and to encourage employees to seek help for mental health problems and mental illness.
"The Working Mind program continues to benefit Canadian employees and workplaces by reducing the stigma of mental illness," says Micheal Pietrus, director of Opening Minds, a larger Mental Health Commission of Canada initiative under which The Working Mind falls. "The program helps employees be more aware of their mental health while also providing them with coping strategies to keep them mentally well. The Working Mind has been shown to increase productivity in the workplace, as well as mental health knowledge and resiliency, while reducing absenteeism, presenteeism (working while sick) and disability claims."
Positive mental health and well-being is essential to all our success. So proud of @mountroyal4u colleagues for this recognition (Award of Excellence) from @MHCC_ #MentalHealthMatters #LetsTalk pic.twitter.com/FjN0rsaSmV

- Lesley Brown (@lesleyabrown) December 12, 2017
Pietrus praised Mount Royal for its early efforts in piloting and then adopting the program.
"Mount Royal University initially demonstrated their leadership by taking steps to make employees more aware of their own mental health and by giving them the tools to make a difference," he says.
"Through The Working Mind training, they have demonstrated the importance of fostering a mentally healthy workplace and have promoted mental wellness and resiliency among employees."
Providing tools for better mental health
While the program is run out of Wellness Services, facilitators come from many departments and faculties. Christine Brownell, RN, a professor in the School of Nursing and Midwifery, has a background in mental health and has been involved with The Working Mind at Mount Royal since 2013. She trains facilitators for workshops involving employees, managers and students.
"We were hoping with these workshops to see how we could raise people's awareness, how we could raise people's access to resources and to tools that can help them maintain and maybe even improve their mental health and then how we could shift our culture on campus to reduce stigma, to reduce discrimination, to reduce prejudice," she says.
Even now, says Brownell, many people coming to the workshops are a bit uneasy about what they signed up for.
"So we always begin by saying this is a workshop to give you tools for your toolbox and expand your awareness but it's not a workshop where we are going to be stepping into any mental health therapy― and you can see the whole room exhale. But then people fill out evaluation forms and they say, 'We need more. This is fantastic. This is a great step. I wish we had this years ago.'
"We talk about difficult situations. We talk about employees who need to go on leave. We talk about suicide ― in a very general way, but to give people tools so they have more understanding about how we look for changes in our employees and in our colleagues. And people say that even though it is an employee workshop, they are able to walk away with tools for themselves and also their own personal lives, their own family members. It gives them some more ideas about how they can care for their loved ones in addition to themselves."
Brownell says the stigma around mental health is diminishing as a result of programs like The Working Mind and other initiatives like Bell Let's Talk and Mental Health Awareness Week.
"The impact has been slow but I think the impact is going beyond our campus because people have lives and experiences beyond our campus. They're taking these tools, these ideas, and this knowledge home as well."
Working on a continuum
The Working Mind uses a continuum with coloured zones to show different states of mental well-being. Green is healthy, yellow is reacting, orange is injured and red is ill.
"When things are in balance you're in green. When things are beginning to poke at you, you're in the yellow zone. When things are really impacting your thinking or the way you're behaving or how you're interacting with others, you're getting into the orange. And then we say when things are getting really stressful and you are in crisis, we call that being in the red," Brownell says. "So we use this language to be an anti-stigmatizing language. We say, you're not either green or red, you can actually be in between and if you're in red, you can get back to green. Recovery is possible."
"Departments that have gone as a group or had individuals go to an open session say they use that language now. Maybe something like: 'Oh, my gosh, my spouse lost his job, my kid has the flu, I didn't get any sleep last night. I'm yellow, I'm dark yellow.' That's a language that people now use on campus.
And I think that's fantastic. You don't' have to go in and say, I'm feeling anxious, I'm feeling irritable, using terms that people maybe think are stigmatizing or judgmental."
Brownell says participating in The Working Mind as a facilitator has been rewarding for as well, a sentiment echoed by quotes from a number of facilitators read out at the award ceremony.
"It's an area of passion for me," she says. "It's a joy to see those lightbulbs go on."
What will you find at a The Working Mind workshop?
The Working Mind is an interactive workshop that provides small and large group interaction, videos and general information.
These include coping strategies such as:
Setting goals that are specific, measurable, attainable, relevant and time-bound (SMART);

Mental rehearsal/visualization;

Self-talk that stresses focus, persistence and confidence, and;

Calming/deep breathing
It is interactive, says Brownell, but attendees are not required to share personal details. The workshops are also an opportunity for employees to get more information about mental health resources available to them on campus if they want it.
In Alberta, 18 employers offer The Working Mind training. Across the province, 2,995 employees have taken the training, while 16,960 have been trained nationwide.
The Working Mind and The Inquiring Mind Sessions
The next sessions of The Working Mind (employees) are: Jan. 24 from 1 to 4:30 p.m.; Feb. 5 from 1 to 4:30 p.m. and March 7 from 8:30 a.m. to 12:30 p.m.
The next sessions of The Inquiring Mind (students) are: Jan. 26 from 8:30 a.m. to 12:30 p.m.; Feb. 6 from 2:30 to 6:30 p.m. and March 16 from 1 to 5 p.m.
For more information, go here.
Dec. 14, 2017 — Peter Glenn

Media request contact information.
Have a story idea? Please fill out this form.