Listedmotors.ca working with full tank of gas
Mount Royal innovators create new way to purchase and sell cars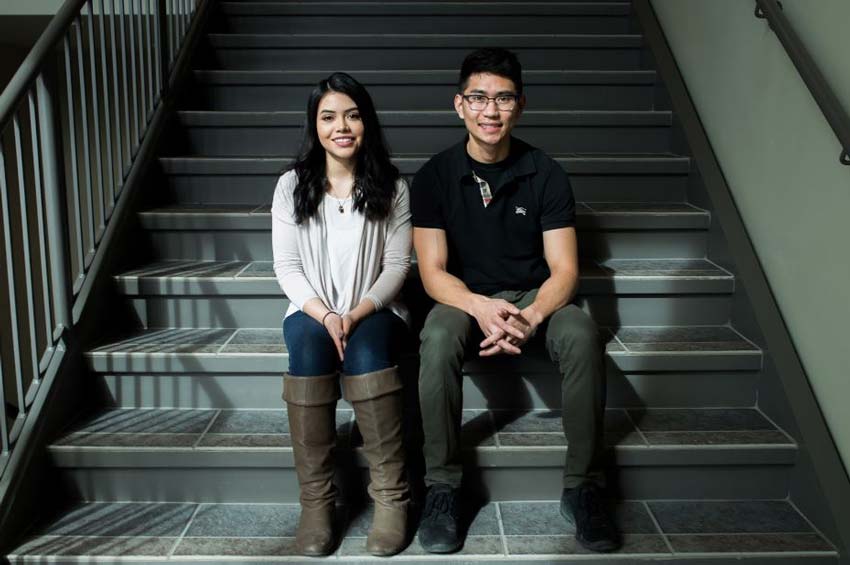 Mount Royal's JMH LaunchPad competition this past April netted some great results for the Listedmotors.ca team. Ormhel Manuel and Abby Mejia are the two talented Bissett School of Business students behind the original company, which makes the process of buying and selling a car easy, fun and safe. After presenting their concept to a panel of business experts, they rolled away as the recipients of $10,000 each from the BUSY Foundation and JMH & Co.LaBarge Weinstein also added to the award pot with a donation of $10,000 in legal services.
Founded by Manuel, the road to LaunchPad began with a connection with Ray DePaul, director of Mount Royal's Institute for Innovation and Entrepreneurship. De Paul encouraged Manuel to join the LaunchPad Innovators Circle, a program that provides students with resources, industry guidance and access to a thriving community of forward thinkers.
"You obviously want the company to succeed, and the learning experience and the mentorship you get takes you way further with your company than you would ever get on your own," says Manuel. "I think it really means you are working towards accomplishing a milestone for yourself."
Manuel was encouraged to take ENTR 3730 ― Innovation & Entrepreneurship, a course that offers students the opportunity to go through the process of building their own companies from the ground (or pavement) up. He notes the course is open to all students regardless of what program they are in, so all those across campus with a good idea should consider it for their portfolio.
When asked why Listedmotors.ca stood out, DePaul spoke to the revolutionary nature of the company. "Listed was not only a disruptive idea, but the progress that the students had already made was remarkable and a clear indication that they will be able to leverage the financial awards and continue to grow their business."
How an idea becomes a business
Manuel came up with Listedmotors.ca while his mom was shopping for a used car and had an "awful" experience. He immediately began to look for ways to solve the problem and make looking for a used vehicle less intimidating, arduous and risky. After discovering a company in the United Kingdom with a business model he admired, Manuel started building the concept for a Canadian variation, tweaking and massaging the idea over and over again until he came up with his final prototype and was encouraged by DePaul to move forward. And as Mejia was a cofounder of a previous company they formed together called Clarity Clean, Manuel knew they had a great synergy and she would be able to fill in the gaps in his skillset. Both are Bachelor of Business Administration students, with Mejia majoring in human resources and Manuel majoring in general management with a concentration in financial analysis.
When Mejia became a part of the project, Manuel says it started to really gain momentum.
How does Listedmotors.ca work?
Listedmotors.ca does everything necessary for a car sale, taking over the processes for inspection, financing and delivery. Buyers simply need to choose a Listedmotors.ca certified vehicle, select a payment method (financing or purchasing outright) and Listedmotors.ca will deliver the car directly the buyer, all with a five-day money-back guarantee.
Sellers provide specific details about their car, such as the make, model, year, trim, vehicle identification number, mileage, paint and options. Listedmotors.ca asks that everything be in working order and will schedule an appointment to pick up the car or have it dropped off for a 200-point inspection (which they pay for).

After having been fully operational since November, Listedmotors.ca has managed to sell six vehicles so far. Manuel and Mejia are looking forward to continuing to make their mark in the used car market.
Mount Royal's Dragon's Den
The JMH LaunchPad pitch competition provides Mount Royal's future business leaders the opportunity to present to the business community with the chance to attain funding and industry exposure. JMH & CO, the BUSY Foundation, LaBarge Weinstein LLP, and Trout + Taylor were all generous supporters of the JMH LaunchPad Pitch Competition. Previous winners have gone on to being named Calgary's Student Entrepreneur of the Year for the past three consecutive years running, with one being named Canada's Student Entrepreneur.

Find out about the other great student-run businesses pitches at this year's
JMH LaunchPad competition,
and discover more about Mount Royal's
Bissett School of Business.
May 17, 2017 ― Arlene Ridgeway
Media request contact information.
Have a story idea? Please fill out this form.